Comedy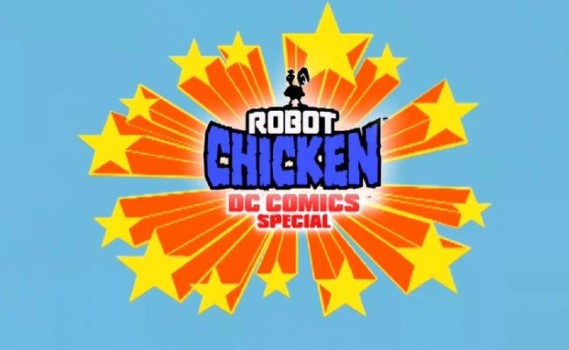 Published on September 30th, 2013 | by Admin
Robot Chicken DC Comics Special Blu-ray Review
Summary: Robot Chicken doesn't get any better than this!
The guys at robot chicken hold nothing sacred and this time they target DC Comics with the blessing of their Chief Creative Officer, the illustrious Geoff Johns who with Jim Lee, helped modernise their line of comics with The New 52. If you are a fan of the previous work of Robot Chicken such as their Star Wars specials and if you're a DC Comics fanboy or girl than you really are in for a comedic treat with Robot Chicken's DC Comics Special!
Using stop motion animation with various action figures, the Robot Chicken team successfully bring their unique comedy to the small screen once more as the world's greatest heroes and infamous villains come together for some hilarious skits and anecdotes. The main feature of the Robot Chicken DC Comics Special runs at just 25 minutes which sees Batman getting his back broken by Bane in classic sitcom fashion, the Justice League teasing Aquaman about his "water" powers, Green Lantern getting insulted by two girls in a bar about his grey hair to a hilarious montage of Superman kissing a variety of DC Villains from Darkseid to Solomon Grundy in order to make them forget their wicked ways. It's pure Champaign comedy at its best and really gives DC fanboys and girls a great laugh, including some really bizarre and extremely laughable unknown DC Comics character cameos!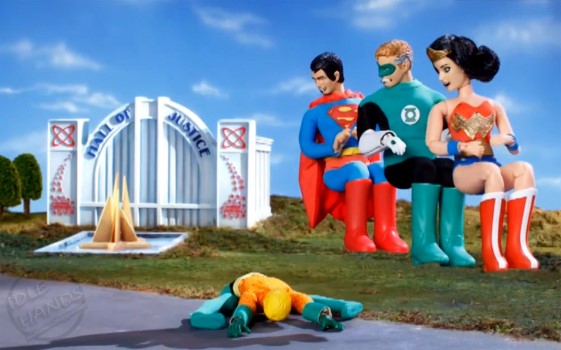 Special Features
However where this release does shine is through the sheer amount of extras included in this release from commentary, deleted sketches and an amazing DC Entertainment Tour that sees Seth Green trying on the helmet of Doctor Fate (I was so jealous).  It's definitely the Mecca of DC Comics Collectibles!
– The Making of Robot Chicken DC Comics Special
– Robot Chicken DC Comics Special's Aquaman Origin Story
– Chicken Nuggets
– Writers' Commentary
– Actors' Commentary
– DC Entertainment Tour
– Stoopid Alter Egos
– Outtakes
– Deleted Sketches
– 5.2 Questions
Video & Audio Quality
The video quality on Blu-ray looks stunning that is matched by the high quality audio track. Another interesting aspect about this release is the brilliant voice acting thanks to Neil Patrick Harris as Two-Face, Alfred Molina as Lex Luthor, Nathan Fillion as Green Lantern and the sexy Megan Fox as Lois Lane. Seth Green also lends his voice to Batman, Robin and Aquaman as does Breckin Meyer who plays Superman to create some truly awesome sounding moments.
Robot Chicken doesn't get any better than this!