Action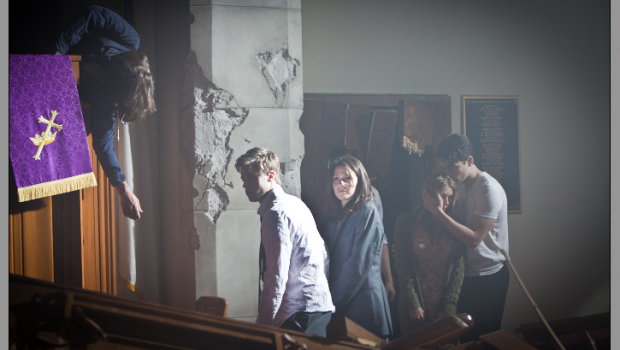 Published on January 23rd, 2015 | by admin
The Remaining ­ February 12, 2015
Universal Sony Pictures Home Entertainment is releasing The Remaining – available to own on DVD from February 12, 2015.
Directed by Casey La Scala (Grind, Donnie Darko), The Remaining addresses questions of life, love and belief. This end-of-the-world film follows five friends who are forced to scramble for safety after a series of cataclysmic rapture events begin to occur. Starring Alexa Vega (Sin City: A Dame to Kill For, Bounty Killer), Shaun Sipos (The Vampire Diaries, The Grudge 2), Johnny Pacar (Make It or Break It, Warehouse 13), Italia Ricci (Chasing Life, Don Jon) and Bryan Dechart (Step Up 3D, Dakota's Summer).
Skylar (Vega) and Dan (Dechart) are happily celebrating their wedding with close family and friends when the event is suddenly shattered by the apocalypse. Earthquakes, loud thunder and downpours of thunder and ice envelop the wedding as a number of guests and Skylar's religious parents are raptured, leaving five survivors behind.
The remaining survivors scramble to safety in a nearby church as they are attacked by winged demons and other horrifying enemies foretold by biblical prophecies. Trapped in a church as their world collapses around them in chaos and terror, will the survivors choose life through faith, or just try to survive?
An action-packed supernatural thriller set against an apocalyptic backdrop, The Remaining explores the struggles of faith and redemption.