Comedy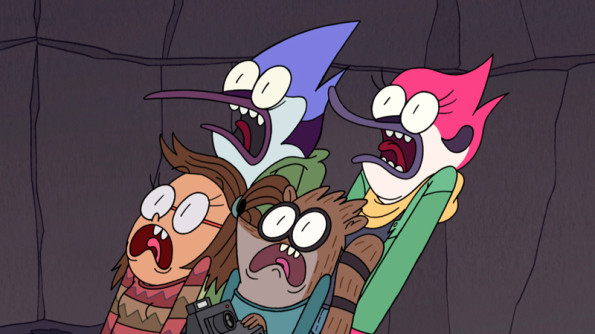 Published on October 25th, 2014 | by Sean Warhurst
Regular Show: Fright Pack DVD Review
Summary: Whilst not an essential release for those who have the complete seasons, there is enough here to justify double dipping on certain episodes.
Regular Show: Fright Pack
Distributor: Madman
Format: DVD
Running Time:  176 Minutes
Rating: PG
Genre: Animation
Reviewer: Sean Warhurst
Just in time for Halloween comes Regular Show: Fright Pack, a compilation disc packed to the brim with horror themed episodes from the popular animated series.
Slacker duo Mordecai and Rigby constantly find their mundane daily activities subverted by unexpected jaunts into the surreal and this collection of episodes is no different, seeing the pair facing off against Were-Skunks, a wallpapering giant spider, a spooky car in the tradition of 'Christine' with a cockney accent and a party bus that accelerates the aging process of all those who rock the casbah within it.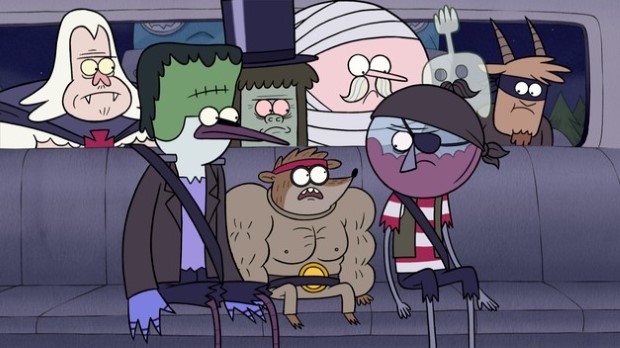 There's also run ins with a mythical creature called Death Bear, an ancient entity summoned by Rigby in a misguided attempt to free himself of being 'Jinxed' and an encounter with voracious hot dogs looking to turn the tables.
If it sounds deliciously off the wall, that's because it is – Nobody on Cartoon Network, except for maybe Adventure Time, manages to balance the comedic with the zany as well as Regular Show.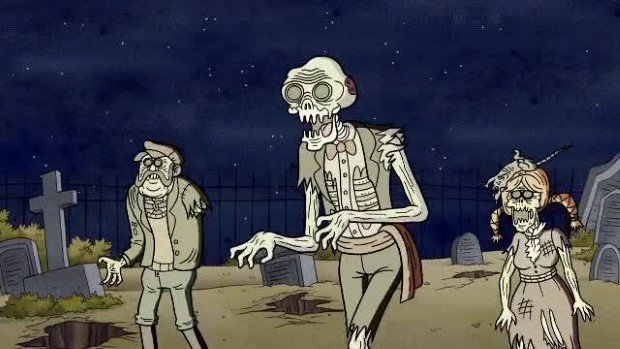 Not every episode quite fits the theme of the release but they're all entertainingly bizarre, although I personally found a few scenes to be probably a little too scary for the show's apparent target demographic  (That being said, my nearly four year old daughter was completely nonplussed whilst watching them, so maybe I'm just underestimating the current generation's threshold for spooky cartoons); for older viewers the episodes also feature homages to classic horror films like Suspiria and the Evil Dead series.
Regular Show's irreverent humour and pop culture references are as sharply written as ever and the animation itself is accomplished and unique, par for the course for a series that has become one of Cartoon Network's most popular offering.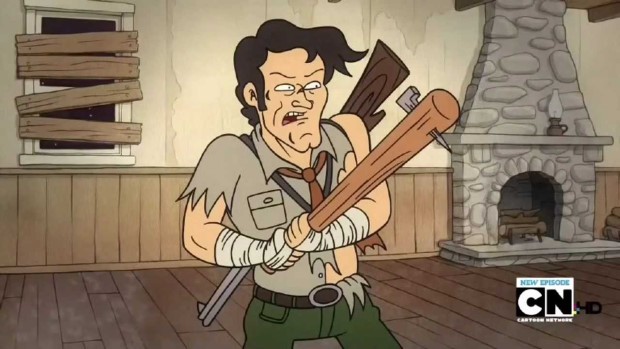 Episode Listing:
Terror Tales of the Park (Two Part Episode)
Terror Tales of the Park II (Two Part Episode)
Dead at Eight
Jinx
Grave Sights
Ello Gov'nor
Death Bear
Skunked
See You There
Meat Your Maker
Dizzy
The Best VHS in the World
Last Meal
Skips' Stress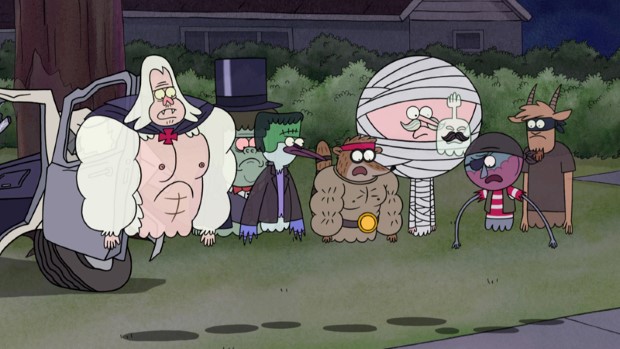 Special Features
The only special feature on this release is a Villains Gallery, basically a collection of images and a brief synopsis of some of the antagonists that crop up during the episodes.
List of Features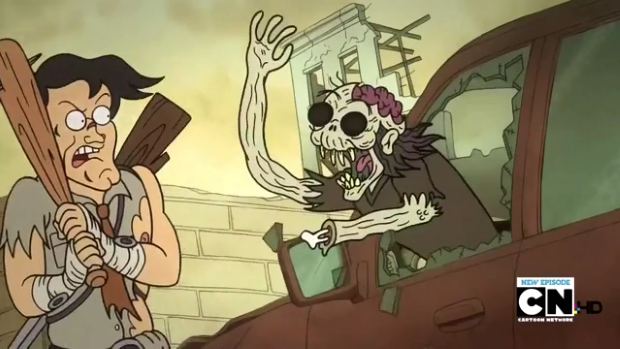 Final Thoughts
Although I'm generally not a fan of compilation discs, preferring to wait until the full season releases to satiate my desires, Regular Show: Fright Pack serves as both a great introduction to the show for newcomers as well as giving long time fans a handful of episodes that haven't yet been released on home media.
The unifying theme of horror influenced episodes make for great viewing, featuring some hilarious moments as well as some genuinely freaky characters (I'm looking at you, Jan the Wallpaper Man).
Overall, whilst not an essential release for those who have the complete seasons, there is enough here to justify double dipping on certain episodes; heck, the double header of both Terror Tales of the Park anthology episodes alone make this release well worth your time.
Recommended.