Comedy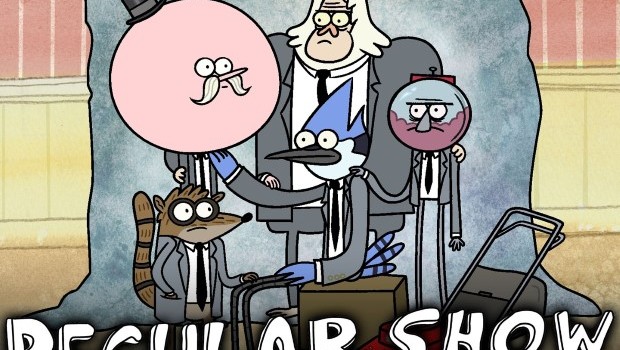 Published on October 13th, 2013 | by Sean Warhurst
REGULAR SHOW – THE COMPLETE FIRST SEASON DVD REVIEW
Summary: Recommended for fans of surreal, non-sequitur humour and anyone who can appreciate the cheesy nostalgia that comes from watching a montage being set to Loverboy's hit "Everybody's Working for the Weekend".
Title: Regular Show – The Complete First Season
Distributor: Madman
Rating: PG
Reviewer: Sean Warhurst
Running Time: 130 Minutes
Genre: Comedy
J.G. Quintel's animated series Regular Show has finally received a complete season local release after previously only being available in combo packs comprised of select episodes, which is great news for fans of the anthropomorphic slacker duo of Mordecai and Rigby.
This release contains all of the twelve episodes that make up the first season, making it the logical first stop for people looking to get into this wildly zany series, as the piecemeal offerings of the combo packs can often deter potential fans due to the fear of having to dive in to an established world without any idea of the foundations upon which the show is built… Although, to be honest, very little back story is offered even from the beginning and the insular lack of continuity between episodes makes Regular Show an easy program to get into anyway.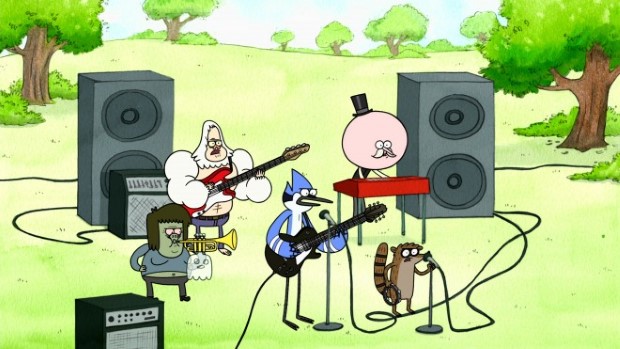 For the uninitiated, Regular Show follows Mordecai the Blue Jay and Rigby the Racoon, two twenty-something friends practically attached at the hip who attempt to get through each day of their job as park groundskeepers by avoiding doing as much work as possible. Their workmates include Muscle Man, an obnoxious porcine green man prone to removing his shirt, a skipping Yeti handyman, appropriately named "Skips", a lollipop-headed old man named Pops who hails from Lolliland and speaks with a British accent and Benson, an acerbic gumball machine who constantly becomes infuriated by the antics of the main duo.
Aside from the eccentric design of the characters, the world in which these characters reside is a much closer approximation to the real world rather than taking place in a fantastical surreal setting like fellow Cartoon Network offering Adventure Time. Indeed, the lives of these characters would be almost mundane if it wasn't for the misadventures embarked upon by Mordecai and Rigby, quite often inadvertently.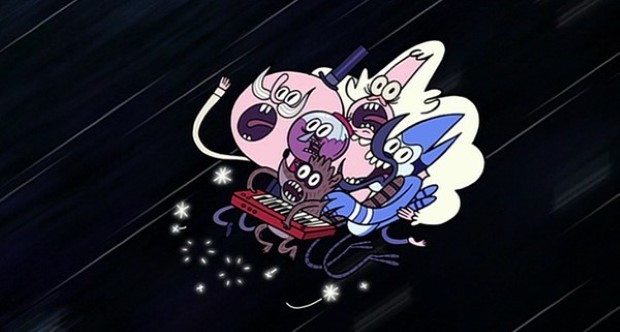 Episodes generally start off with the pair attempting some menial and dull task such as organising a birthday party in order to score free cake, setting up chairs for a function or being put in charge of preparing hotdogs for a BBQ before descending into the type of anarchic and surreal chaos usually reserved for acid fuelled fever dreams; often through no fault of their own (Well, maybe Rigby's slightly responsible) the seemingly innocuous task initially attempted leads to encounters with immortality granting space babies, an attack by vicious man-eating hotdogs, a vengeful demon released from his video game cabinet prison wreaking havoc and more insanely hilarious outcomes.
Regular Show, despite airing on Cartoon Network, is geared to appeal more to those of us who grew up during the 80's and 90's and is laden with a multitude of pop culture references and idiosyncrasies that will be instantly familiar to twenty to thirty year olds rather than the demographic assumed by its channel of origin. That's not to say that it's not suitable for children; much like Pendelton Ward's sublime Adventure Time, Regular Show effortlessly treads that fine line between appealing to children as well as adults, with the quirky antics of the characters and erratic scenarios blending seamlessly with the older generation's desire for referential and subversive humour without having to resort to puerile gags.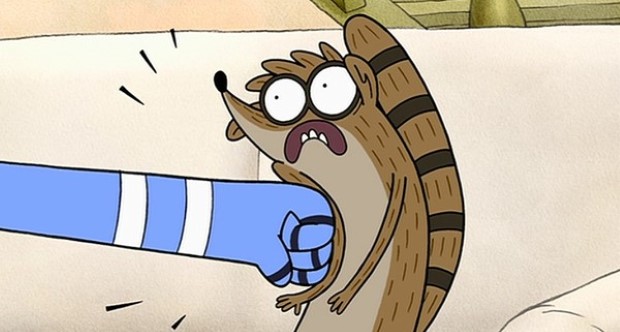 The show's biggest strength is its offbeat sense of humour, which can also occasionally be its biggest downfall, with some of the scattershot gags and ridiculous plotlines being a little hit and miss but the quality of the episodes never really dips too much and for every dud joke there's always a decent moment just around the corner to compensate. One thing I do notice with the show is a kind of self-consciousness that seeps into certain episodes, almost like it's sometimes trying to be random and out-there for the sake of being "hip" and "edgy", although the writing and performances do become more self-assured as the show has progressed and this, admittedly minor, failing can be attributed to the series finding its own feet and attempting to nail down its creative direction.
Episode Listing:
–       The Power
–       Just Set Up the Chairs
–       Caffeinated Concert Tickets
–       Death Punchies
–       Free Cake
–       Meat Your Maker
–       Grilled Cheese Deluxe
–       The Unicorns Have Got to Go
–       Prank Callers
–       Don
–       Rigby's Body
–       Mordecai and the Rigbys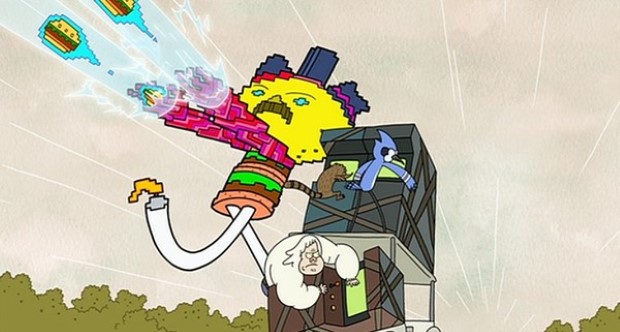 Special Features
Regular Show – The Complete First Season has an absolute buttload of special features for the discerning fan to revel in; from the unaired pilot to commentaries on each episode to a live action music video, there's something here for everyone. Fledgling students of animation will take particular delight in the animatics and behind the scenes look at the workings of the Regular Show office, as well as the inclusion of one of Quintel's student films "The Naive Man from Lolliland", which feature the first appearance of Pops. It would have been great to have had his other short student film "2AM in the PM" included but, giving its much more adult-oriented content its exclusion from this collection is understandable. Overall, a satisfying raft of extras that will keep devout fans busy for hours after they've played through all of the episodes.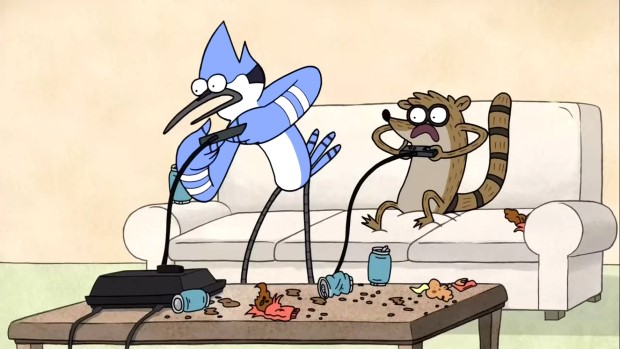 List of Features:
–       Audio Commentary on each episode
–       The Unaired Pilot Episode (7:40)
–       Animatic for The Unaired Pilot (7:16)
–       Animatic for "The Power" (10:48)
–       Original Pencil Tests from Saerom (0:37)
–       CG Test for Hodgepodge Monster (0:05)
–       2010 Comic-con Teaser Trailer (2:29)
–       Student Short "The Naive Man from Lolliland" (3:59)
–       Party Tonight Music Video (2:07)
–       Interview with J.G. Quintel (5:08)
–       J.G. Pitches "The Power" (15:53)
–       Original Regular Show Commercials (0:47)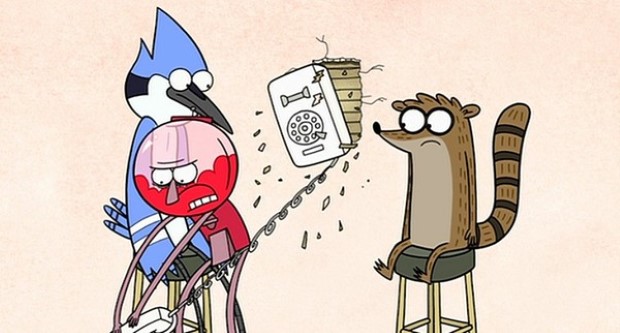 Final Thoughts
Regular Show probably sits most comfortably when compared to Cartoon Network's [Adult Swim] line-up, harnessing the wild creativity and inspired madness of that programming block's fare without resorting to the crude vulgarity that has become a hallmark of some of the shows. Easily the second best program on the network (The first being, for my money, Adventure Time), the characters of Mordecai and Rigby are especially relatable to those of us who are products of the 80's and 90's and, despite being ostensibly aimed at children, it's this demographic at will take the most away from the show.
It's great to see Regular Show getting complete season releases in lieu of more random collections and I eagerly look forward to the upcoming releases of the much longer following seasons. Recommended for fans of surreal, non-sequitur humour and anyone who can appreciate the cheesy nostalgia that comes from watching a montage being set to Loverboy's hit "Everybody's Working for the Weekend".