3DS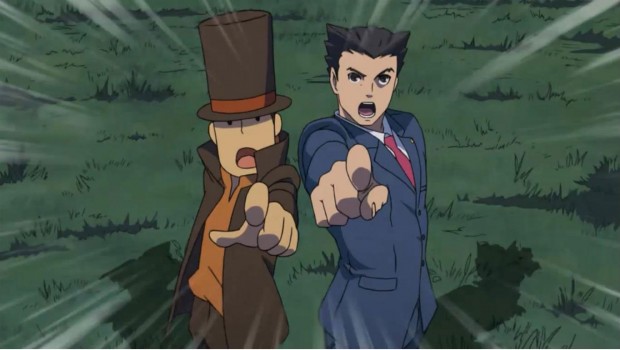 Published on April 16th, 2014 | by Admin
Professor Layton vs. Phoenix Wright Ace Attorney Review
Summary: The worlds of puzzle-wizard Professor Layton and ace attorney Phoenix Wright combine for the ultimate brain teaser
Professor Layton vs. Phoenix Wright: Ace Attorney
Developer: Level 5, Capcom
Genre: Puzzler
Rating: PG
Reviewer: Scott Romeyn
Review Date: April 2014
Of all the video game crossovers in the world, I would never expect to believe that the whimsical world of Professor Layton and the more serious drama of the Phoenix Wright series would be intertwined.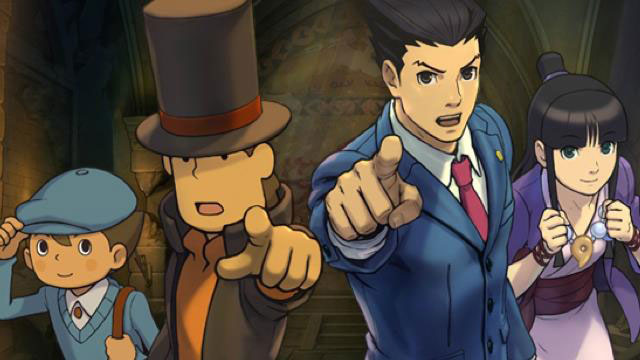 This game is something like a representation of Level 5 and Capcom's popular handheld series' packed in one adequately large package. The beef of both the Layton and Wright series return, with a slightly different take that is influenced by the combined development team. The exploring of towns and solving puzzles from the Layton series returns, as is Phoenix Wright acting as a defense lawyer in the courtrooms.
With the Layton series coming to a close with Azran Legacy, and the Phoenix Wright's new game Dual Destinies recently releasing on the Nintendo 3DS eShop, this game is an essential for any fan of either game series. This game is as true to their respective franchises as the core games are, though this game tends to put Professor Layton in the spotlight more so than the fan favourite defense attorney.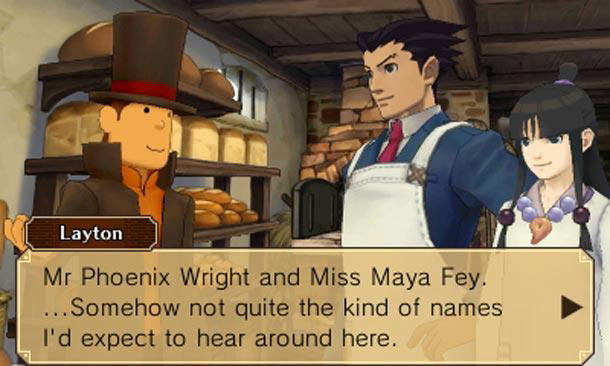 The story starts in London with an impossible car crash- Professor Layton and his apprentice Luke are visited by a strange young woman named Espella from a town called Labyrinthia, a place that cannot be found on a map. Meanwhile, it just so happens that Phoenix Wright along with Maya Fey have just landed down in London and are asked to defend the same woman in the courtroom. In a strange set of circumstances both groups are transported to Labyrinthia, where they unite to solve the mystery behind the town. But Labyrinthia is a town unlike any other, seemingly in the medieval times with witches and strange storyteller who predicts the past, present and future of everything in the town. Both parties are completely out of their comfort zone, and it's up to them to assist Espella in unravelling the mysteries of this strange village.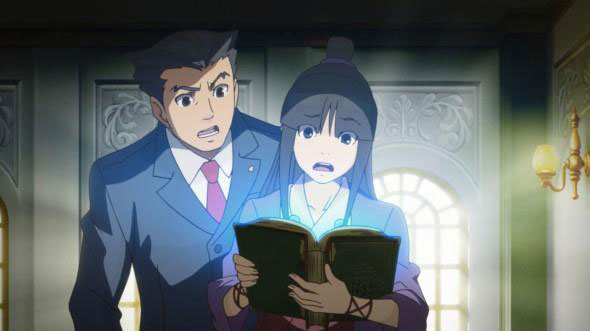 Unfortunately this game does have its flaws. Some of the puzzles in the Layton segments don't seem to have a solution that is decipherable with the information given – often no information is given on how to solve a puzzle, and you just have to use trial and error to solve it. And when in the courtroom
there are times when you have to present evidence during a seemingly unrelated witness testimony, which can be very annoying if you run out of chances and have to restart the hour-long trial from the start. So this game is not the best among each of the games' series, but it does create a doorway to fans on series to visit the other.
Graphics and Audio
The game tries to combine the art direction of the two different games while maintaining the vibe of each series. But it doesn't work particularly well with characters from the Layton universe with their more simplistic and cartoony art direction. This aside, the graphics are very smooth, the backgrounds don't conflict with each other as some of the characters do and the cutscenes are very enjoyable.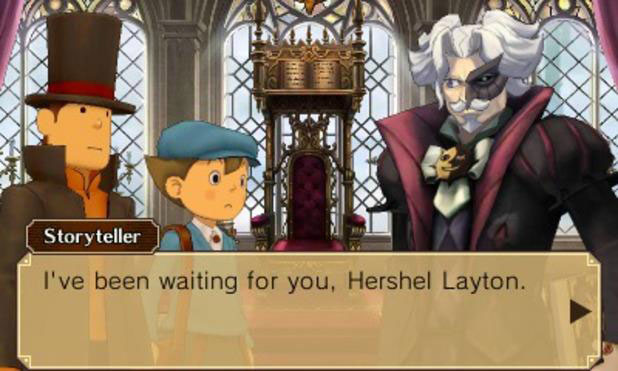 Anyone who has played any of Layton or Wright's previous games will recognize familiar theme music, with an orchestrated feel that brings out the dramatic tension, but there's nothing that really gets stuck in your head after putting the 3DS down.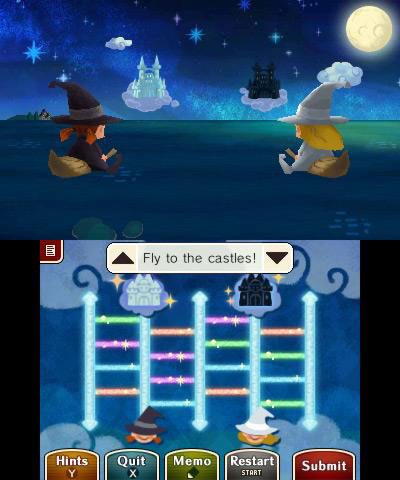 Final Thoughts

Professor Layton vs. Phoenix Wright: Ace Attorney is a must have game for anyone who loves to exercise their brain and enjoy a good story too. It isn't necessarily challenging, but it will get you to think, especially with the Wright segments. They sure gave me the feeling that I should quit writing and become a lawyer, because it's just plain fun if not a little bit tiring! And I'm happy to have revisited the Layton games for one final time. All in all, this is a solid title that is worth an empty wallet.