Kid Zone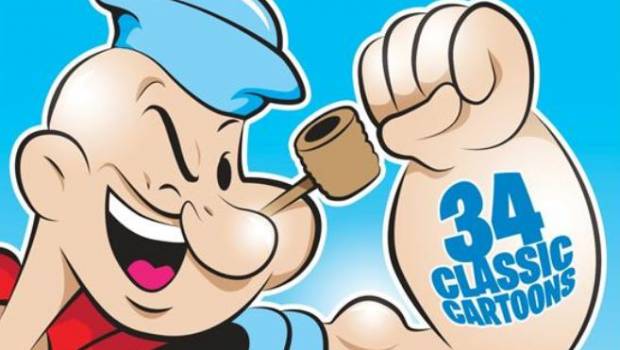 Published on July 1st, 2018 | by Natalie Salvo
Popeye The Sailor Man- The Animated Classics Collection DVD Review
Summary: Popeye the Sailor remains a successful underdog character to this day. The animation and humour can be a tad crude at times but the show remains a classic.
This character knows just who he is, so he sings it. He is, "Popeye The Sailor Man" AKA the pipe-smoking, spinach-eating small-yet-strong, navy man. He started life as a comic strip created by E. C. Segar and eventually became a popular children's cartoon, even surpassing Mickey Mouse in the popularity stakes at one point. "Popeye The Sailor Man- The Animated Classics Collection" is a two-disc set which gathers together 34 classic cartoons from the Fleischer and Famous Studios period.
The first thing we need to note is that these cartoons are very much a product of their time. The animation is clear-enough at moments but there is also a far bit of dust and errors with the transfer that haven't been fixed. These animations are certainly considered crude by today's CGI standards. The episodes here range from the period 1936 to 1957 inclusive and so reflect not just the technology but the humour that was acceptable at the time. Sensibilities have certainly changed so be warned that you do get racial stereotyping and gags that aren't politically correct, so the easily offended would be better off looking for entertainment elsewhere.
In this collection Popeye is voiced by Jack Mercer and the cartoons follow a similar pattern. Popeye is a charismatic guy who is often thwarted – at least initially – by an opponent. In many cases that adversary is the cruel, Bluto (also known as Brutas). He is a large man who is also vying for the attentions of Popeye's love interest, Olive Oyl (Mae Questel). Olive is a lanky girl and the quintessential damsel in distress. She often gets herself into various scrapes and cannot save herself. So Popeye swoops in and saves the day every single time.
The show has some other recurring characters including a lazy, loafing fat guy called Wimpy who has an insatiable appetite. There are also Popeye's nephews and a little youngster called Swee'pea who causes mischief and mayhem. In every episode when Popeye finds himself in a bind he just needs to eat a can of spinach (or several) and he can take on any bully and succeed in any kind of fight or other scrape.
These shorts vary in terms of their lengths and production values. "Popeye the Sailor Meets Ali Baba's Forty Thieves" and "Aladdin & His Wonderful Lamp" for instance, are in Technicolour and feature a big musical score. There other shorts (particularly the very early ones) that are in black and white and are sharp punches of hyperbolic activity. The cartoons tend to feature impressive stunts that would have been impossible in live action sequences (the same can also be said of shows like "The Simpsons" and "Family Guy"). Popeye is the underdog hero who shows considerable power when he faces off with large bullies and also offers novel solutions to different problems. He always succeeds.
The cartoons in the "Popeye The Sailor Man" DVD share a few things in common with the ones from Looney Tunes. It is unsurprising that they feature animation and humour that is specific to the time and period in which they were made. They are also tales of one-up-man-ship and may be considered a little rough-around-the-edges when compared with today's animations. But at the end of the day Popeye remains a classic character and a hero who is buoyed by spinach and Olive Oyl.
DVD Details
Film Genre – TV Children's
Label – Umbrella Entertainment
Audio – English (Dolby Digital)
Running Time – 240
Aspect Ratio – 1.33:1
Region Coding – All
TV Standard – NTSC
Rating – G
Consumer Advice – General
Year of Release – 2018
Primary Format – Movies/TV – DVD