Comedy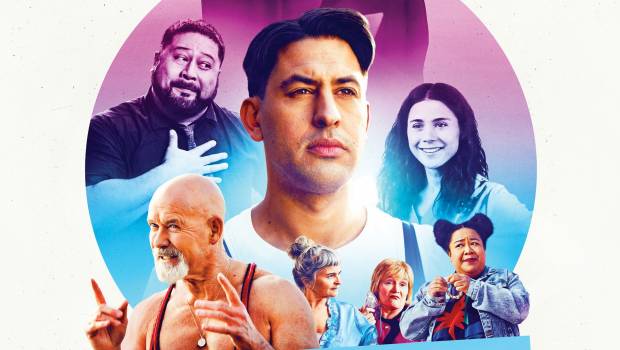 Published on January 11th, 2021 | by Tim Chuma
Paper Champions (2020) Review
Summary: Nice enough and non-offensive. If you see it on TV or a streaming service check it out.
Rey (Luke Saliba) is an average guy who doesn't seem to have much going on in his life despite the efforts of his best friend Wade (John Tui) for him to find is "mana" and start living like a man. He still lives with his mum Morine (Kaarin Fairfax) who is getting it on with ex-wrestler Terry (Gary Sweet) who Rey feels a bit awkward around since he keeps posing nude in the lounge room.
After an accident at a game of backyard rugby, Rey meets Holly (Tessa de Josselin) and they seem to hit it off. Rey is still lacking in confidence and ends up bailing on their date, even Wade's help cannot convince Holly. Will they get back together or not?
I remember this was at MIFF in 2020 but I never got around to seeing it. It is the sort of gentle comedy that was a lot more popular back in the 90s but not as much these days where everything seems to have a more serious or harder edge.
While there is the main story, it is the supporting characters that steal the show here including Gary Sweet, John Tui, Don Bridges and Justin Kennedy. I did like Wade's family and would like to see more of them as I live out in the western suburbs where they are a lot of islanders.
The setting could be anywhere in Australia but it was shot in Geelong which you have to be paying attention to notice.
This is the feature written by Luke Saliba who also has a short which is included on the DVD. There is a lot of things in the film that seem to be drawn from lived experience such as the workplace scenes and family life with the rugby match and nobody wanting to pick dad.
While this is not a must-watch, if it was on TV or a streaming service I would consider it. Also being a story that it not a middle class white guy brings something different.
Trailer:
Post screening Q&A
Movie details:
Director: Jo-Anne Brechin
Writers: Michael McCallum, James Pratt, Luke Saliba
Starring: Luke Saliba, John Tui, Gary Sweet, Kaarin Fairfax, Don Bridges, Jessica Redmayne, David Fane, Alex Pinder, Tessa de Josselin, Justin Kennedy