PS5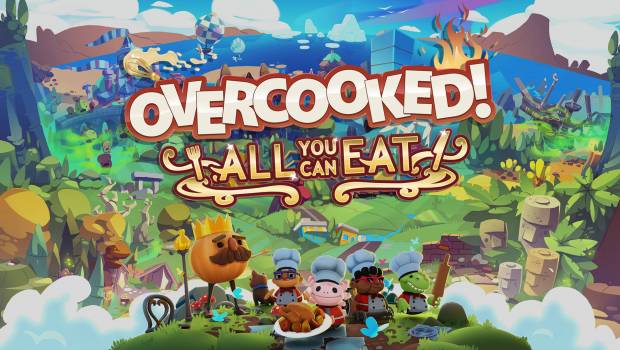 Published on December 9th, 2020 | by Nathan Misa
Overcooked! All You Can Eat PS5 Review – All the Extras
Summary: With stunning remasters in 4K, hundreds of levels and new content and game modes, it's a feast for next-gen couch co-op gamers.
The couch co-op genre has made a welcome comeback in the last few years, and its recent resurgence owes a lot to Overcooked and Overcooked 2, two of the most creative, chaotic (in a good way) and fun local multiplayer games to play with friends, partners and non-gamers alike. Who knew running around an obstacle-filled kitchen, frantically preparing timed orders of food and shouting at your loved ones to hurry up (you'll know it when it happens) made for such an addictive gameplay experience?
Overcooked! All You Can Eat is a super-sized, three-course remaster of epic proportions. It bundles all content of the first two games (and their add-ons) with seven new levels, while overhauling the first game, making several UI and online functionality improvements, and upping the graphics and frame-rate to take full advantage of the next generation consoles. Is this next-gen only serving worth it, though? I say: Chow down.
For those unfamiliar with the series, Overcooked puts up to four players in the role of a chef who is tasked with preparing, cooking and serving a series of meal orders as fast as possible. Each order requires a few steps to get right, like cutting vegetables, boiling rice and rolling them all together into a nori wrap to serve tasty sushi, before they can be plated and served. The aim is to score as high a rank as possible out of three (and later, four) stars, which isn't always easy.
It's a simple concept that's made addictive by its emphasis on steady teamwork and communication between the players, and amplified by increasingly complex and wacky scenarios you'll face. The kitchens (levels) and the orders start simple, but soon you'll be cooking and serving lavish food in flying ships, across moving rivers and amongst pedestrian-filled streets; all of these obstacles keep gameplay fresh, challenging and fun across a few hundred levels worth of crazy kitchens to master, organized into colourful, themed worlds – think pirate ships, jungles, and haunted mansions.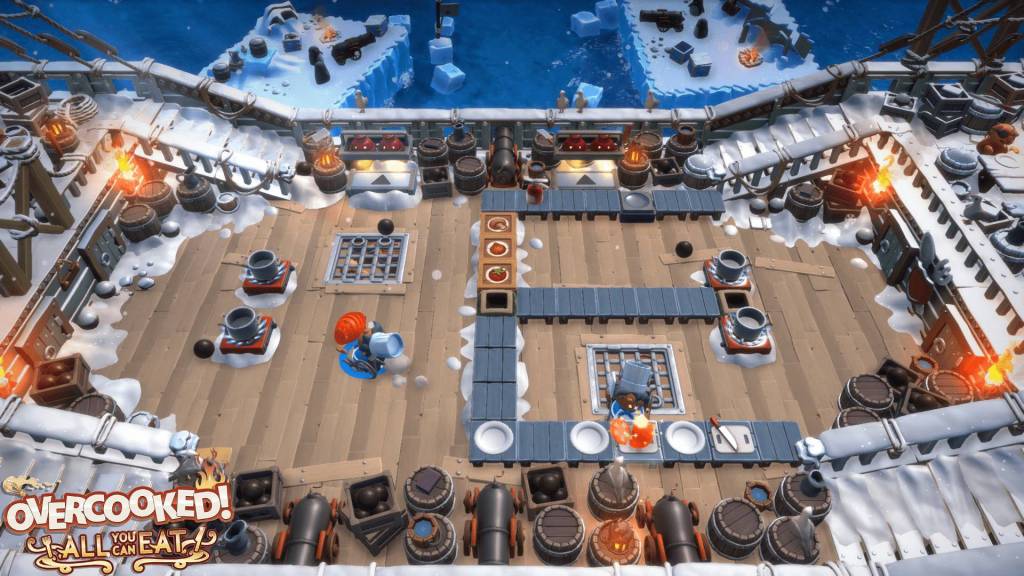 The DLC (for Overcooked 2 in particular) is where the gameplay shines most, as it offers tons of extra variety by continuously introducing new concepts; the Night of the Hangry Horde tasks you with feeding monstrous Unbread (heh) who bash down on the kitchen walls similar to a tower defense level, while Campfire Cook Off mixes camping capers with new mechanics like chopping food for the fire and wearable backpacks that hold ingredients – and make for particularly entertaining co-op shenanigans. 
Now to the changes: Overcooked! All You Can Eat overhauls the first Overcooked completely using the second game's more robust game engine, which brings a considerable graphical upgrade that looks far more colourful and full of personality than the original offering. It also brings all-new online functionality; the first game lacked online co-op completely, making this a welcome addition for players who can't always make the usual couch co-op session (which is still the best) a reality.
The second game is just over two years old, but it still holds up incredibly well across gameplay, content and aesthetic (and is my personal favourite). There are less new additions or changes made for the sequel in this next-gen re-packaging, but it's honestly not needed compared to its predecessor, as the only area it arguably required a spruce up in was the graphics department.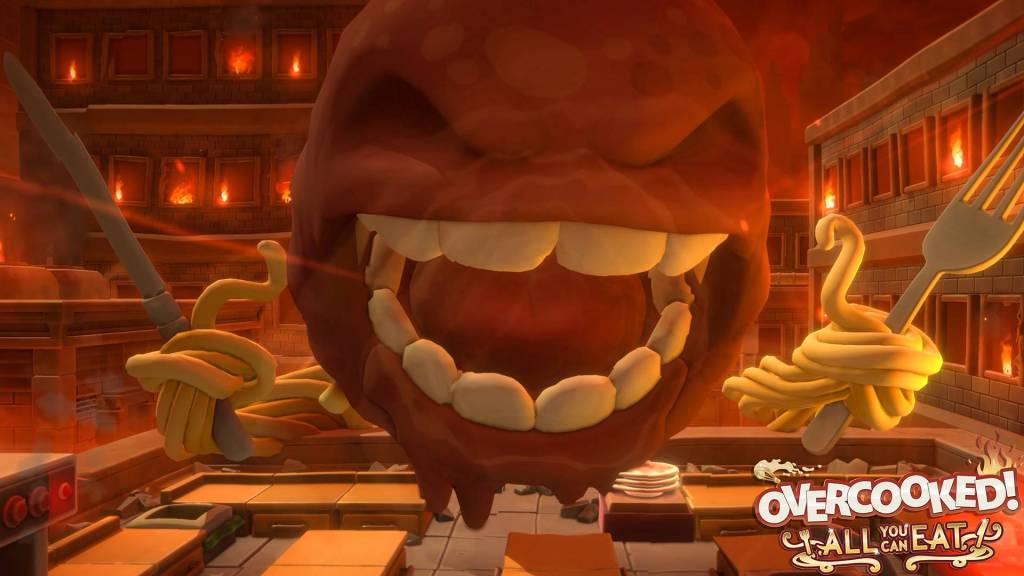 Appropriately, the presentation and visual enhancements made for both games is top-notch. There's a jump to 60fps gameplay at crispy 4K resolution for those with the televisions to enjoy it, and the game wisely leverages the snappy SSDs of the PlayStation 5 (and Xbox Series X) to load everything in a few seconds. I reloaded numerous levels after a disastrous start to a cook, jumped into several random arcade rounds, and tested online matches – all loaded in a breeze.
Highly stylised party games like Overcooked aren't typically the kind of titles you tend to obsess over areas like graphics or performance, but I was quite impressed with the visual spectacle and smoothness of gameplay while playing co-op with my friends. The overhaul of the first game's humorous apocalyptic opening and once budget-looking worlds, in particular, looks far more vibrant. All of this added sharpness and snappiness is brought together with a unified menu that makes accessing modes, changing chefs and settings super easy. 
Speaking of modes, Overcooked! All You Can Eat lets you tackle each game's campaigns and DLC in traditional Story mode (traverse through world maps each with their own levels and hidden stages), Survival (each dish served adds more time) and Practice (play as much as you want with no time limit). There's also an Arcade mode to play a randomized level from a set of kitchen themes, as either a traditional co-operative match (achieve the highest score as a team) or a Versus match (against each other), with full local and online support. New and less experienced players are also well catered to with an Assist Mode that helps lessen the stress of the gameplay with increased round timers and scoring, which is an awesome feature for added inclusivity. Everything is rounded out nicely with new playable chefs and skins, new accessibility options, including colour-blind friendly indicators, dyslexia-friendly text, and a scalable UI.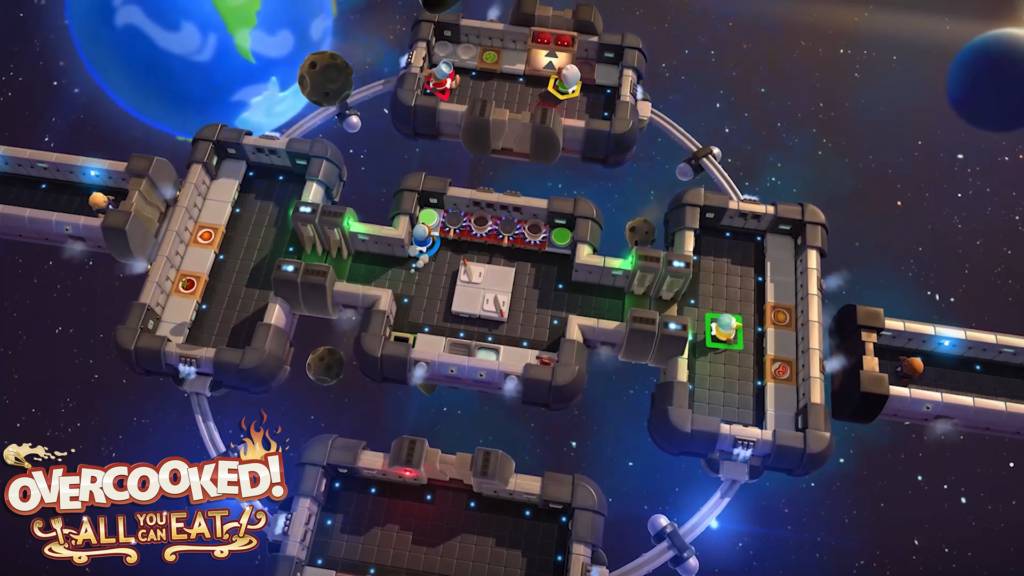 What about the extra bites? The seven levels of The Ever Peckish Rises campaign are as delightfully challenging and clever as the rest of the game, making use of everything from sudden molten lava to moving ghostly portals to having to fire chefs in cannons to access parts of the kitchen. It's definitely best done after a replay to hone any dormant multi-tasking skills! I do also wish there was more content added, but I could be getting a little greedy. Surely Overcooked 3 isn't too far off the horizon?
The Final Verdict
Overcooked! All You Can Eat is one of the best local couch co-op games you can enjoy on your next generation console this side of Christmas. As both a definitive re-package of the series and 4K remaster that blends the first two games, their add-ons, and all new content together, it's a buffet worth gorging on for both newcomers and returning fans eager for more co-op cooking madness.
Game Details
Primary Format – Games – PlayStation 5, Xbox Series X
Game Genre – Cooking simulation
Rating – G
Game Developer – Ghost Town Games
Game Publisher – Team17