3DS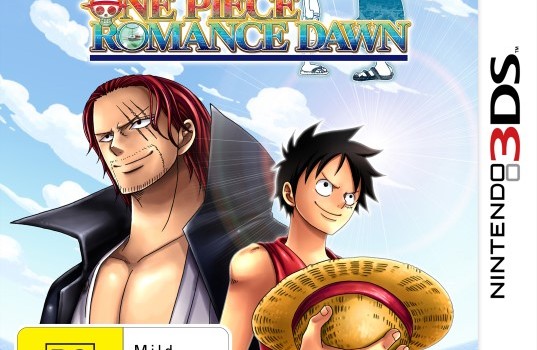 Published on December 2nd, 2013 | by admin
ONE PIECE: ROMANCE DAWN AVAILABLE NOW FOR NINTENDO®3DS
Sail ho! One Piece Romance Dawn is available 
Sydney, Australia – 2nd December 2013 – NAMCO BANDAI Games announces today that ONE PIECE: ROMANCE DAWN for the Nintendo®3DS handheld system is now available at retailers and via digital download on Nintendo e-Shop for Australia and New Zealand. Developed by Three Rings Inc., ONE PIECE: ROMANCE DAWN will offer gamers an amazing action/RPG following the authentic storyline created by Eiichiiro Oda.
In ONE PIECE: ROMANCE DAWN, soon-to-become pirates will re-live all of ONE PIECE epic fights against vile bosses such as BUGGY, ARLONG, CROCODILE, MAGELLAN, AKAINU and much more. In this new RPG, ONE PIECE fans will sail through a stunningly-drawn 3D World and fight along with LUFFY and the Straw-Hat Crew members! Their odyssey will be unlike anything they have been through before: friendship, sailing, battles, tears of joy and sadness, long battles and much more.
Players will enjoy a new adventure where they get to level-up their favourite characters, customise and craft items! On top of that, strategic minds will have to prove themselves with the new 'Grand Tactical Battle' feature. Following this new feature, the 'Grand Chain' will let experienced players unleash their power and connect multiple special attacks together! As in every Pirate adventures, you will need to make decisive choices: players will have to react quickly and smartly in order to decide their own path by pressing the right button at the right time!
"ONE PIECE: ROMANCE DAWN is bringing a fully new experience as it is the very first ONE PIECE RPG game to stay faithful to Eiichiiro Oda's piece of art!" said Mathieu Piau, EMEA Marketing Director, NAMCO BANDAI Games Europe. "Full of new features, this RPG is clearly a thrilling adventure where you will be the hero, as a fan, you clearly can't miss this opportunity to shine!" 
ONE PIECE: Romance Dawn is out now in Australia and New Zealand. For the latest news and updates, join us on www.NamcoBandaiGames.com.au
For more information about NAMCO BANDAI Games' entire line up, go to www.NamcoBandaiGames.com.au