Comedy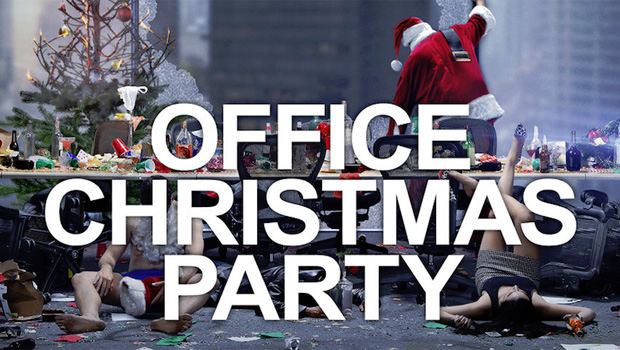 Published on April 8th, 2017 | by Tony Smith
Office Christmas Party DVD Review
Summary: Office Christmas Party is not only hilarious funny but at times hilarious bad!
It's not hard understanding why office Christmas parties have been given a crazy rap over the years, especially when alcohol is involved because people want to let their hair down and have a well deserved break as the silly season is about to commence. Although I've heard stories about crazy Christmas shenanigans, I have yet to experience one but this comedy (Office Christmas Party) gave me a fun peak into this phenomenon, albeit with some artistic liberty… any a little over the top at times.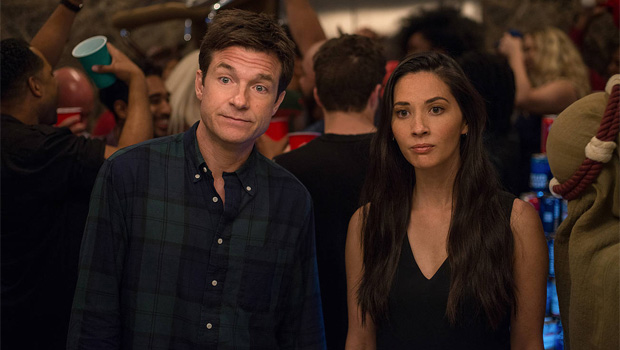 So when directors Josh Gordon and Will Speck, two of the masterminds behind Blades of Glory come together and when they employ actor/comedian Jason Bateman (Horrible Bosses, Arrested Development) as the straight-man protagonist, you know that you are in for a treat in this crazy comedy about an office Christmas party gone wrong. The premise behind the film revolves around Clay Vanstone (T.J. Miller), the boss of an IT company who wants to give something back to staff after a hard year, even though his business is failing.
He also hopes to lure Courtney B. Vance (Walter Davis) from his competitors in order to save the company from being shut down by his tyrant CEO sister Carol Vanstone (Jennifer Aniston) who also has the fighting skills to match. Then you have Josh Parker (Jason Bateman) who is Clay's best-friend and has the hots for fellow workmate Tracey Hughes (Olivia Munn) but since his divorce, he has been unable to approach her, even though she's given him dozens of messages.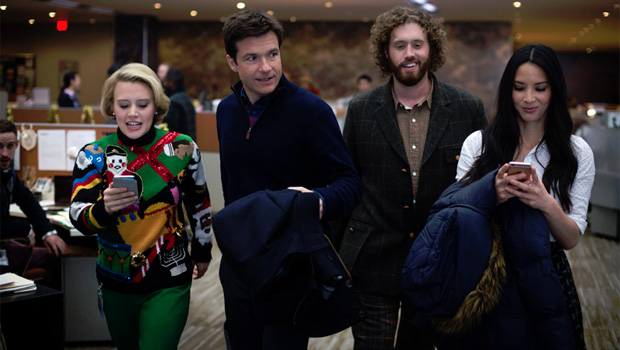 So with the business budget in the toilet, Carol has arrived to close this part of the company, however Clay still wants to hold the biggest and best Christmas party of the year and needless to say, things don't go according to plan which involves office feuds, drugs, prostitution and a dangerous pimp (Jillian Bell) while trying to hide it from his meddling sister. So while the mayhem ensues, Josh and Tracey attempt to keep Carol away and keep everything running smoothly as Clay literally lets his hair down which creates some amazing laugh out moments, including some very ridiculous scenes like cocaine being blown around the office instead of 'fake' snow. Besides the above mentioned actors, another standout actress is Kate McKinnon who plays this nerdy-office HR worker who also gets involved in the action, once she throws down the occupational health and safety manual.
Given that, there's a ton of other comedic performances involved in Office Christmas Party and although the story is cliched and at times predictable, not to mention at times embarrassing, somehow it all works thanks to the caliber of stars who grace this film. However what limits this movie from being a truly memorable one is the story which unfortunately is a little far fetched (perhaps too crazy) and the end borders on a Dues Ex Machina solution that was a little hard to swallow. Nonetheless, if you enjoyed films like Blades of Glory, Office Christmas Party is a fun watch but one that is tad forgettable, even with the crazy laughs.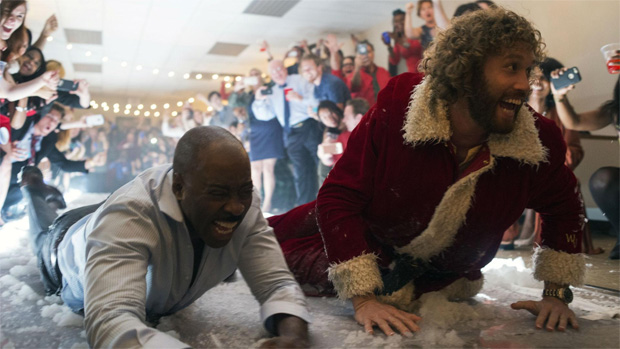 Lastly, Office Christmas Party is well presented on DVD with decent image and audio quality plus a handful of fun features. If you want to go beyond the film, there's some interesting and amusing commentary by the directors, a featurette about throwing an office Christmas Party plus a couple of outtakes (always amusing) and deleted scenes. It's a nice way to finish this film.
Special Features
Audio Commentary by Directors Josh Gordon and Will Speck
Throwing an Office Christmas Party
Outtakes
Deleted and Extended Scenes
Final Thoughts?
Office Christmas Party is a fun comedy about a party gone wrong in the silly season. It's got some great performances and some laugh out moments that is unfortunately hampered by its unbelievable plot and cliched ending. Nonetheless, it's a still a fun watch for a night in!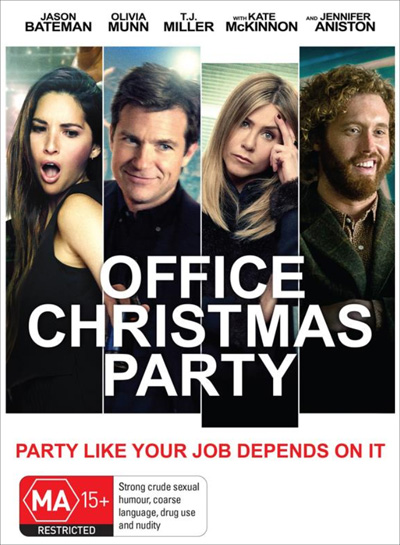 DVD Details
Director – Will Speck Josh Gordon
Actors – Jason Bateman, Olivia Munn, T.J. Miller, Jennifer Aniston, Kate McKinnon
Film Genre – Comedy
Label – 20th Century Fox
Audio – English (Dolby Digital 5.1)
Aspect Ratio – 2.39:1
Region Coding – 4
TV Standard – PAL
Rating – MA15+
Consumer Advice – Strong crude sexual humour, coarse language, drug use and nudity
Year of Release – 2016
Primary Format – Movies/TV – DVD