PC Software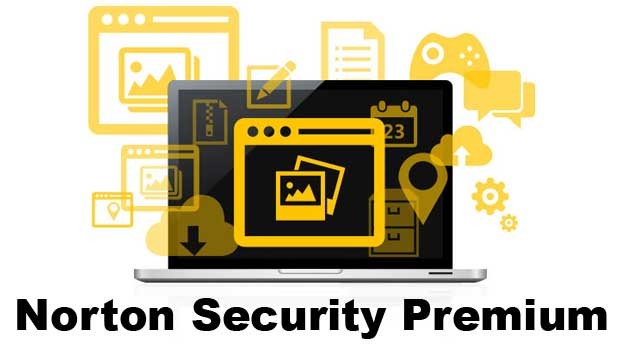 Published on March 20th, 2016 | by James Wright
Norton Security Premium Review (2016)
Summary: Norton Security Premium once again offers some flawless protection and features for users!
Free antivirus programs are okay, however if you want full protection or let's just say "360" protection, than you do need to pay and this is where Norton Security Premium comes into the picture. Norton Security Premium gives users 1-year subscription to the latest updates and protection from Symantec but also gives you protection on 5 different devices. A one device option is also available.
These devise may include the PC, Mac, Android or even iOS devices, ensuring that Norton Security Premium protects a wide gamut of devices in your home. Although Norton was built on protecting your PC from viruses, it's unfortunately had to evolve in order to protect from other threats that include spyware, malware and the changing face of the online threat landscape. The product blocks phishing sites that attempts to steal your information and prevents other cyber criminals from stealing your personal data and more importantly, your identity.
Another highlight of Norton Security Premium is that it includes the ability to backup your data to the cloud with up to 25GB of online storage. Add in parental controls for your PC (& Android) plus the ability to manage your passwords and the ability to tune-up your computer and you have everything you need to keep you safe while you're connected to the internet or connecting to potentially unsafe devices like external hard drives or USB sticks.
Norton Security Premium Benefits:
Protects up to 5 PCs, Macs, Androids and iOS devices with a single subscription.
Safeguards your identity and online transactions.
Protects better and faster than the competition.1
Provides tools to help your kids safely explore the Internet.‡
Offers 25 GB of secure PC cloud backup, providing additional protection against ransomware.
Alerts you about risky Android apps before you download them, with our award-winning technology.
Includes our 100% money-back guarantee: From the moment you subscribe, a Norton expert is available to help keep your device virus-free or give you a refund!
Installation
Installation of Norton Security Premium is a breeze and we simply downloaded the setup file which after a few clicks prompted us to install the product. If you already own another Norton product, the setup process will uninstall this software package and then continue installing the product. Given that we had another Norton product on our test machine, it look around 5 minutes to successfully install the program because a reboot was required.
Setup Screenshots of Norton Security Premium (2016)
Installation even offered to protect Google Chrome by installing an extension to help protect our device and identity while online! It should also be noted that Norton Security Premium did not impact on the performance of our PC either.
Once installed, we were treated to a very self-explanatory interface that basically has five main icons on the top which include Security, Identity, Backup, Performance and "More Norton" which is access to other features like adding new devices, identity safe for mobiles, parental controls and managing your Norton subscriptions.
The interface is very easy to use and everything is labelled and easy to access. I really love the big green icons and just above these is the workspace which informs the user of what is happening (e.g. You Are Protected, Protection Updates: Current and Last Scan: 4 Hours Ago).
The identity features of Norton Security Premium basically protects the user while accessing websites and even installs a toolbar into Internet Explorer or Chrome to inform the user if the site you are visiting is safe. You even have a vault for your data plus it supports a password generator. I also like how this feature remembers your passwords if you have too many passwords.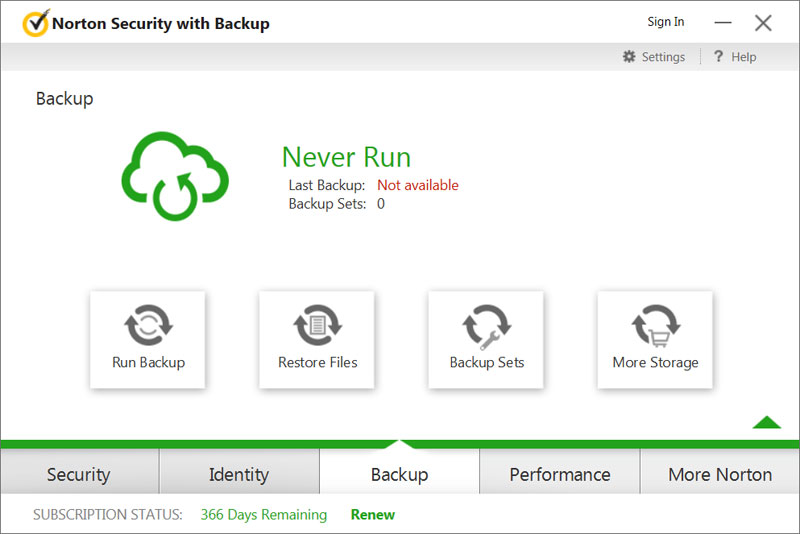 The backup feature of Norton Security Premium has some advanced settings like informing the program of what files to backup (e.g. photos) and even where you want to backup your file, whether it's the cloud, part of your network or another hard drive. It even has the ability like all good backup programs to arrange scheduling options like weekly, monthly or automatic.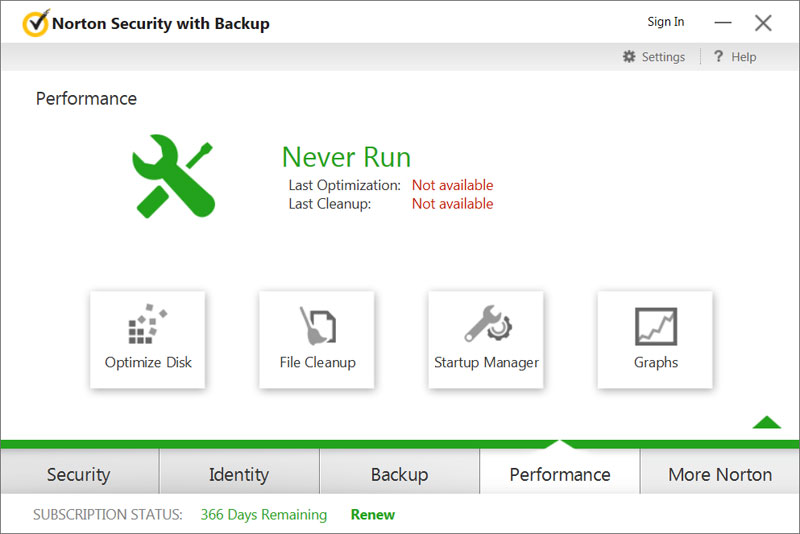 Performance is a great feature of Norton Security Premium which allows you to make your computer run better. This includes optimising your hard drives, a file clean-up options (e.g. junk files) and a start-up manager to make your PC boot up faster. There is even a graph to inform the user of their PC's performance and even the performance of the product itself.
For mobile devices, Norton Security Premium does manage your passwords on both Android and iOS devices but it only protects apps on the Android. This means it will warn you if it believes that an Android app is unsafe to use. If your devices are stolen, either on iOS or Android, Norton Security Premium does assist in locating lost or stolen devices. Although you can't backup the entire mobile device, you can backup contacts on both operating systems.
Final Thoughts?
If you're looking to protect just one or up to five devices, than I could happily recommend Norton Security Premium that offers some amazing protective features plus excellent backup and PC-tuning options, not to mention some strong mobile features as well!
Additional Norton Security Premium Screenshots