Apple Mac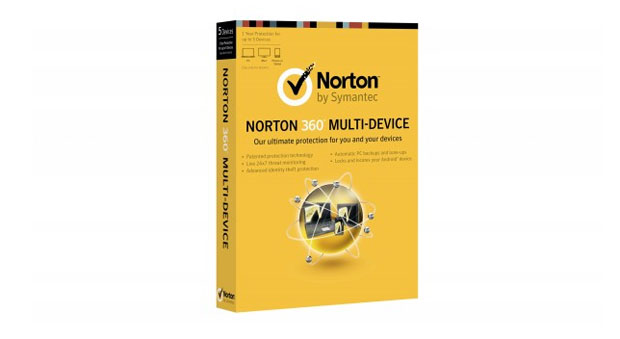 Published on December 18th, 2013 | by Admin
NORTON 360 MULTI-DEVICE PREMIER Review
Summary: Once again, Norton by Symantec offer one of the most comprehensive security suites available that not just targets the PC but also the Mac and Mobile Devices.
Norton 360 Multi-Device Premier is the perfect holistic solution for owners who may own a myriad of devices such as the PC, Mac and other mobile devices including Tablets or Smart Phones. With that said, the software can be installed on up to 5 devices and gives the user 1-year of updates.
Installing this product is a breeze and can be installed via the CD (purchased through a local retailer) or online. To install, you first need to enter the lengthy product key and in around a minute, the installation will be complete. Once it is installed on your PC, it will then proceed to check for updates.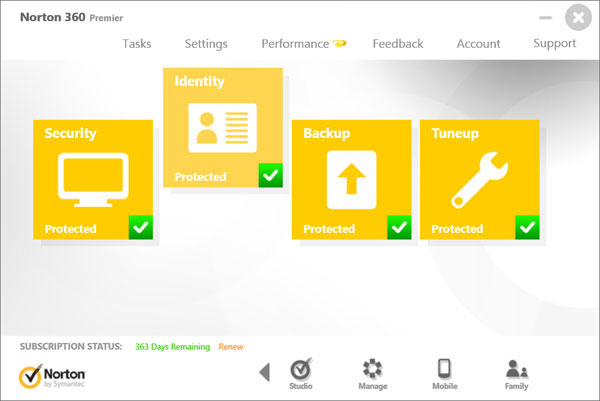 The interface is reminiscent of previous editions of Norton 360 with the main screen split into four sections that include Security, Identity, Backup and Tuneup. There will also be a tick next to each these boxes that informs the user that everything is operating correctly.
Next, I will explain what each section does.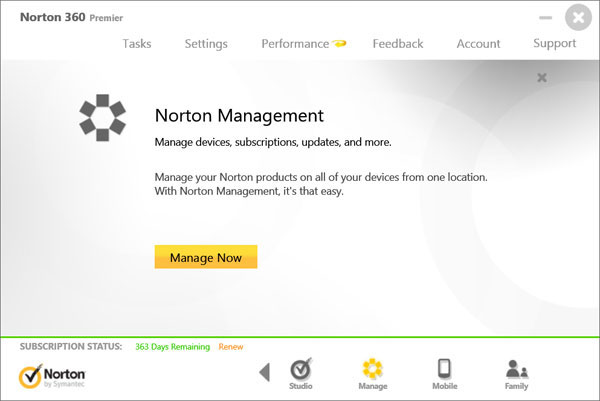 Security
The first section of Security is View Details which gives the user an in-depth breakdown of the security components of the product such as when the virus/spyware scan was performed and if Browser Protection is on. You also have the option of running a scan, although 360 will automatically perform this when the PC is idle.
You can run the LiveUpdate which updates 360 with the latest definitions but this is also automated. Lastly you can manage the firewall and run Norton Insight. Norton Insight basically scans your computer's files to inform you whether it is trusted or otherwise.
Identity
Next is identity which offers View Details that once again informs the user what components are running, manage identity protection (e.g. is anti-phishing on or scam insight), Log into Identity Safe and Identity Safe Online. This section basically protects you against identity theft and more importantly, your personal details and banking is kept safe.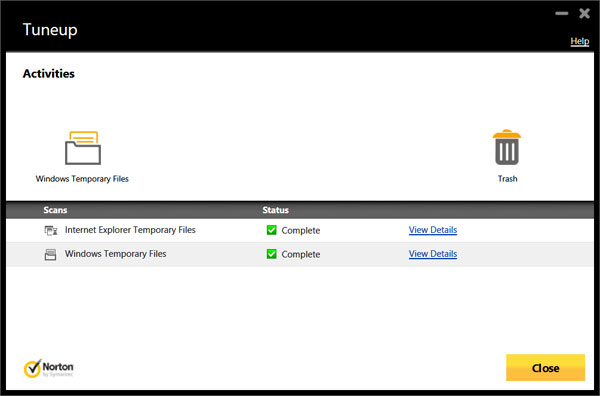 Backup
Backup gives the user access to details on this section, manage backups (e.g. where to backup or when), run a backup, restore files and purchase more online storage for backups. The premier addition of Norton 360 offers a whopping 25GB of online storage.
Tuneup
Last but not least is Tuneup which supports View Details on the Tuneup components (e.g. what is enabled), run disk optimization (great for making your hard drive faster if you have cluttered files), run file cleanup (delete junk files), run diagnostic report (e.g. details on Norton 360 and Resource Utilization) and Startup Manager. Startup Manager allows users to disable files that may slow down your PC.
Mobile & Mac
The product also gives access to Norton Mobile Security which basically installs an app on either your iOS or Android System and protects your device from nefarious users online. It also allows for remote locate, sneak peak (take a photo of anyone using your device), scream alarm (make your phone scream to find out where it is), remote lock, lost notice (display a message if your phone has been stolen), remote wipe and even Sim Card Lock.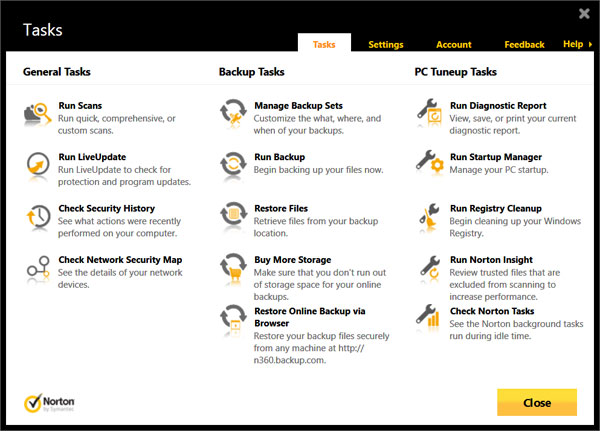 Norton Mobile also protects the device from fraudulent websites and apps that may contain Malware. It even supports contact backup, call/text blocking and an SD Card Scanner that scans memory cards when inserted into your device. The Mac version of the program is similar to the PC version and protects against viruses, anti-phishing plus e-mail protection but unfortunately lacks the backup features.
With that said, this product is more aimed at PC's and Android devices.
Final Thoughts
Once again, Norton by Symantec offer one of the most comprehensive security suites available that not just targets the PC but also the Mac and Mobile Devices. It's very easy to use and will give you 12-months peace of mind. The only drawback is the limited support for iOS devices. Add in parental controls, Norton Studio which allows you to access your device's security from anywhere in the world plus a wealth of other features and Norton 360 Multi-Device is a great buy!
Features
Multi-device Protection covers all your devices – Norton 360™ for PCs, Norton™ Internet Security 5 for Mac® and Norton Mobile Security for iPhones®, iPads® and Android™ smartphones and tablets.
Single Activation Key lets you easily set up protection for all your devices from a single screen.
Safe Web for Facebook scans your Facebook Wall and News Feed for URLs containing security threats, such as phishing sites, malicious downloads and links to unsafe external sites.
Scam Insight reviews a website's reputation and lets you know if it's safe to enter your personal information.
Anti-phishing Technology blocks fraudulent "phishing" sites set up to steal your personal information.
Identity Safe remembers, secures and automatically enters your usernames and passwords for you, so they can't be lost or stolen.
Parental Control helps you protect your kids from online dangers by giving you direct access to Norton Family.
Insight identifies which files and applications are safe and which are dangerous, using the combined feedback of more than 175 million Norton users.
Norton Community Watch tracks virtually every file on the Internet for comprehensive global threat monitoring.
SONAR Behavioral Protection detects the signs that a file is dangerous to proactively protect you from never-before-seen threats.
Spam Blocking keeps unwanted, dangerous and fraudulent emails out of your mailbox.
Internet Protection System scours websites and social networking sites for suspicious links and content to identify the latest social networking scams.
Identity Safe remembers, secures and automatically enters your usernames and passwords for you, so they can't be lost or stolen.
Download Insight and IP Address Insight prevent you from downloading files from websites that have a low reputation score within the Norton user community.
Live 24×7 Threat Monitoring is backed by a network of Norton users who serve as your own personal Neighborhood Watch group.
Automatic product downloads and installations work when you're not using your computer and ensure your protection is always up to date.
Norton Pulse updates virus definitions every 5 to 15 minutes without disrupting your work or play.
Insight + Optimised File Copy identifies safe files and only scans unknown files.
Built-in Intelligence maximises battery life by putting off non-critical activities until you are plugged in and out of full-screen mode.
Norton Management enables easy, single-password access to all Norton cloud-based applications and Web properties – to update, renew, fix or install Norton – including Norton Management, Norton Anti-Theft, Norton Family and Identity Safe.
Windows® 8 Compatibility features a touch-friendly interface that works equally great in keyboard and mouse environments.
FREE SUPPORT 24/7 gets you access to help online or by phone.
Norton Power Eraser scrubs your computer of deeply embedded, difficult-to-remove infections.
Norton Bootable Recovery Tool creates an emergency rescue CD, DVD or USB that gets your PC running like new, even if it's so infected it won't start up.
Windows 8® App remediation scans Windows 8 apps for threats and removes them.
Defrag fixes common problems that can rob your PC of speed and power.
Startup Manager frees up PC memory and fine-tunes settings, so your computer starts up faster.
PC Tuneup removes unnecessary files on your PC to free up storage space and improve hard drive speed and reliability.
Automatic Backup automatically backs up files to disc, USB device or online (includes 25 GB of online PC storage) when you're not using your PC.
Scream Alarm alerts you to the location of a misplaced iPhone, iPad or Android smartphone and tablet.
Remote Locate pinpoints your lost or stolen Android and iOS smartphone or tablet on a map.
Contacts Backup and Restore protects the contact information on your Android devices, iPhone or iPad and lets you instantly recover your data if it's lost or accidentally deleted.