3DS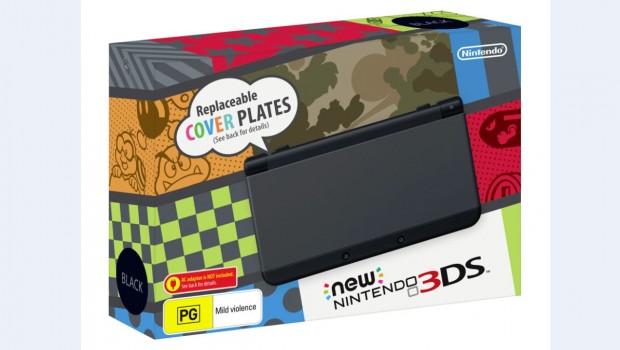 Published on September 21st, 2015 | by admin
New Nintendo 3DS will be Available in Black from 17th October in Australia and New Zealand
21st September – From 17th October, the newest member of the Nintendo 3DS family – New Nintendo 3DS – will be available in black in Australia and New Zealand.
Already available in white, New Nintendo 3DS enhances the user experience with additions such as new buttons, built-in NFC functionality, enhanced play controls, increased CPU power and the "super-stable 3D" function which provides players with a more comfortable 3D gaming experience when compared to other Nintendo 3DS consoles. When compared to its super-sized counterpart – New Nintendo 3DS XL – the compact system features interchangeable Cover Plates that can be easily swapped out to change the look of the device, and with the introduction of a black console, there's even more options to create your favourite look.
Also announced today, the New Nintendo 3DS + Animal Crossing: Happy Home Designer Pack (SRP AU$ 249.95) will arrive 5th November, and includes a white New Nintendo 3DS system with a pre-installed digital copy of Animal Crossing: Happy Home Designer*, a unique set of Cover Plates and one special amiibo card that allows the player to call up the card's character and let their imagination run wild designing a house for them. The special bundle follows the release of Animal Crossing: Happy Home Designer on 3rd October, which gives fans with a penchant for interior or exterior design a chance to join the Nook's Homes family business and make hundreds of their favourite animals happy by designing their dream home.
With the arrival of these two New Nintendo 3DS retail options, it's the perfect time to step into the fun-filled world of Nintendo 3DS! A myriad of highly-acclaimed games such as Mario Kart 7, Super Smash Bros. for Nintendo 3DS, and Pokémon Omega Ruby and Pokémon Alpha Sapphire are already available, and with exciting upcoming games such as The Legend of Zelda: Tri Force Heroes (24th October) and Chibi-Robo! Zip Lash (7th November), it's the place to be for gaming on-the-go in the lead up to Christmas.