3DS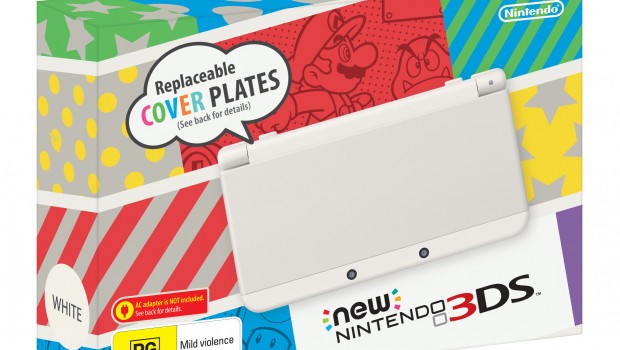 Published on November 21st, 2014 | by admin
NEW NINTENDO 3DS AND NEW NINTENDO 3DS XL LAUNCH IN AUSTRALIA AND NEW ZEALAND
Two new members join the Nintendo 3DS family
21st November 2014 – Announced in the first ever Nintendo Direct Australia, two new members of the Nintendo 3DS family have today hit the shores of Australia and New Zealand – New Nintendo 3DS and New Nintendo 3DS XL. Available at a suggested retail price of AU$219.95, New Nintendo 3DS is a convenient portable size, with a screen 1.2 times bigger than the screen size on the original Nintendo 3DS, and featuring a customisable design via various "Cover Plates" that are sold separately. New Nintendo 3DS XL (SRP AU$249.95) features a luxury look and a large 3D screen measuring 4.88 inches to provide a dynamic gaming experience. AC Adapter is sold separately (AU$14.95) or utilised from Nintendo 3DS/3DS XL/2DS/DSi/DSi XL systems.
These new consoles will enhance the user experience with new additions such as the "super-stable 3D" function which provides players with a more comfortable 3D gaming experience. The console is able to recognise the user's face using the inner camera and automatically adjusts the angle of 3D display if your head or the console is moved during gameplay. The new C Stick, ZL button and ZR button which have been added will enhance the play controls of the existing Nintendo 3DS hardware in compatible titles, and the new "NFC feature" which is built- in for these consoles will enable the use of amiibo in compatible titles when they are released in the future.
The consoles also feature an increase in CPU power, allowing for faster use of Miiverse and download speeds, and smoother transitions when switching between software. In addition, there will be exclusive software developed for New Nintendo 3DS consoles which utilises the improved CPU performance, with Xenoblade Chronicles – an acclaimed RPG title originally released for Wii in 2011 – announced as the first exclusive title for New Nintendo 3DS consoles set for release in 2015. New Nintendo 3DS and New Nintendo 3DS XL, which are compatible with all existing Nintendo 3DS software, are out now in Australia and New Zealand, and are the newest members of the Nintendo 3DS family.