iOS Hardware & Accessories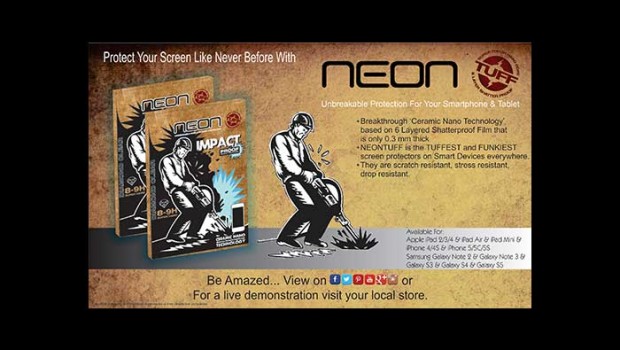 Published on August 11th, 2014 | by Admin
NeonTuff Screen Protector (iPad Air) Review
Summary: The NeonTuff is a must have piece of technology for your iPad Air that protects the screen from the unthinkable
NeonTuff Screen Protector for iPad Air
Product: Screen Protector
Company: CMI
Tablet: iPad Air
Reviewer: James Wright
NeonTuff is one of the strongest screen protectors available for a variety of smart phones and tablets. It uses ceramic nano technology that is based on 6 layered shatterproof film with a thickness of just 0.3mm and we recently just reviewed the Samsung Galaxy S5 product. Thankfully the company also makes an iPad Air version of their extremely tough screen protectors which is equally as strong.
It's almost like attaching a piece of glass to your iPad which considerably increases the protection of the screen from scratches, stress, grime and drops. The developers even boast a 9h hardness rating which gives the user an additional peace of mind. This means that your screen will be thoroughly protected from the unthinkable and should a scratch occur which will probably be highly unlikely, you simply remove the screen protector and replace it.
In terms of the technology used, the 6 layers of protection is broken down into 4 layers of acrylic and 2 layers of patented ceramic nano layering that creates this glass-like product. Once installed, it feels almost identical to the touch screen of your smart device. Installation is quite easy and the first you thing is use the included cloth to remove any grim, dirt or dust. The trickiest part of the installation is lining up the NeonTuff screen protector with your iPad Air screen which can pose a challenge due to the size of the screen.
You also have full access of the touch screen of your iPad with no delays or issues at all. The product also maintains optimum colours on the screen and another interesting feature of the product is that apparently it performs in a zero gravity atmosphere. Okay… I'm not sure how that was tested or why that was included on the features of this product, unless they have a deal with NASA or something.
Final Thoughts?
With a recommended price of $79.95, the NeonTuff is a must have piece of technology for your iPad Air that protects the screen from the unthinkable and best of all, once installed, you don't even realise that you have a screen protector installed.