PS3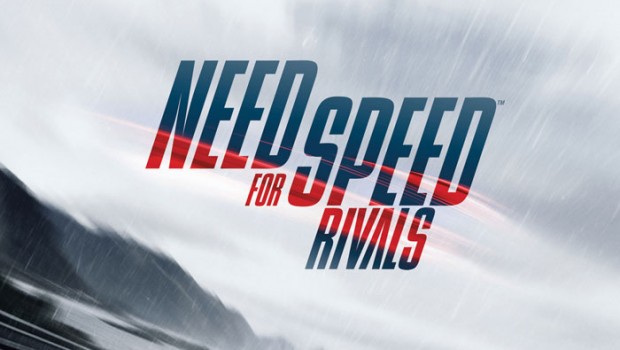 Published on December 8th, 2013 | by Admin
Need for Speed Rivals PS3 Review
Summary: Need for Speed Rivals is a fun game, however the open-world racing genre still needs to be refined, especially with the limit of 6-players. Nonetheless, the gameplay is sturdy, graphics detailed but the multiplayer definitely needs some work.
Need for Speed Rivals
Developer: Ghost
Genre: Racing
Rating: PG
Review Date: November 2013
Reviewer: Tony Smith
It's great that the Need for Speed franchise has returned to its grassroots again as the latest version, Need for Speed Rivals pits players against cops in Redview County. At times, the game is reminiscent of the excellent series Burnout series with its various power-ups and bonuses which allows for both single and multiplayer. However the focus of Need for Speed Rivals is online play which allows you to focus on building your career.
However the career mode in NFS Rivals is a little different than most games as the player is given two careers which include racer and police officer. By allowing the player to swap between either of their career modes, it gives you a brief respite if you are looking for a break.
In essence, as a racer you need to challenge other players in races and complete set tasks, whereas as a cop, your sole objective is to catch the people breaking the law. As a racer, you do have more to lose, especially your points if you are caught by the law, whereas police officers don't need to worry about this.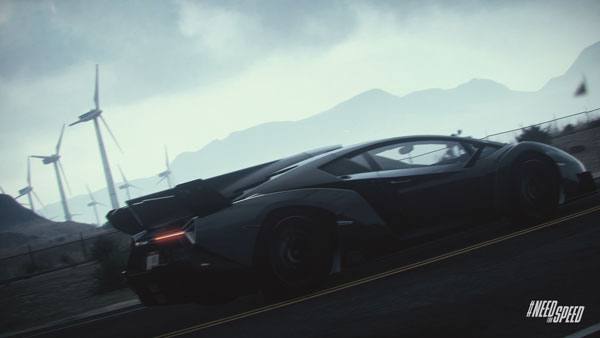 The game does contain a story and as you complete certain speedlists or challenges, these create some fun faux social media moments which helps progress the storyline which serves as a nice cutscene.
As a racer, there are a myriad of upgrades for your car from decals (e.g. custom paintjobs and plates) to new tech to help avoid the cops such as jammers and electromagnetic pulses.  As a cop, you don't have this option of upgrades but you have some fun options such as roadblocks and shockwaves to help stop the perps. You can even download an iOS or Android app to send these bonuses or hindrances to the game via these devices… it's kind of cool
Given that both modes of play (racers and cops) are extremely fun, albeit a little lifeless at times.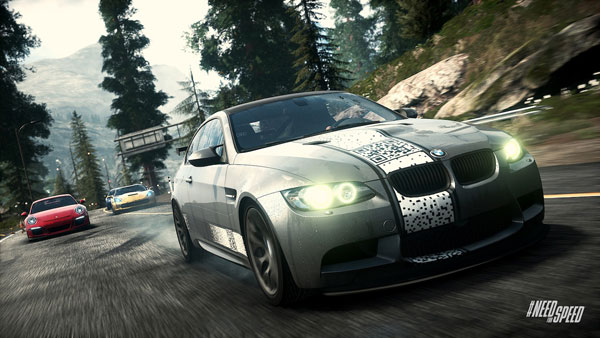 This is due to All-Drive which removes the boundaries of single player and multiplayer. Although the game will attempt to find other players without any prompts, you have to force the game to play offline. The online mode is like one big multiplayer world where you can work together with other players to progress your career mode.
Unfortunately some players lack the skills to support you which makes the game a tad boring and lifeless at times. I also found some online games had players surfing between matches which was a little frustrating. With that said, each online game supports 6 players.
Thankfully the game is filled with some great AI racers and cops that does make the game a challenge at times. The police in Rivals are quite good, especially when they employ roadblocks or helicopter support. At times you do need to work with your rivals in order to get out of a tough situation and this is where the game shines.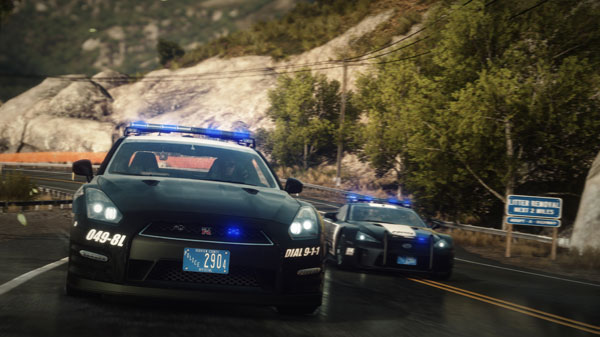 Police also work together but racers have a higher loss if they lose. When the cops are not about, you can challenge other players to races and through speed lists. By interacting with other players, you are awarded more points but sometimes trying to find other players to join is a little tough.
As per most NFS titles, the controls of the game work well and have been mapped perfectly on the DualShock controller. The handling of the cars feels right, especially the drifting, the upgrades and tech which adds something uniquely different to the franchise.
Graphics/Audio
Graphically, the game looks quite impressive on the PS3, although there are a few frame rates issues here and there. The car models are extremely detailed and when matched with the detailed environments, lighting and weather effects, this title comes together quite well on the PS3.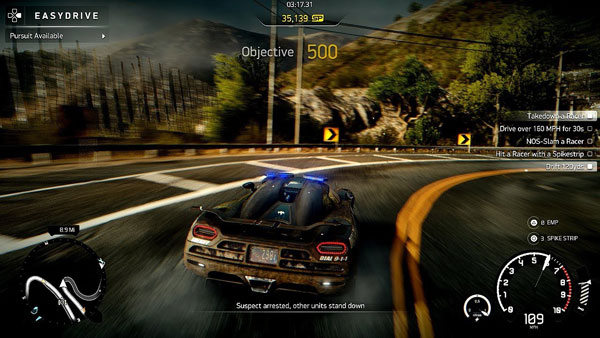 The sound effects and musical score add to the enjoyment factor of the game which sounds great through surround sound, especially the engines. Voice acting is a little clichéd.
Final Thoughts?
Need for Speed Rivals is a fun game, however the open-world racing genre still needs to be refined, especially with the limit of 6-players. Nonetheless, the gameplay is sturdy, graphics detailed but the multiplayer definitely needs some work.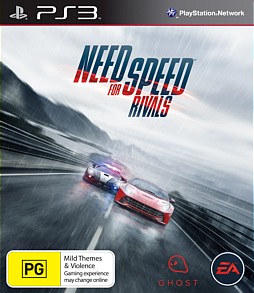 Key Features
• High-Stakes Rivalry – Racers are lone wolves out for their own glory; driving agile cars built for high speed racing and epic chases. Cops work in teams to hunt down and bust racers using the full power of the police force.  Switch roles at any time and watch the stakes grow in an all-new scoring system that lets you put your speed points on the line to earn even greater rewards.
• All-Drive – New in Need for Speed Rivals, All-Drive destroys the line between single player and multiplayer gameplay.  Seamlessly join a world where your friends are already racing and chasing.  No lobbies.  No waiting.  Paths will cross as races and pursuits collide, creating a world where no two moments or events will ever be the same.
• Your Car, Your Identity – Power up your car with the latest performance upgrades and technology, and personalize your car with fresh paintjobs, liveries, custom license plates, rims, and decals to show off your style to your friends and rivals. Save different configurations and keep a variety of car packages available to leave your mark no matter the situation.
• Pursuit and Evasion Tech – Intense racing moments are made even more thrilling with access to technology and upgrades customized to each side of the law. Racers can choose evasion technology from jammers to electromagnetic pulses. Cops are outfitted for aggressive busts with shockwaves, roadblocks, helicopter support and more.