3DS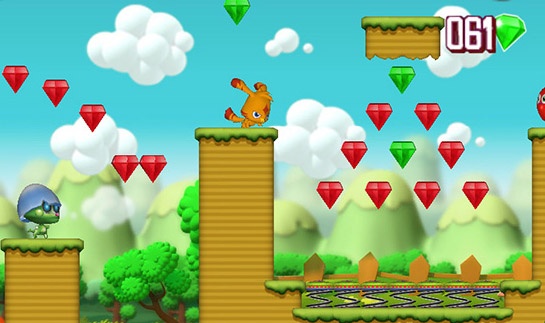 Published on December 12th, 2013 | by Admin
Moshi Monsters Katsuma Unleashed Review
Summary: Moshi Monsters Katsuma Unleashed targets a younger audience but older gamers will also enjoy the side scrolling nature of an earlier time of gaming.
Moshi Monsters: Katsuma Unleashed
Developer: Activision
Format: 3DS
Genre: Arcade side scroller
Rating: G
Reviewer: James Wright
Review Date: December 2013
Welcome to the world of Moshi Monsters in Katsuma Unleashed, another whacky adventure in this fun side scrolling arcade game. The story of Moshi Monsters Katsuma Unleashed pits the player against the nefarious Dr. Strangeglove who has kidnapped Elder Furi in an attempt to make him reveal the secrets of Moshi Picchi. If Furi succumbs to Dr. Strangeglove, than he will harness the powers of Moshi Picchi and use it for his own devious plans. Unfortunately Katsuma's friends have also been kidnapped by the Doctor.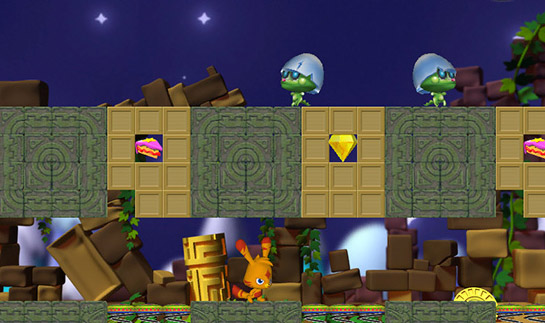 The protagonist of the game is Katsuma, a cute little bunny type monster with fangs and a tail who must complete a set number of objectives in order to rescue Elder Furi and his friends. However this is not an easy task as the Dr. Strangeglove has Robot Moshlings unleashed in order to stop any hero who would get in the way plus his henchmen, Sweet Tooth, Scare Force One and Big Chief Tiny Head. Katsuma must also find and collect the World Tablet pieces which is the key to defeating Dr. Strangeglove.
At its core, Moshi Monsters Katsuma Unleashed is a thoroughly fun, albeit simple side scroller that requires players to defeat enemies, collect gems (rox) and perform other classic archetypes moves in this gaming genre. There are also a variety of bosses along the way and as per usual, each boss has their pros and cons which must be found and then exploited by the player. The game is also reminiscent of those classic side scrollers like Super Mario, especially in the way how you defeat enemies by jumping on their heads. What I did enjoy about the environment of the game was the amount of shortcuts and secrets included in the title so there's definitely another replay or two to be found in this game.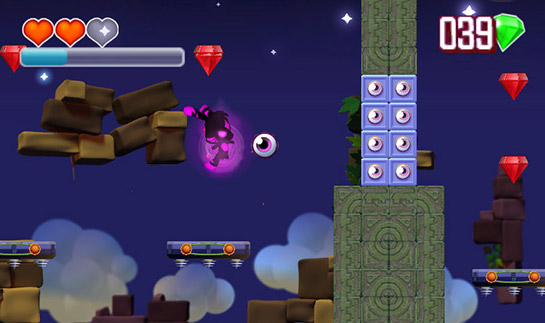 Katsuma can also jump, spin, dash and bash which combines with navigation and combat in the game. The controls work well on the 3DS, especially when you get your power-ups that make Katsuma considerably more powerful. To activate these powers, you simply tap on the touch screen such as your flying ability and this then allows Katsuma to fly or break through walls etc. Apart from fighting and exploring, you need to find every piece of the World Tablet which once completed will allow you to free Elder Furi from Dr. Strangeglove plus the final boss battle.
In terms of health, Katsuma has 3 hearts which can be topped up as you find health items in the game. There is also a bonus health item which gives you four hearts. The HUB of the game is basically a map which shows you where you have explored and where to go next. It also allows you to retrace your steps in case you have missed something. There are some unlockable levels but these are purchased through the collection of gems. As with most 3DS games, there are a few mini-games in the title and these focuses on one of Moshi's that you have freed. Freed Moshi's also gives the player access to the encyclopaedia which gives the player a brief blurb on the monster, including a few codes for online use. It's a fun distraction to the main game.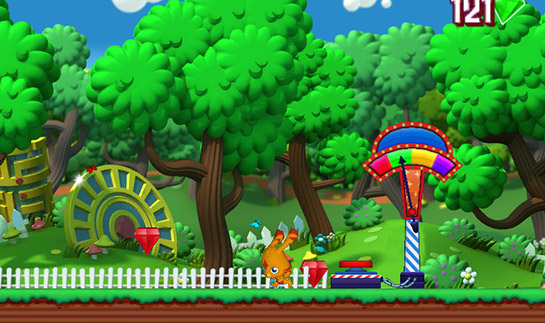 Graphically the title looks great on the 3DS with sharp graphics and colourful characters plus diverse worlds. There are 6 worlds in this game. The 3D works well, however the camera is a little too fast at times which did give me some motion sensitivity. You need to disable the 3D feature if you are too sensitive to motion games. The music is brilliant in the game and the sound effects are fun, especially the strange little noises that Katsuma makes.
Final Thoughts?
Even though Moshi Monsters Katsuma Unleashed targets a younger audience, older gamers will enjoy the simplistic side scrolling nature that harkens back to an earlier age of gaming. The gameplay is sturdy, the protagonist is entertaining and all in all, Moshi Monsters Katsuma Unleashed works from start to finish but it is a little on the easy side. It's definitely a fun game!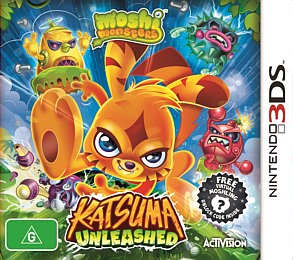 Key Features
• 6 Action Packed Worlds To Explore – Jump, spin, dash and bash your way through 6 monsterific worlds packed with battles, baddies and a host of hidden secrets! From the lowlands of Pirate Bay to the snow-capped peaks of Mount Sillimanjaro and beyond, get ready to discover the farthest reaches of Monstro City.
• Defeat The Robot Moshlings – Fur will fly with epic battles against Dr. Strangeglove's evil robot Moshlings – an army of dastardly drones sent to stop Katsuma in his tracks. You'll need all your skills to dodge Robot Blurp's flying spines, whack Robot DJ Quack, leap over Robot Long Beard and thump as many Glumps as you can!
• Epic Boss Battles – Prove your skills as you fight your way through epic boss battles. Topple Sweet Tooth from his candy throne, take to the skies in a dogfight with Scare Force One, and rumble in the jungle with Big Chief Tiny Head before taking on the ultimate boss, Dr Strangeglove himself!
• Super Moshi Powers – Unlock amazing superpowers, rescue your Moshi mates and access hidden hero areas and super short¬cuts! Once unlocked, you can use your super powers to battle your way though even the toughest levels. Unleash the awesome Zommer eyeball attack, bash through walls with Furi's smash ability and discover secret areas with Diavlo's char-vellous flying powers!
• Monsterific Mini Games – Unleash Katsuma in a multitude of monsterific mini games and unlock exclusive abilities, Rox rewards and Moshlings too! Every mini-game you unlock can be played on its own. Perfect for practising your monster moves!