Action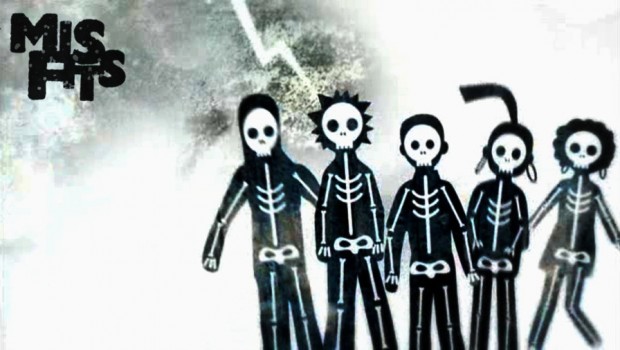 Published on January 28th, 2015 | by Sean Warhurst
Misfits Series 1-5 DVD Boxset
Summary: Certainly not for those with sensitive tastes, as besides the copious carnage the show also spirals elegantly into vulgarity at times, for those inclined Misfits will almost certainly rank up there with your all-time favourite shows.
Running Time – 34 Hours 19 Mins. approx.
Year of Release – 2014
Actors – Nathan Stewart-Jarrett/Joseph Gilgun/Iwan Rheon/Lauren Socha/Antonia Thomas
Aspect Ratio – 1.78:1
Audio – English (Dolby Digital 2.0)
Film Genre – TV Drama
Label – BBC
Rating – MA15+
Region Coding – 4
TV Standard – PAL
Primary Format – Movies/TV – DVD
Reviewer – Sean Warhurst
Fresh, fast paced and with a wicked sense of humour, Misfits is, in my opinion, one of the best series' to come out of the UK within the last decade; often funnier than most straightforward comedy programs, this dramedy deftly balances pathos and realistic characterisation against a backdrop of fantastical elements and blossoming superpowers – It's as if Heroes and Skins had a bastard child together who takes great delight in stealing your cigarettes whenever your back is turned.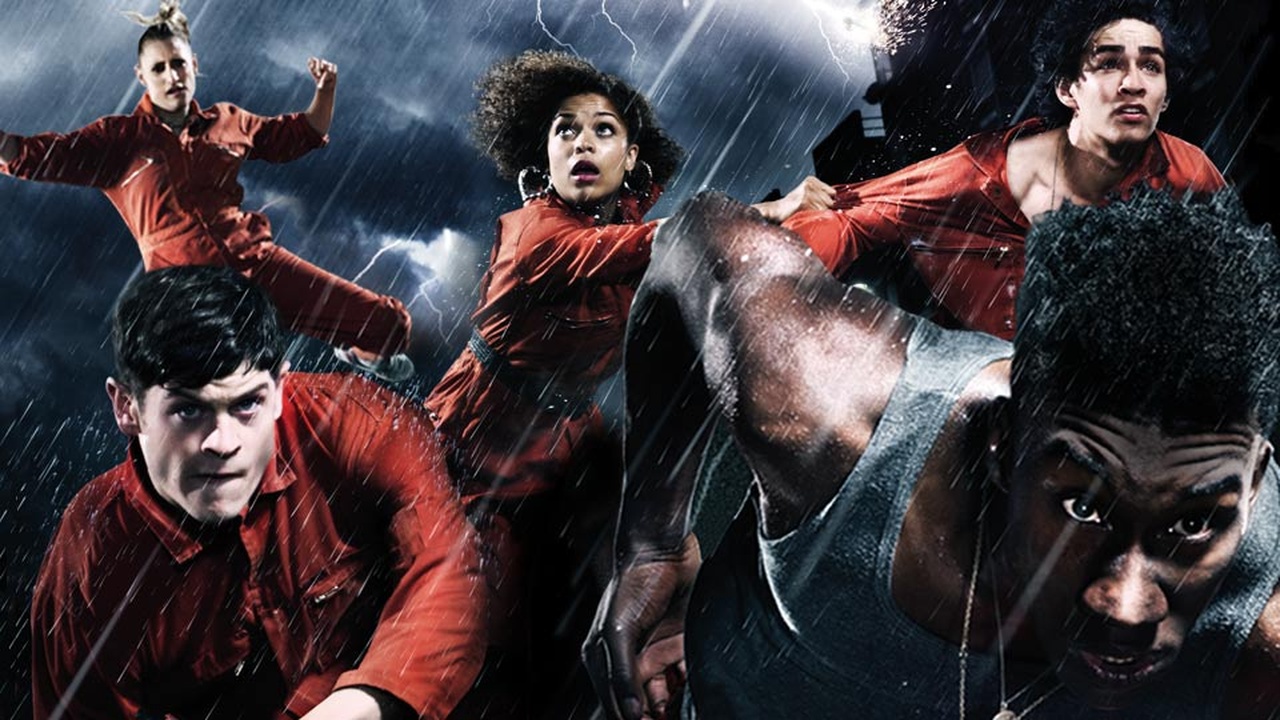 Skins is probably the most obvious comparison point, in that Misfits and Skins both served to put a human face on the current generation of "out of control" UK teens rather than pandering to sensationalised media stereotypes and both shows follow the exploits of a group of disaffected youths, with the crucial difference between the characters being that the crew from Misfits have also been bestowed with unique superpowers after being caught in a freak storm.
Created by Howard Overman (Atlantis). Misfits opens with the cast of Simon (Game of Thrones' Iwan Rheon), Kelly (Lauren Socha), Curtis (Nathan Stewart-Jarrett), Alisha (Antonia Thomas) and Nathan (Robert Sheehan) as they commence community service. What could have been another dreary, mundane day of giving back to the community suddenly takes a drastic turn when the group is caught in a mysterious storm of unknown origin and given superpowers.
Initially the powers appear to be based on some element of the recipient's personality – Simon, the perpetual outsider, is given the ability to turn invisible whilst Curtis, a former track star filled with regret for the path his life has taken, is given the power to rewind time; Kelly is blessed – or cursed, depending on how you look at it – With the ability to read minds, promiscuous Alisha can drive men ravenous with lust by merely touching them and Nathan… Well, the sardonic, quick witted fan favourite doesn't appear to have gained any power, but given the exciting new world that they teens are now living in, this could change quite suddenly.
Each week the gang faces off – often reluctantly- Against a variety of similarly affected people, including their raging probation worker (Spoiler – Probation workers don't exactly get the best run in Misfits), an elderly woman with the power to revert in age, a fundamentalist cult being brainwashed by a devoutly religious girl, a man who is trapped playing out a videogame in real life and an unassuming chap with the admittedly rather lame power of Lactokinesis (Telepathically controlling dairy products).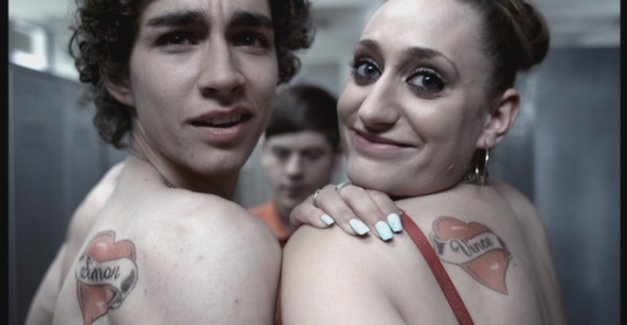 The first two series' also start to add a sense of continuity between the stand alone episodes, introducing the arc of Superhoodie, an enigmatic masked character who arrives to help the gang at random intervals and is seemingly blessed with the power of prescience.
Series three starts off with one of the main five conspicuous by their absence, so self proclaimed "new guy" Rudy (Joseph Gilgun) steps in to fill the sizable shoes left by the departure. Dryly acerbic and initially officious, we soon find out that Rudy has also received a power from the storm – The power to split himself into two (Or three, as may be the case).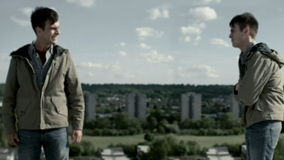 Rudy's induction into the gang is actually rather seamless, considering the role he's replacing, and over time Rudy has become my favourite character. Oh, and did I mention that the gang are now imbued with all new powers? Unfortunately this series also marks the departure of three other main characters, leaving only Curtis remaining as a member of the original "ASBO Five".
Series four introduces a host of new characters, first and foremost Jess (Karla Crome) and Finn (Nathan McMullen), two new probation workers with secrets of their own who quickly find themselves drawn into the bizarre world of the Misfits. Practically replacing the entire cast of a television series generally doesn't occur all that smoothly, with many fans lamenting the previous cast members and refusing to warm up to the perceived inferior replacements; kudos, then, to Misfits for making the process as painless as possible, with both Jess and Finn adding their own unique flavours to the group dynamic.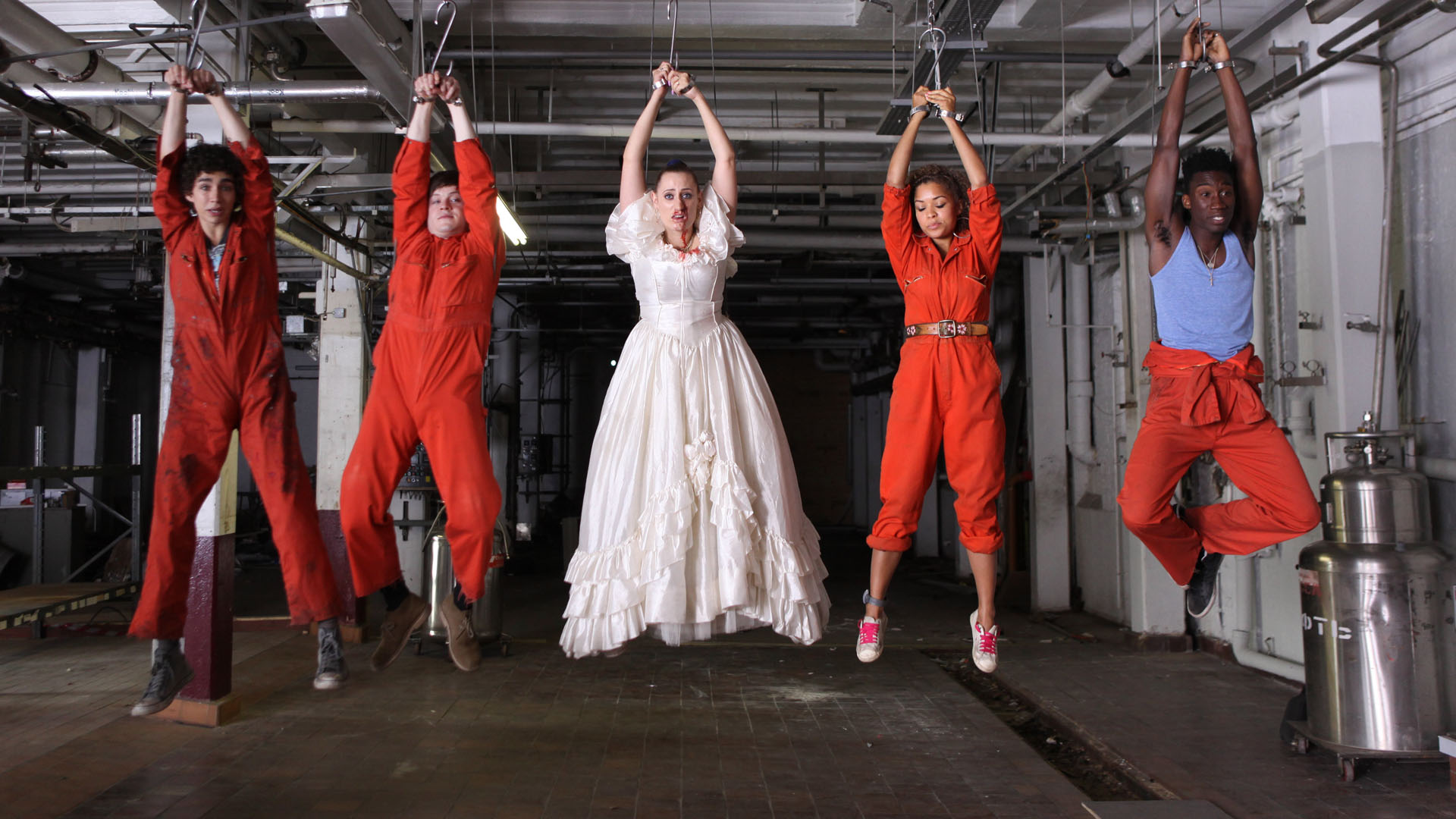 This season sees Curtis get drawn into a web of intrigue when a femme fatale plays him and convinces him to murder her "abusive" Ex, Zombie Cheerleaders attacking the gang, a man with the power to make everyone envious of the suitcase he's carrying, Finn's unique relationship arrangement and his, erm, close relationship with his step-mother.
This season also sees the later appearance of two other new characters, the amnesiac Abbey (Natasha O'Keeffe) and the "handsome bartender" Alex (Matt Stokoe), both of whom it should go without saying have their own skeletons in the closet related to the storm.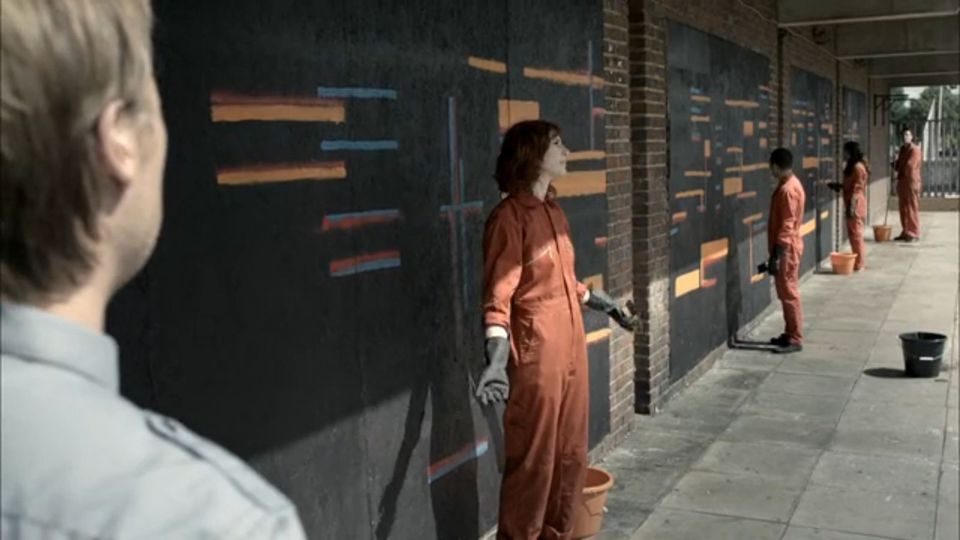 Series five follows the exploits of the new gang as they struggle to adapt to their strange existence. Romantic relationships are made and broken, babies are born and Rudy 2 (Rudy's kindhearted but mopey doppelganger) sets out on a journey of self discovery when he starts to question who he is and his place in the world.
When he starts attending a support group for those affected by the storm, he discovers an elderly woman with the ability to knit the future who gives him a jumper supposedly featuring him and three other superpowered beings operating as a legitimate superhero team, Rudy 2 soon sets about hunting down his future teammates in order to complete his destiny, kicking events into gear that come to a point in the show's final episode.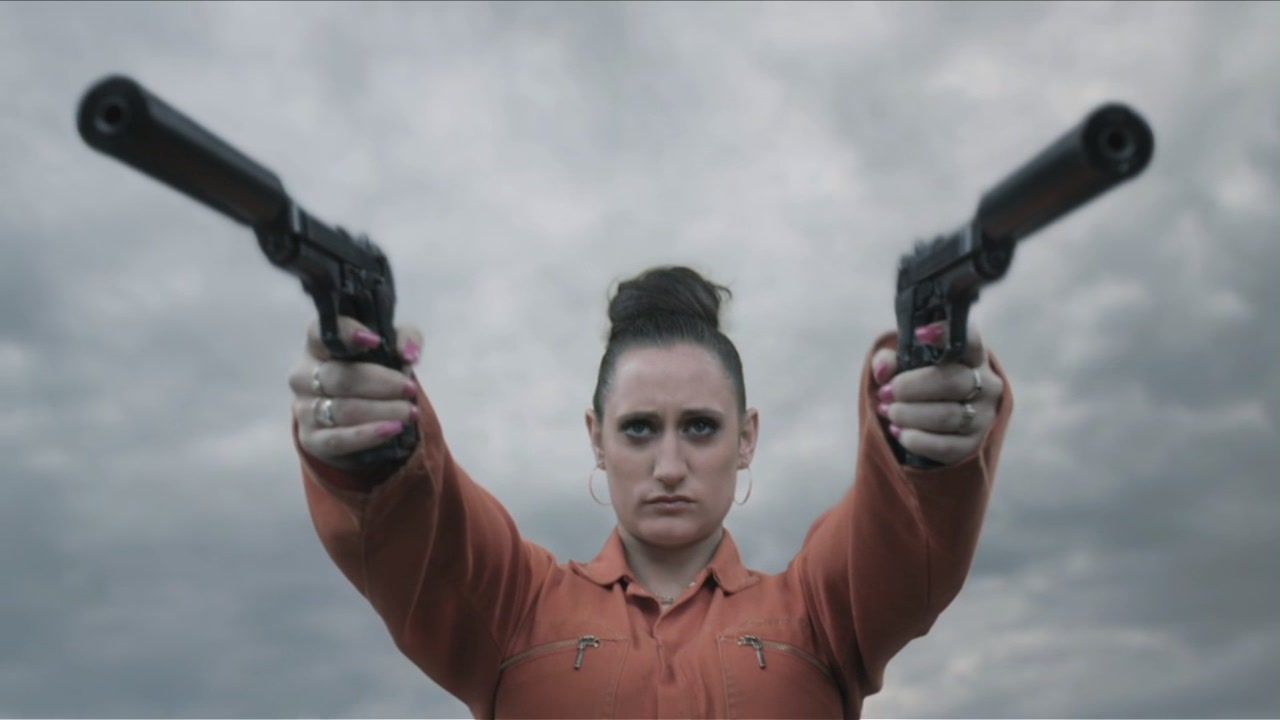 Despite an almost imperceptible dip in quality midway through the series, Misfits is an often amusing, gratuitously violent and disarmingly bleak viewing experience that is genuinely unlike anything else on television.
With ridiculous storylines that somehow make perfect sense by the time the credits roll, top notch performances across the board by a stellar young cast and a take on the plight of the "superhero" unlike any other, Misfits is bound to be the funniest, most slyly witted and refreshingly inimitable program you'll see this year.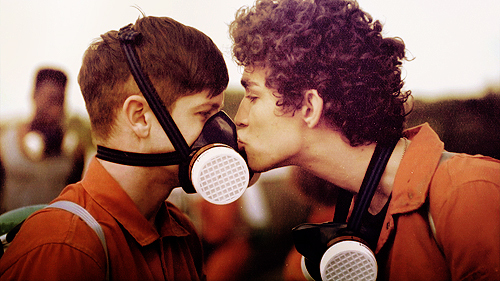 Special Features
Series One comes with a set of featurettes exploring the process of filming some of the iconic moments of the first series, such as the Ice Storm, as well as showing a single take of a dance scene shot under duress and a tight time limit and a look at why each actor was chosen for their part. There's also some short behind the scenes vignettes shot by the actors and crew and a collection of amusing short mobile phone clips filmed in-episode by the character Simon.
Series Two is entirely devoid of supplemental features (Although it does feature the Christmas episodes, which is a plus), but Series Three has a decent raft of extras for fans to peruse, including two short films that go some way to explaining events that transpired both before the series started as well as between episodes, a set of eight featurettes looking at each episode, a look into the visual effects and stunt choreography process as well as a look behind the curtain at an average day on set.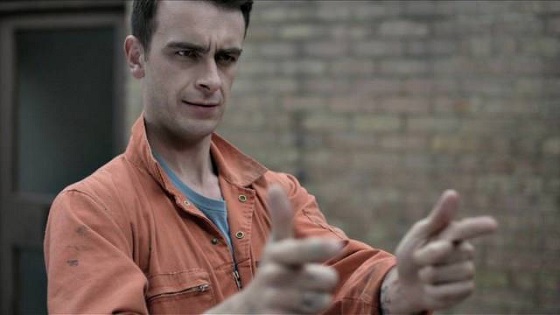 The extras are relatively light on Series Four and Five, mainly consisting of short, but fairly comprehensive, behind the scenes clips running three or so minutes each. Also included on Series Four is a curious collection of short films collected under the title of Strung Out that features the cast as crude marionettes and reveals the identity of a shadowy figure who's been standing in the sidelines – The duplicitous Trevor.
Overall, each set of features are engaging and informative and make for requisite viewing once you're finished with the episodes proper, particularly if, like me, you're a supplemental feature whore.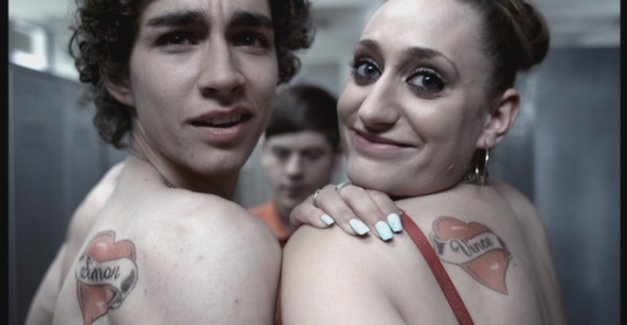 List of Features:
Series One:
Simon's Films – Not Aquaman (3:20), Girl Talk (2:34), Stoner (2:46), Area 51 (2:39)
The Making of Misfits – Ice Storm (7:26), Roof Stunt (10:08), OAP Disco (8:04), Finding Our Misfits (14:58)
Behind the Scenes – Introduction (1:01), Nathan (2:25), Alisha (2:08), Curtis (1:42), Simon (2:35), Kelly (2:34), Tom Green – Director (1:14), Tom Harper – Director (1:21), Petra Fried – Executive Producer (2:10), Tom Bowyer – Production Design (2:04)
Series Three:
Vegas Baby (9:39)
Erazer (13:25)
Behind the Scenes Episode 1-8 (25:51)
On set with Misfits (8:04)
Stunts and Special Effects (10:22)
Visual Effects (11:14)
Series four:
Misfits Strung Out (17:05)
Behind the Scenes Episode 1-8 (28:04)
Series Five:
Behind the Scenes Part 1 (9:46)
Behind the Scenes Part 2 (10:00)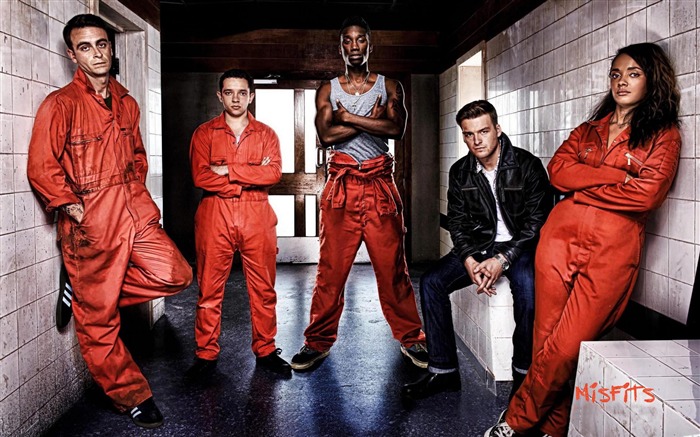 Final Thoughts
Misfits is the only show where non-consensual penetrative anal sex is the only viable way to save the world from being plunged into a Satanic Armageddon, and to me this climax (Pun not intended) serves to sum up all that is right with the show. Certainly not for those with sensitive tastes, as besides the copious carnage the show also spirals elegantly into vulgarity at times, for those inclined Misfits will almost certainly rank up there with your all-time favourite shows.
This generously priced boxset should take the hassle out of picking up each individual season, containing all of your ASBO inspired hilarity in one convenient package, even if the boxset offers no extra features as an incentive for fans to double dip.
If you ever thought that Buffy the Vampire Slayer could do with a little more placenta stomping, then Misfits should be right up your alley.