Comedy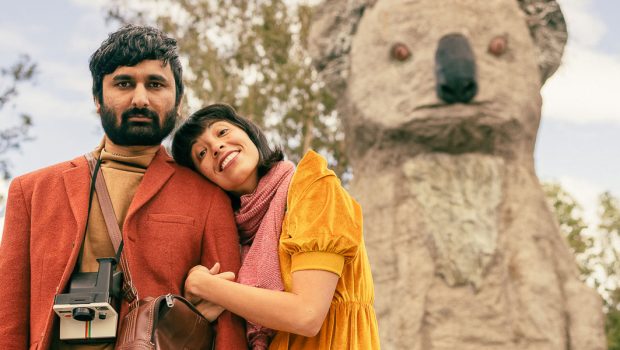 Published on August 9th, 2022 | by Tim Chuma
MIFF 2022: The Lonely Spirits Variety Hour (2022) Review
Summary: "Is this the movie with Sabrina D'Angelo in it?" / "It's just like life, you get the funny with the tragic" well hopefully with less lions trying to eat your family for 10 years while you film the movie.
Neville Umbrellaman (Nitin Vengurlekar) has his own late night radio show in his parent's garage that he even manages to get guests singer Kenneth Wong (Teik-Kim Pok), baker Yvette (Teik-Kim Pok), his annoying neighbour Terry (Peter Gizariotis) calling up and has invited his secret crush Sabrina (Sabrina Chan D'Angelo) onto the show in the hopes she will hang out after. It is all very strange and unusual, all the more when you find out what has really happened and that plays out in the dramatic parts in between scenes of the show.
This was originally a stage production and has been adapted for the screen with some dramatic licence taken and a few things changed around. Joyce Edmonds               who plays his mum is great and are the other members of the family who lend gravitas and help anchor the dramatic scenes to balance out the weirdness of the other scenes.
Neville is an excellent presenter and does remind me of some of the ones I know from local community radio. Even the always wearing the suit gag is something you see at in local radio as the presenters are characters as much as they are people on the radio, I have known some of them for a long time. Nitin Vengurlekar does well here in the role and does look uncomfortable in some scene as he was required to be more physical in the role than he was on stage to get the reactions across.
Sabrina (Sabrina Chan D'Angelo) is so funny and cool. I have been a big fan of her work for a while and she can make me laugh by not doing that much at all. Her actual job is being a Clown Doctor and there were a bunch of her work colleagues at the screening "Is this the movie with Sabrina D'Angelo in it?" indeed! Well you purchased the ticket so it must be! (Well I should talk, I once went into a screening at MIFF I thought was Gremlins and it was a movie about a man stuck in a room with just switches, they 100% just let me walk into it without checking properly.)
The performance Sabrina does in the film is one she has done on stage plenty of times. I did laugh when she talked about getting to see how big her bum was on screen.
I don't know about referencing Spike Milligan and the Goon Show, not many people would know who they are unless you are a huge comedy nerd. I would say that it is more like a podcast that is being broadcast in the local area from someone's backyard. I did once travel 13,000km to meet some people from a podcast and do a single sight gag with one of the show's participants so I could understand that angle. I have also been recording silly voicemails in character and you 100% need a script to work off you can't just make it up and expect to be any good.
This movie is quite verbose, which suits the content and the characters. The director also decided not to cut around the performances and let things play out so some of the shots go for two or three minutes which is quite long for a single bit of dialogue.
There was quite a lot of originally composed music for a film of this length and they did have the jazz quartet jammed into the tiny space of the studio for some scenes. I thought all the music worked very well with the movie and didn't sound like it was too intrusive on the on-screen action.
They did go and fill all the big things on-location including the shot in the Big Merino with Neville in the ram's eye done in-camera.
All the things stuffed into the studio was all the furniture from the director's house and the unused props from the first movie he worked on.
This film "is just like life, you get the funny with the tragic" as the director of the movie ROAR said, but hopefully less being attacked by lions. There is one more screening of this at the festival and it is going to be on MIFF play for a week after that and is shorter than a feature and longer than a short so it is just the right length.
Film details:
Director: Platon Theodoris
Screenwriters: Nitin Vengurlekar, Platon Theodoris
Cinematographer: Brian Rapsey
Composers: Dimitri Vouros, Donald Baldie, Nick Wishart, Peter Theodoris
Starring: Alison Bennett, Joyce Edmonds, Nitin Vengurlekar, Peter Gizariotis, Sabrina Chan D'Angelo, Teik-Kim Pok
Origin: Australia (2022)
Australian Films | Feature
Language: English
Genre: Comedy, Drama, Romance
Trailer