3DS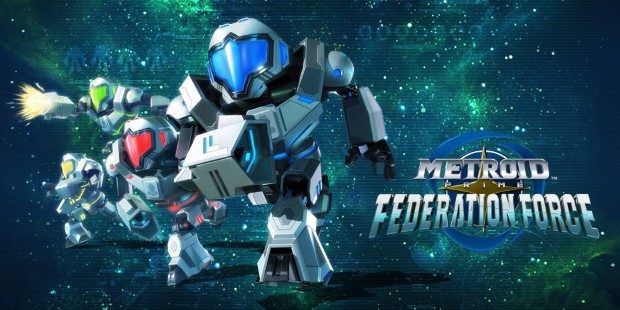 Published on September 12th, 2016 | by Tony Smith
Metroid Prime Federation Force Review
Summary: Metroid Prime Federation Force is fun jaunt in this universe, although it just makes you miss Samus even more!
4.0
Metroid almost-Prime!
Metroid Prime has a massive following and when Metroid Prime Federation Force was first announced, fans were excited. However unlike the original games where you played Samus, Metroid Prime Federation Force takes a slightly different tact and lets you play as a new recruit in the Federation Force. Also, the game is a first person shooter that allows up to four players to join in cooperatively as you engage in a variety of nefarious enemies in order to keep peace within the galaxy. The game even has amiibo integration which for the most part gives you some nice aesthetics but it also gives you some bonuses to your character as well.
Key Features
Up to 4 players* take on a variety of co-op missions in this first-person, sci-fi shooter set in the Metroid™ universe
Work solo or together as a team to clear out enemy-infested bases and complete objective-based missions against the Space Pirate menace
Customize your Mech with MODs and subweapons to define your role on the team
Discover the futuristic bliss that is Metroid Prime™: Blast Ball, a 3-on-3 sci-fi sport in the Metroid universe where players literally shoot the ball into their opponents' goal to score
Aim using the Nintendo 3DS™ system's gyroscope or use the C-Stick on the New Nintendo 3DS system for dual-analog control
Although the game does not focus on Samus (although there's plenty of images of her), it is still firmly grounded in the Metroid universe as you visit a handful of planets with just over 20 missions to complete. These missions are quite diverse that is a good mixture of combat, strategy and even puzzle solving. Combat is fun in Federation Force and the game challenges the player with some interesting boss battles which will induce an element of controller rage plus the circle pad definitely helps with navigating this title. Boss battles do require you to find their flaws which adds to the strategy of this title. Furthermore and before each mission commences, you can tailor your mech with weapons, armour and other payloads, including some cool things like drones and even repair kits. Just be warned that these are limited by weight that makes the multiplayer option more viable
At the start this does seem a little intimidating but as you explore the items, weapons and bonuses, you do become accustomed to what works best for you. Given that, you do need to ensure that you have the right items because some missions do require more tactics than firepower in this Metroid Prime spin-off. Although I was a little disappointed that this is no sequel to the main Metroid Prime game, Federation Force is still a fun game with good controls and an element of world building, exploration and gaming mechanics. Nonetheless, it does take some time in familiarising yourself with the controls, especially the gyroscope controls but the auto-target system does assist in this overall process.
However in order to get the most out of Metroid Prime Federation Force, this is a game that works best with other players because it adds another level of strategy to your gameplay but you can finish the game by yourself as well. I just found that multiplayer gave you some more options on how to finish the level and by working as a team, it does make taking on the enemies and bosses a much less arduous experience.
One issue with playing alone is the inconsistent save points which did become frustrating, particularly with some of the lengthy gaps until the next save. For those multiplayers who want to try something a little different, there is a mini-game that reminds me of some futuristic game of soccer as you need to use your blasters to push the ball around the field until you get it into the goal which serves as a nice distraction. All in all, Metroid Prime Federation Force is an enjoyable title on the 3DS that gives players a sturdy strategic shooter with some issues.
Graphics/Audio
Graphically, Metroid Prime Federation Force looks great on the 3DS and really channels the universe of this franchise, especially when you add the amiibo into play. Gaming environments are well designed (although a little simplistic at times) and there's some decent special effects thrown in for good measures. Audio complements the gameplay well and this is one game that needs to be heard through headphones. Add in an ambient and changing soundtrack and it helps immerse the player into the Metroid universe.
Final Thoughts?
Sure it's not Samus but Metroid Prime Federation Force is actually quite a good game on the 3DS and if you're looking for a challenge with some fun gaming mechanics, it would do you well to check out this title.