3DS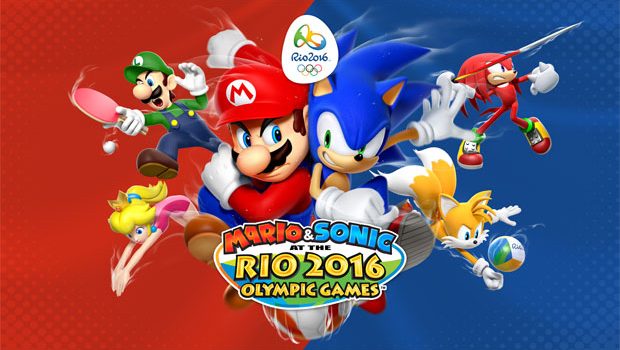 Published on April 24th, 2016 | by James Wright
Mario & Sonic at the Rio 2016 Olympic Games 3DS Review
Summary: Mario & Sonic at the Rio 2016 Olympic Games on the 3DS is a collection of fun and some forgettable mini-games!
Those two iconic characters from two different video game companies return again for another jam packed Olympic Games instalment that invites characters from the world of Nintendo and SEGA to partake in a variety of summer sporting events with the player at the forefront. This partnership between the two began way back in 2008 that was basically a collection of fun and sometimes forgettable mini-games and since then, the series has evolved to give players a relatively enjoyable sporting experience.
Fast forward to 2016 and players are given the option of competing in events such as swimming and soccer but in classic video game fashion, the gameplay has been spiced up in "Plus" events to make it even more enjoyable and more importantly, the controls work quite well on the 3DS console that include the buttons, touch screen and even gyro capabilities (for archery) as you make your way through a plethora of events like swimming, golf, hurdles and even rhythmic gymnastics. There's literally dozens of events of mini-games to be found in Mario & Sonic at the Rio 2016 Olympic Games.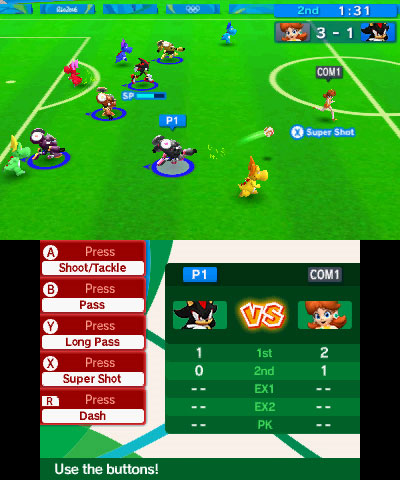 Before jumping into the colourful gaming activities at Rio de Janeiro, players are given the option of choosing their own Mii character and even what country they are from which helps create some ownership for the player. These teams are basically split into Team Mario or Team Sonic which also includes lots of Nintendo and SEGA characters to compete against as you attempt to out sport your competitors.
In terms of gameplay modes, Mario & Sonic at the Rio 2016 Olympic Games contains three main modes that include Quick Play, Road to Rio and Versus Mode. Although the games are based on actual Olympic Games, players can also choose to play "Plus" events which add in certain video game elements into the game such as swimming which requires you to dodge waves, power-ups for racing or super punches for boxing and other outrageous bonuses that help make the stock standard events even more entertaining.
Key Features
Take on fun and exciting events set throughout host city Rio de Janeiro.
Join Mario, Sonic and your favorite characters to take on new challenging events like Soccer and Beach Volleyball.
Soccer is a popular sport in Brazil where the Rio 2016 Olympic Games are set.
Golf returns to the Olympic Games for the first time in 112 years; enjoy the event exclusively in the Nintendo 3DS™ version of Mario & Sonic at the Rio 2016 Olympic Games.
The main mode in the game is Road to Rio which is basically a story mode and requires your Mii character to pick which team they will be participating for which includes Mario and Sonic. So once you have chosen which team you will play, you then proceed to engage in the various sporting events but what makes this mode standout from the others is that there is actually a story behind this that is also filled with some clever dialogue and some gags.
The story mode even has a training option that requires you to train at the gym via mini-games in order to help the player get number 1 in the sports that they compete in. Furthermore by training in the gym, it allows you "level up" and also gives the player additional bonuses via uniforms. It's quite a clever premise and does give you a break from the sometimes monotony of virtual sporting games.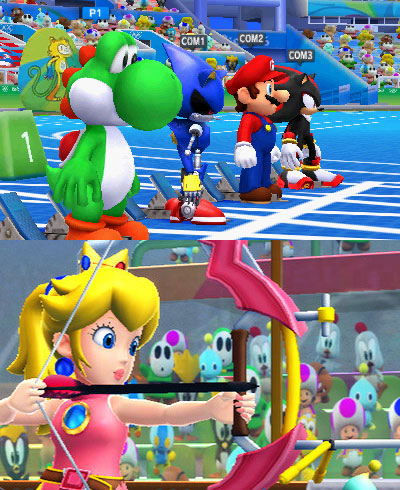 Quick play which is aptly titled allows you to choose one of the 14 events for those quick gaming sessions that give the player an aim to beat their previous scores. Versus mode is the multiplayer component of the game which allows you to challenge up to four players via local play and unfortunately online play is missing. The game also supports StreetPass which basically works as an in-game pedometer and uses the number of steps you have taken in order to unlock additional bonuses in the game.
In terms of controls, some are just button smashers like running, where archery uses the gyro capabilities of the console that works quite well and overall, all the sporting events were fun to play. The AI works well but as mentioned, the game would have been even better if it supported online multiplayer as the single-player game does become slightly repetitive at times.
Graphics/Audio
Graphically, Mario & Sonic at the Rio 2016 Olympic Games looks quite impressive on the 3DS with pops of colours, well animated characters and some simplistic yet well-designed environments. The game definitely has parallels to a handful of games from both Nintendo and SEGA which translate well into this sporting title. Add in a plethora of sound effects plus a great soundtrack and the audio goes hand in hand with the graphics and gameplay. I also loved the "South American" sound effects as well!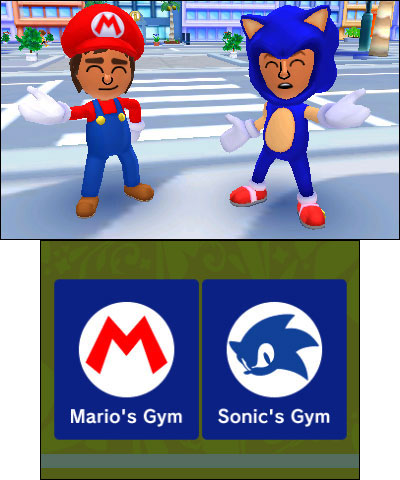 Final Thoughts?

Mario & Sonic at the Rio 2016 Olympic Games is a sturdy sporting title for the Nintendo 3DS that boasts some decent graphics, fun sound effects that would be expect to hear in Brazil plus some carefully designed sporting games that work on most levels. Sure, it does become a little tedious here and there but for the most part, it's a fun game to play from short to long bursts of gaming that also gives you enough incentives to come back for more.
Game Details

Title – Mario & Sonic at the Rio 2016 Olympic Games
Primary Format – Games – Nintendo 3DS
Game Genre – Sport
Rating – G