3DS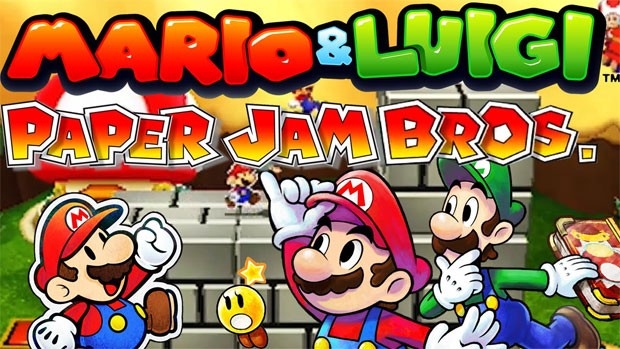 Published on December 13th, 2015 | by James Wright
Mario & Luigi Paper Jam Bros. Review
Summary: Mario & Luigi Paper Jam Bros. successfully merges two franchises into one entertaining turn-based JRPG!
When the characters of the Paper Mario Universe are unleashed in the "real" world of Mario, it is up to three intrepid heroes to help return these characters to their perspective worlds rescue two Princess Peach's! However when Paper Bowser and the original Bowser team up, this requires the help of the greatest heroes of two worlds that include Mario, Luigi and Paper Mario in this 3DS turn-based Japanese-RPG with a healthy dose of puzzles, combat and team-work that has a very clever twist of words in the title.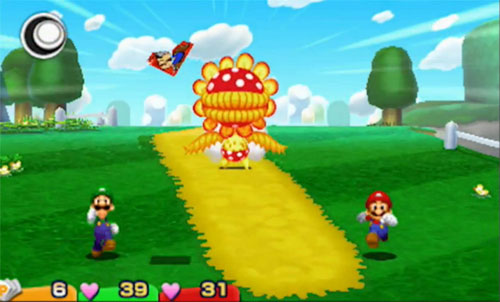 Developed by AlphaDream who are no strangers to the lore of Mario and co, they successful combine various elements of the franchise into one clever game on the 3DS and seeing the world of paper characters join the regular Mario world is definitely a highlight and an enjoyable one. Although the dual Bowsers are the villains in this game, it is Luigi who unwittingly unleashes the paper universe onto the 3D one and as a result, is probably one of the stronger Mario stories to date, particularly the dialogue.
Combat plays a huge part of the game and as it is a turn-based, this allows for some great team-work as you control Mario, Luigi and Paper Mario in classic battles moves with some clever counter measures thrown into the mix. Enemies can be quite diverse so trying to find their weakness is part of the strategy and does create a fun yet challenging Japanese RPG mechanic. Controls could be a little awkward as each character has a particular button (A, B & Y) assigned to them but it actually works, particularly for the quick-time moves that requires almost perfect timing.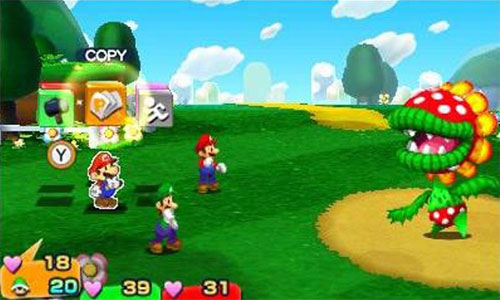 Another cool aspect of the controls is that each character has a primary function such as Mario using a hammer to break rocks or Paper Mario turning into a plane to traverse large gaps. This also translates into combat such as the "traditional" Mario jump and hit attacks to something slightly different like Paper Mario making photocopies of him to assist in bigger battles.
To support your characters, you have access to Battle Cards which give you additional bonuses while fighting and even healing properties. Needless to say, there are quite a few cards to be found in the gaming world which adds to the longevity and replay nature of the title. As the game is set in the real world of the Mushroom Kingdom, I love the incorporation of 2D attacks that adds a unique element to the title.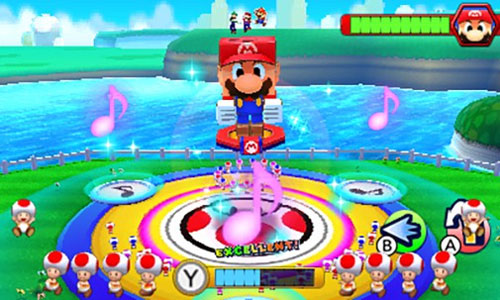 For players who own amiibo's, Mario & Luigi Paper Jam Bros. does support this feature but I did find it a little fiddly to use due to the number of inputs required by the player. It's not a deal breaker but could have been smoother. Furthermore, to support the combat of the game, the title does have a variety of amusing mini-games to engage in such as rescuing toads or even a dancing rhythm game as you fight against Bowser and his minions. All in all, it's a well-designed game on the 3DS.
Graphics/Audio
Graphically, AlphaDream does the game justice like seeing the 2D characters with the 3D world that just looks out of place but in a good way. All the familiar landmarks are included and overall, it's a well-designed and very colourful game with some spectacular and cartoon like effects. Audio is equally as good, more so the amazing soundtrack and Mario-esq sound effects that go hand in hand with the gameplay.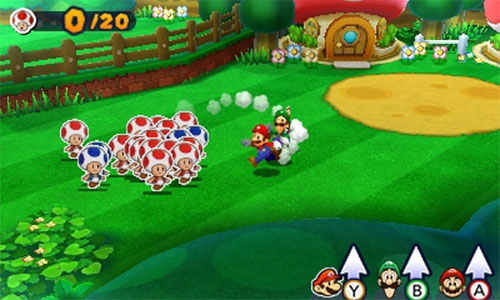 Final Thoughts?
Mario & Luigi Paper Jam Bros. is a refreshing take on the series and for veteran Japanese RPG players, it should take you around 20 or so hours to complete, however you could easily spend more time should you need to. Overall, it's a fun game that successfully ticks all the right boxes when it comes to merging the world of Mario with that of a Japanese RPG with all the Nintendo regalia thrown into the mix!
Game Details
Primary Format – Games – Nintendo 3DS
Game Genre – Japanese RPG
Developer – AlphaDream
Rating – G