3DS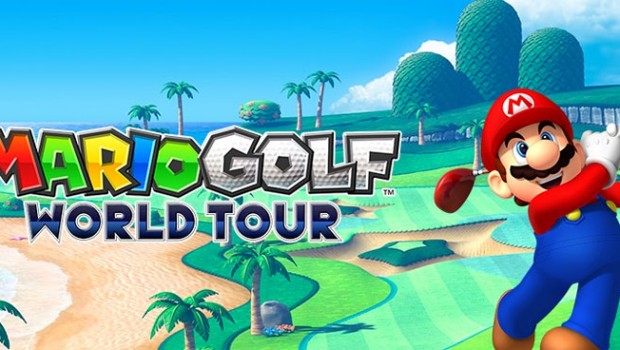 Published on May 11th, 2014 | by Admin
Mario Golf World Tour Review
Summary: Thanks to Mario Golf World Tour, golfing has never been this fun!
Mario Golf World Tour
Format: 3DS
Genre: Golf
Developer: Camelot
Publisher: Nintendo
Reviewer: Kyle Sudukis
Mario Golf World Tour is the latest and greatest golf game to arrive on the Nintendo 3DS that successfully combines arcade golf with role-playing elements. As a result, it is easily the most entertaining golf game to date that really turns such a lacklustre sport (for me anyway) into something very enjoyable on the 3DS console. Another highlight of the game is that some of Nintendo's most colourful characters are included in the title such as Mario, Peach and Bowser which gives the title this real Nintendo feel to it. Best of all, Mario Golf World Tour can be played by a variety of gamers and whether you want an in-depth experience or something a little more arcade-like, this golf game caters for everyone.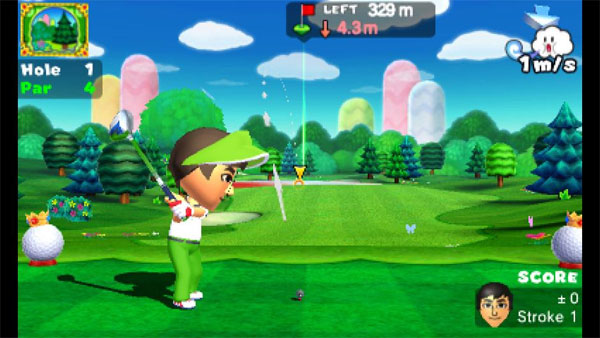 However the biggest inclusion in this game is the ability to play online matches which creates this great community and is thoroughly more enjoyable than competing against the AI. The game itself is basically split into two sections that include the "Quick Round" mode and the very in-depth Castle Club which allows you to play as yourself with your own Mii.
This mode basically takes you from golfing rookie to golfing superstar which had me playing for over 15 hours of golfing madness. This mode is also quite a challenge but thankfully the beginner mode teaches you enough tricks to make your way through the more difficult courses. Players are also awarded with money which can then be used to unlock new items, including additional stats.
By playing the other modes in Quick Round, it gives the player more access to coins which can then be used to purchase additional accessories for your Mii such as clubs and costumes which is actually quite cool. These modes also have challenges for Star Coins which requires you to complete a challenge in a set amount of time, defeat a Nintendo character or perform some other whacky golfing manoeuvres like shooting your ball through a hoop made of stars.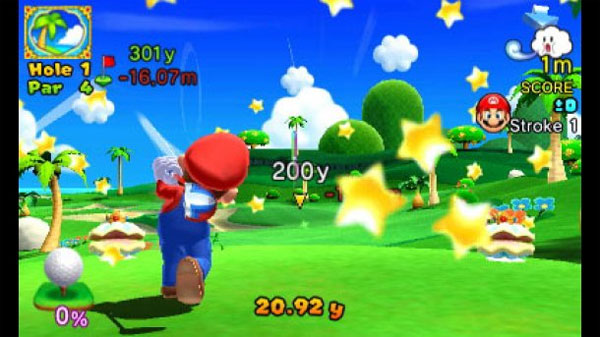 Although Castle Club has only 3 courses to play, each come with 18 holes that are filed with some very fun obstacles along the way that makes the game feel like a virtual mini-golf experience. Imagine being shrunk and then transported to a mini-golf course and that's what Mario Golf World Tour feels like. Then add a variety of Nintendo inspired power-ups that not only make you play better but also help you against the elements and dangers that you face on the course. Castle Club even gives you a handicap which gives you another goal to improve in your golfing career.
Apart from single-player, Mario Golf World Tour contains a fun online experience on the Nintendo 3DS that once again pits player against player as you battle it out to become the best virtual Nintendo golfer around. Apart from playing the traditional 18 holes, there are also a variety of other fun options such as the first person to complete three holes. 
The control system on the 3DS console also works well, especially the touch screen when you control your golfer with their hits. I really enjoyed the putting mechanics as well which almost made the game feel like you were actually using miniature golf clubs.The game rewards the player if they decide to take a difficult golfing route which definitely adds to the reward system and longevity of the title.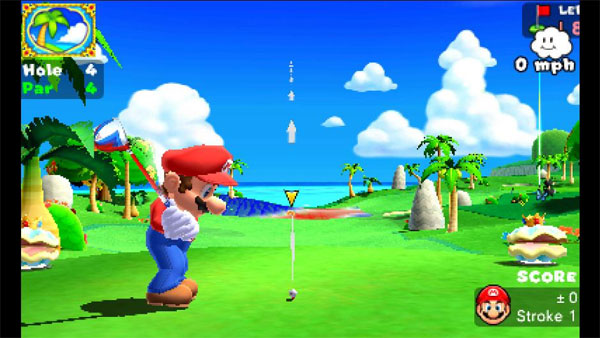 Graphics/Audio
Graphically, the title is oozing with Nintendo love and developers Camelot Games should be commended on creating this colourful and interactive environment. The characters are well animated and the special effects and lighting really create this immersive game. Sure it may look a little simple but it actually suits the game perfectly and with the inclusion of Nintendo characters like Princess Peach, it's like playing with old friends again. Audio is equally as good as is the soundtrack that will have you humming long after you've put this title down.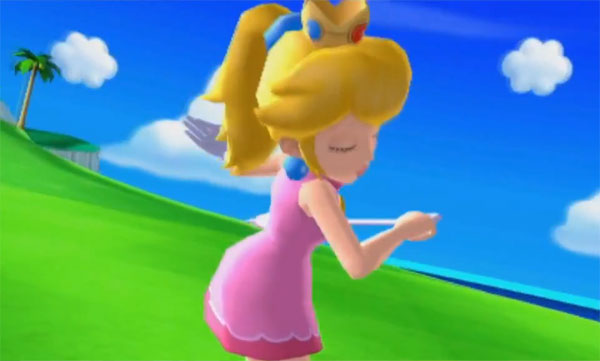 Final Thoughts?
If you loved Mario Golf Advance World Tour on the GBA than Mario Golf World Tour is the evolutionally predecessor of this series that features sturdy gaming mechanics with plenty of Nintendo love thrown into the mix. Even if you don't like golf, the developers have created this really fun game that can actually be quite a challenge as you progress through Castle Club.
Thanks to Mario Golf World Tour, golfing has never been this fun!