Comics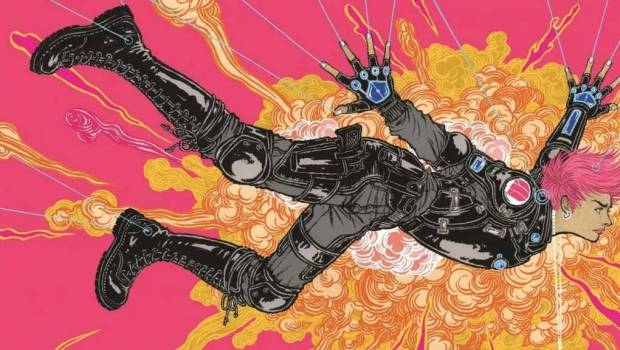 Published on December 23rd, 2020 | by Tim Chuma
MADI: Once Upon a Time In The Future (2020) Review
Summary: One more for the fans of Duncan Jones and people who want to see more stories set in the Moon and Mute universe. Does not really know what it wants to be.
I saw this on the list and thought I would go for it as I had enjoyed Alex de Campi's work in the past including Dracula Motherfucker! and True War Stories. I had heard of Duncan Jones (Moon, Source Code, World of Warcraft) but had not actually seen any of his films.
Supposedly this story is set in the same "universe" as the Moon and Mute films and is a continuation of the story. It was originally written as a film script but it did not come to fruition and Duncan Jones wanted to try another way to tell the story.
There was a successful Kickstarter for this project but as Duncan Jones said it was mainly for the pre-orders and it is now being sold by the publisher. I missed this project during the year as there has been a lot on.
The story follows Madi, one of the members of the J-Squad, former cyber-soldiers and now private mercenaries working for corporations. Unfortunately this involves a lot of strain on their cybernetics and they are constantly in debt and the next job is just to pay off what they already owe. Madi sees an opportunity for a freelance job that will clear her debt and decides to go for it.
While I did not know anything going into this I was prepared to give it a go. After finishing it I still do not know what it is about and what it is trying to be. Just having artists that worked on 2000AD and Judge Dredd does not make you either of those things. Those two had a history and something about them that made them special, this is just the one story that might have been better off being told over a longer time period a serialised format.
Despite it being 260 pages I don't really feel you get to know that much about the main characters. They are always going places and doing things but it keeps jumping around so much that it is hard to follow the action or what motivation people might have to do what they are doing. Money is a motivation but there are easier ways to do that already.
Each of the artists illustrates an eight to 30 page section of the story and it does get confusing as some of the sections seem to change art style in the middle of a scene. It reminded me of Drunken Master on SBS World Movies where it would have one line in English and the next in Cantonese, honestly I would prefer it just to be all dubbed in that case it is less annoying.
I would rate this as something that tries something different but does not quite succeed what it is aiming for it does not really know itself. With Cyberpunk 2077 being popular at the moment a more cynical reader of pop culture might suggest they bumped it to come out around the same time but it was in the works for a while as was that game. The cyberpunk genre was pretty much over by the time the Matrix came out and the on enjoying a resurgence is based on a past as imagined from the 1980s when it was thought the politics and technology would be much different.
In conclusion:
I would recommend fans of Duncan Jones work get the hard cover or deluxe issues and everyone else maybe check out the preview of the first 19 pages online before you get the soft cover edition. Also fans of the more hard science fiction and dystopian stories.
Book details:
Writers: Duncan Jones, Alex de Campi
Artists: Dylan Teague, Glenn Fabry, Duncan Fegredo, LRNZ, Ed Ocaña, André Araújo, Simon Bisley, Rosemary Valero-O'Connell, Tonci Zonjic, Pia Guerra, James Stokoe, RM Guéra, Chris Weston,  Rufus Dayglo, Annie Wu, David Lopez and Christian Ward.
Colouring: Matt Wilson, Nayoung Kim, Chris O'Halloran, Adam Brown, Jacob Phillips, Raúl Arnaiz, Giulia Brusco, Sergey Nazarov and Kelly Fitzpatrick.
Lettering: Alex de Campi
Publisher: Z2 Comics
Shipping date: 25 November 2020
The Standard Edition Softcover Graphic Novel includes:
Softcover graphic novel (Fegredo cover) [Sized 7.25″x10.5″, 260 pages]
The Standard Edition Graphic Novel includes:
Hardcover graphic novel (Shimizu cover) [Sized 8.3″x12″, 260 pages of story + 30 pages of extras]
The Deluxe Edition Graphic Novel includes:
Oversized hardcover graphic novel (Shimizu cover) with slipcase [Sized 10″x14.5″, 260 pages of story + 60 pages of extras]
Hand Signed by Duncan Jones and Alex de Campi
Three exclusive 8×12″ art prints