Comics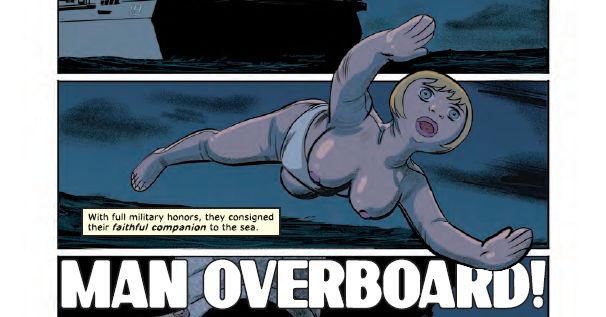 Published on December 14th, 2020 | by Tim Chuma
True War Stories (2020) Review
Summary: Well worth a read not only for the family and friends of veterans but also anyone who wants to read different stories than you usually hear from serving members.
I had heard something about this online, but was initially interested from seeing Alex de Campi's name attached to it as I had enjoyed her work on Dracula Motherfucker and wanted to see how this worked out. Now that I think of it I do follow a lot of the comic book artists online so that is probably where I heard of it first.
I used to have the big book of all the compiled Bill Mauldin cartoons who famously got chewed out by the top brass for showing infantry how they actually were on the ground and not some idealised propaganda message. The cartoonist was illustrating for other services members in that case and not really the public.
This was also a Kickstarter project but mainly that seemed to be as a distribution method and it is now being sold by the publisher's website as the project was successful.
There are already a lot of war stories in print and film but a lot of the time they are written and made by the same people so you see the same story every time. This one is different as it has a variety of different experiences from different members in branches of the military you would not normally hear from as they don't have the "bang for your buck" that you would normally need to publish a full novel or screen adaptation.
Each story is told by a different service member and they have they own artist to illustrate it so there are big differences between some stories in tone which does suit a lot of them.
Given the wide variety of people who tell their stories you get things you would not expect like the blow up doll story, rats eating macadamia cookies or the touching story a trans service person (Don't ask/Don't tell does not apply to trans people it seems).
The closest I could think of in traditional media to this would be something like the Odd Angry Shot which has an event that wouldn't be out of place in this book.
It does seem like a lot to read when you first get started but you can pick it up and read a different story each time over a number of sittings or just read the whole thing straight through as the pacing of the stories is done well and it is illustrated well.
As they said in the promotion every member of the armed services has a story except for the Coast Guard which they hope to do in a follow up series of stories.
In conclusion:
I would recommend this if you want some interesting stories and not necessarily the same sort of stuff you would get out of the usual war stories that usually get promoted as books or on film.
Book Details:
Writers: Tyson Walsh, Robert Kent, Khai Kumbaar, Ian Eishen, Randy Brown, Mathew Moores, Benari Poulten, Juan Vaca, Annie Blitzen, Brandon Davis Jennings, Jarrod Alberich, Ray Partridge, Stephen Cody, Dylan Park
Editors: Alex de Campi, Khai Kumbaar
Artists: Peter Krause, Ryan Howe, Skylar Patridge (drawing her own father's Vietnam story), Eoin Marron, Tish Doolin (a former Army medic), Dave Acosta, A. D'Amico, Drew Moss, Josh Hood, PJ Holden, Chris Peterson, Sam Hart, Jeff McComsey, and Paul Williams.
Colouring: Dee Cunniffe, Matt Soffe, Kelly Fitzpatrick, Tarsis Cruz, and Aladdin Collar.
Cover Art/Incidental and chapter end drawings: Richard Johnson
Lettering: Alex de Campi
260 pages, full colour, soft/hard cover
Publisher: Z2 Comics
Published date: 11 November 2020
Charities supported:
Objective Zero Foundation, Air Force Assistance Fund, the USO, Armed Services Arts Partnership and Special Operations Warrior Foundation.
Stories in this anthology include:
Vietcong sappers attack a fuel point, only to be foiled by an unusual alert guard dog.
An MP guards convoys of mystery bombs in the Thai jungle in 1968.
A young Airman copes with post-9/11 paranoia in Okinawa.
A Marine sniper in Haiti faces the repercussions of the shot he never took.
A team of SEALs helps rescue a kidnapped girl in the Philippines.
Army interpreters in Iraq battle their toughest foe: the rats of Saddam's palace.
A soldier on a late-night run surprises a motor pool saboteur.
A young cavalry lieutenant, fresh off the Battle of Kamdesh, meets the Marine half-brother he's never known.
A Navy ship reacts to an unexpected man overboard.
And more … like what Christmas was like in a war zone