Comedy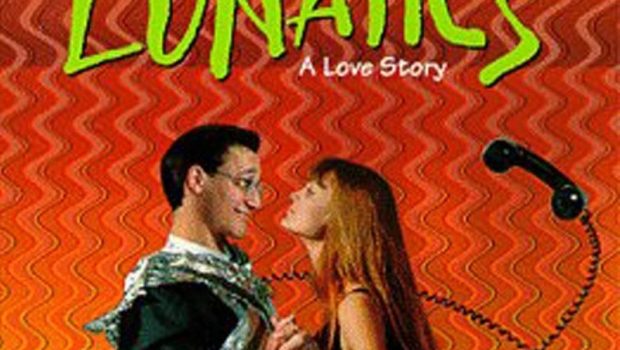 Published on January 6th, 2019 | by Pat Condliffe
Lunatics: A Love Story – DVD review
Summary: This "cult classic" from the 90s is 5 cans short of a 6-pack.
3
Does lunatics a disservice
The 90s and late 80s were a strange time for cinema. Videotrash was being manufactured full-throttle; this was the Golden Age of direct-to-video. The Raimi brothers were at the peak of their powers. Evil Dead 2 had become an instant cult classic and the follow-up, Army of Darkness, was just on the horizon. In between these two films they produced, and Ted starred in, an obscure "horror-comedy" directed by Josh Becker called Lunatics: A Love Story. This is the quintessential 90s film. It has a faux hip-hop soundtrack, pants that are way too big, surrealist hallucinations, terrible hair, and Bruce Campbell.
Lunatics tells the sad story of Hank (Ted Raimi), a homebound individual who has a raft of mental health issues. He sees spiders and murderous neurologists everywhere. He is agoraphobic and paranoid. He's the titular lunatic, get it? He's an aspiring poet who is living far from home and is regularly hassled by his mother because he doesn't have a girlfriend. Nancy (Deborah Foreman) is a down on her luck young woman who moved West with her deadbeat boyfriend (Bruce Campbell). He's just walked out on her when she has a run-in with a local gang. Fortunately, a strange mishap occurs when Hank calls the Party Hotline and is accidentally hooked up to her while she is calling for help from a phone booth. They meet and an unsurprisingly stereotypical 3-dimensional boy meets two-dimensional girls romance ensues.
Josh Becker is best known for Syfy's Alien Abduction and Directing a few episodes of Xena: Warrior Princess. Lunatics was his second film. He helped Sam and Ted as an assistant and sound-recordist on Evil Dead. A connection that led to them helping him get this project off the ground. Becker had worked with Bruce Campbell after Evil Dead, he'd starred in a demo film called Stryker's War but couldn't star in the feature because of t guild action. The influence of the Raimi brothers and Campbell shows through in the slapstick comedy aesthetic and special effects. It's an interesting team-up with Campbell and Ted Raimi, but it's not enough to save the film from being terrible.
Lunatics is billed as a cult classic. It was "never" released on DVD and so this is its first return to the small screen. It has all of the trappings of a cult film: cult classic actors – Ted Raimi and Bruce Campbell; surreal claymation sequences; an odd-ball plotline; a "quirky" romance; and terrible writing. Lunatics has aged very poorly and doesn't feel particularly cult – I don't think obscure is ever synonymous with cult.
Instead, Lunatics comes across as a mishmash of quirky effects, terrible characterisation and dialogue, and unbelievably reductive stereotypes:
Hank is mad, we know this because he has hallucinations of spiders and crazed surgeons and covers his apartment in tinfoil.
Deborah is manically depressed, we know this because she thinks everything is her fault: her boyfriend leaving, family members dying, dogs dying in the street.
The evil gang members are gang members because they are "Latinos" in string vests threatening to "pull a train on [Nancy] 6 cars long."
It's unoriginal and lazy writing. It does not make for entertaining viewing.
This release is pretty average by the usually high standards that Umbrella sets for itself. The sound and picture quality are bog-standard VHS quality. There are no extras, the film loads straight to the feature. Is this disappointing, or just testament to the quality of the original release? I'm leaning towards the latter.
The romance between Nancy and Hank is forced and stereotypical. She doesn't want him, but he can win her over if only he can get her to see him for who he is. Even if it means stalking her across town. The other female love interest is a lingerie model from the billboard across the road. She comes to life in his imagination to fulfil Hanks sexual fantasies. Hank doesn't have healthy ideas about relationships and kind of embodies all the worst aspects of romance writing from the 90s. They called it "romance" we call it harassment and stalking, but that's the joke, right?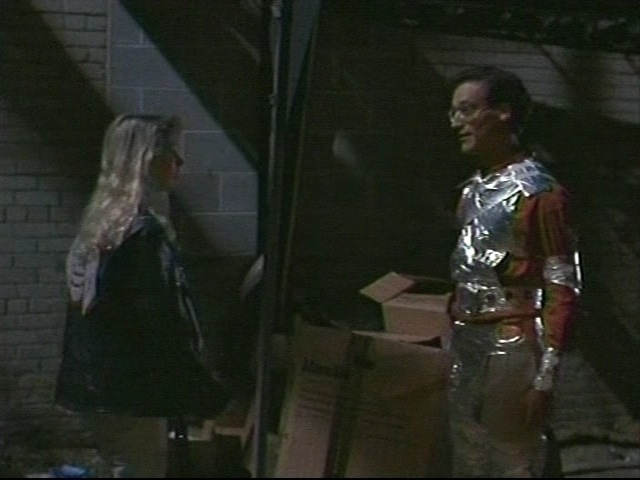 The one somewhat redeeming aspect is Hank's third act rebirth as a knight in shining armour: he literally coats himself in the foil from the walls of his apartment and sets out on a quest to save Nancy. There's a really sweet romanticism in this symbolism and it squares up well with the traditions of Medieval Romance literature – The Chason de Roland, Sir Gwain and the Green Knight, Percival, and Le Morte de Artur. But for all its kitschy endearing features, it's no Fisher King. Part of the reason this film feels so distasteful and unoriginal is that Terry Gilliam's The Fisher King came out 9 months later. It's impossible to not compare one to the other and Ted Raimi is no Robin Williams. Where The Fisher King goes high and lofty,  Lunatics trawls the gutter.
5 cans short of a 6-pack
DVD Details
Director – Josh Becker
Actors – Deborah Foreman, Ted Rami, Bruce Campbell
Film Genre – Comedy
Label – Umbrella Entertainment
Audio – English (Dolby Digital 2.0)
Running Time – 83
Aspect ratio – 1.33:1
Region Coding – 4
TV Standard – PAL
Rating – M
Consumer Advice – Low level violence, Adult themes