iOS Hardware & Accessories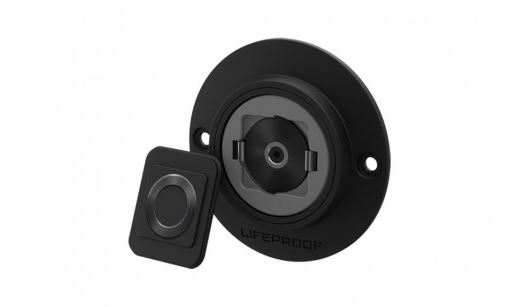 Published on April 28th, 2015 | by admin
LIFEACTIV universal accessory line available now from LifeProof
– Live in action with all-new LIFEACTIV system –
Sydney, Australia – 28 April 2015 – Ignore borders, boundaries and anything that gets in the way with all-new LIFEACTIV from LifeProof. The universal accessory line utilises innovative mounting technology to allow users the freedom to use devices anywhere and everywhere. From the Suction Mount for the car windshield to the Bike + Bar Mount for bike handlebars to the Multipurpose Mount for the workshop or kitchen wall, LIFEACTIV keeps technology close, but hands-free.
LIFEACTIV paired with LifeProof cases transforms any device into adventure gear by utilising the QuickMount system to enable device use underwater, up a mountain pass and along any dusty trail.
"LifeProof has been built on empowering users to tackle any environment – any way, anyhow – without having to leave their smartphones behind," said LifeProof Managing Director for Asia Pacific, Steve Nisbet. "Now with LIFEACTIV, no adventure is too great. Providing a hands-free alternative for you and your smartphone, LIFEACTIV lets you face any adventure head on and capture each moment worry-free.
A low profile, locking QuickMount adaptor is the central component to the LIFEACTIV system and adheres to LifeProof FRĒ, NÜÜD and nearly any other flat surface. The adaptor connects using a mechanical/magnetic system, mounting devices into any QuickMount accessory. At just 3.5 mm thick, the low profile still allows the phone to slide easily in and out of pockets when not using the LIFEACTIV accessories.
LIFEACTIV Bike + Bar Mount is the perfect companion for mountain trails, open roads and choppy water. It effortlessly and securely connects any device to standard-sized handlebars and makes it easy to check routes and crank tunes on bicycles, motorcycles, jet skis and more.
LIFEACTIV Multipurpose Mount secures any device where it's most convenient. This mount adheres to nearly any surface – from the bathroom mirror while getting ready for the day, to the kitchen wall for help with meal preparation.
LIFEACTIV Suction Mount keeps GPS, calls, maps, music and more at eye level and within reach on windshields and nearly any hard, non-porous surface.
LIFEACTIV Belt Clip secures smartphones to belts, bags, packs and more, keeping it in reach and quick on the draw.
The device can be quickly locked into place with each mounting component and secured with a flick of a lever or removed with a simple 90-degree turn. A QuickMount adaptor is included with each component of the LIFEACTIV system and can be purchased separately when it's time to upgrade to a new phone or add an additional case.
LifeProof LIFEACTIV is available now at lifeproof.com and from select retail locations. Please see product RRP below. For more information on availability, visit lifeproof.com.
| | | |
| --- | --- | --- |
| LIFEACTIV Product RRP | AUD | NZD |
| LifeProof LIFEACTIV Car/Boat Suction Mount with QuickMount | $      54.95 |  $      54.95 |
| LifeProof LIFEACTIV Belt Clip with QuickMount | $      44.95 |  $      44.95 |
| LifeProof LIFEACTIV Bike/Bar mount with QuickMount | $      54.95 |  $      54.95 |
| LifeProof LIFEACTIV Multipurpose Mount with QuickMount | $      44.95 |  $      44.95 |
| LifeProof LIFEACTIV Adaptor | $      29.95 |  $      29.95 |
LifeProof Resources