Hardware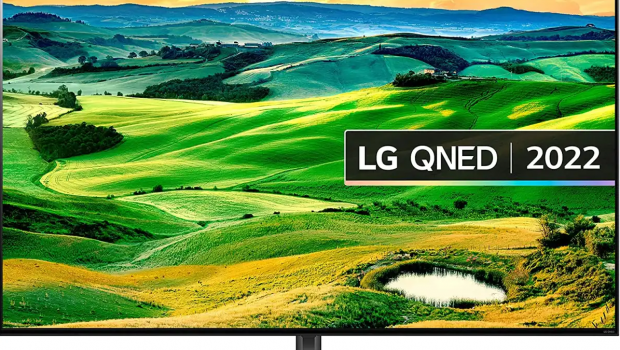 Published on November 7th, 2022 | by Nathan Misa
LG QNED91 4K QNED TV gaming review (75QNED91SQA) – Larger Than Life @LG_Australia
Summary: The LG QNED91 is an excellent 4K smart TV for gaming and cinema, with superb picture quality, impressive brightness and premium features.
LG's QNED televisions fill an interesting part of the current market. After its debut last year, LG has positioned QNED as filling the gap between their entry-level NanoCell and gold standard OLED TVs. After testing the 2022 QNED91 75", priced at AU$5,000 RRP, it's hard not to agree.
The LG QNED series combines MiniLED back-lighting with LG's proprietary Quantum Dot and Nanocell technologies to offer greater peak brightness than other TVs – owing to thousands of miniature backlights – for better colour reproduction, higher contrast and a sharper image overall.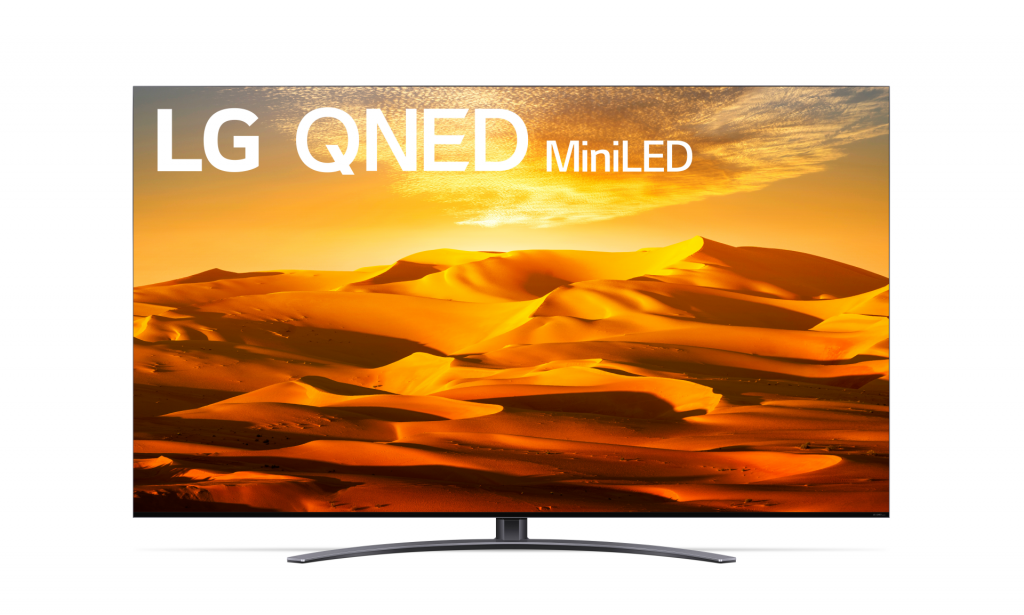 The 2022 QNED TVs also include premium picture and gaming-related features – Dolby Vision, Auto Low Latency Mode (ALLM), Variable Refresh Rate (VRR), Freesync, and HDMI 2.1 ports for High Frame Rate (HFR) mode support – that are typically associated with LG's OLED line.
So, can LG QNED go toe-to-toe with the LG OLED line this year? In my testing period of the 2022 75-inch QNED91 4K TV, I found it to be a closer comparison than most people may think.
Build and Design

The LG QNED91 features a large gray finish with silver borders, thin bezels and a 'U' shaped center stand. It comes in three sizes (65", 75" and 86-inch); the 75-inch version I reviewed is thicker than its LG OLED siblings, but retains the same sleek, ultra-large screen that has defined LG's panels for some time, helping the bright display stand out in the living room effortlessly.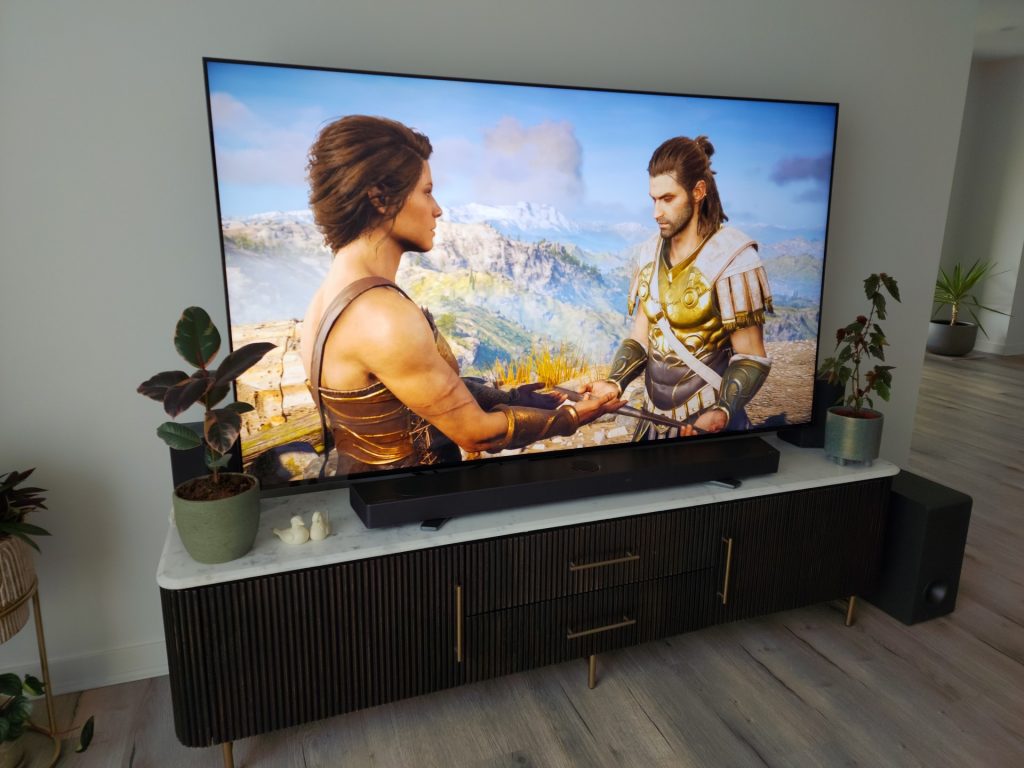 The QNED91 4K TV is less compact and heavier than the LG C2 OLED I reviewed earlier this year, measuring 166/103/40cm (WxHxD) and weighing 39.6kg – that's with both the TV and stand installed. In addition, its wide, arched base may present challenges for certain soundbars.
Thankfully, the triple-channel LG S95QR sound bar I was equipped with for this review fit snugly atop the stand. Cables can also be hidden at the back, and you can use a standard VESA mount to wall mount. The TV ended up looking quite cozy on my standard-sized entertainment unit.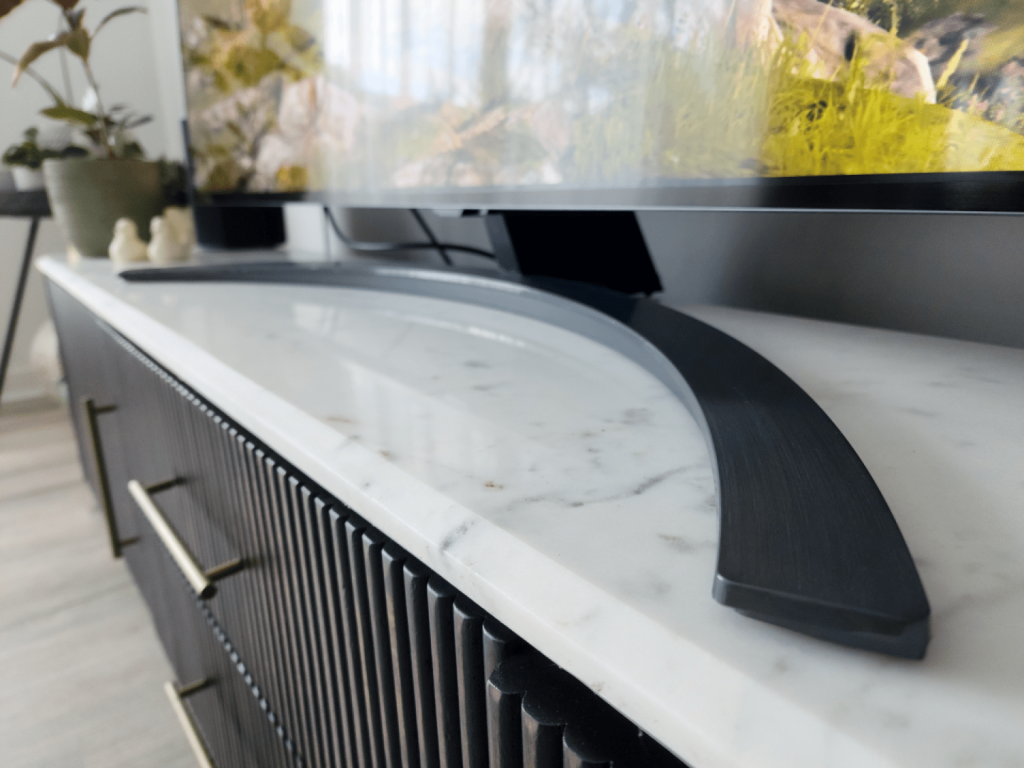 The back of the television may not look as impressive, but all the modern port connections you need for high-end gaming and cinema are present, and neatly organized on the right side. The power cable is non-removable and is the sole exception, coming out of the middle of the TV.
Here, you will find one Ethernet, digital optical out and coaxial port, three USB ports, and four HDMI ports, two of which are HDMI 2.1 that support 4K/120hz content (and one that has eARC).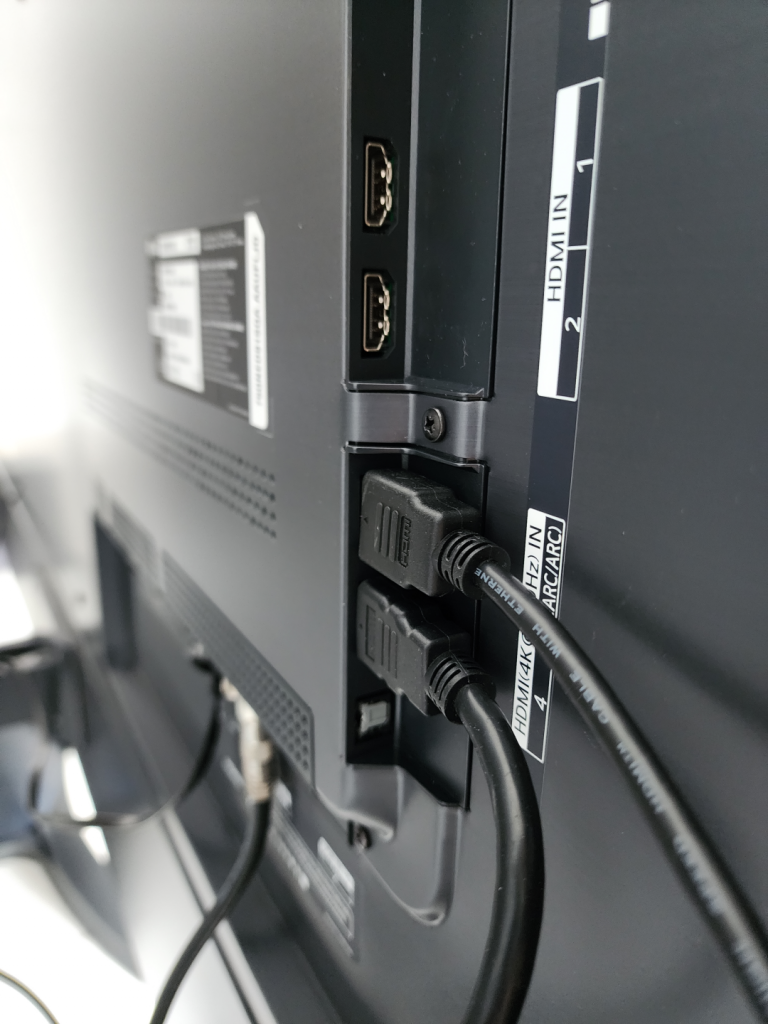 All in all, the QNED91 is a good-looking TV that's only slightly less snazzy than the LG OLEDs, but still attention-grabbing as the centerpiece of a living room or theater/gaming room setup.
Remote

The QNED91 shares the same LG Magic Remote as the LG C1 and C2. It is straight and slim in design compared to the rounder shape of my LG CX remote (pictured below on the right for comparison), with six convenient shortcut buttons to popular streaming apps at the bottom. You can use its in-built gyroscopic motion controls to point-and-click elements on-screen, though I preferred using the standard buttons.
As noted in my C2 review, the Magic Remote can be used to turn on, navigate and turn off your gaming consoles via toggling HDMI-CEC – a neat feature if you don't want to use the gamepad.
Interestingly, five guests independently told me they found the select button on this year's remote a little harder to press reliably without accidentally activating the scroll function or adjacent directional buttons, owing to it being smaller and situated deeper than my old CX remote. I didn't find this to be an issue, but those with long nails or bigger fingers – apparently it can be annoying!
Gaming Features
The QNED91 is a great television for gaming, owing to its generous gaming connectivity options, in-built features and Game Optimiser interface that have become synonymous with LG TVs.
Firstly, high-end console and PC gaming setups are well taken care of with its two HDMI 2.1 ports (4K/120hz support). Full-fat 4K resolution, 120 frames-per-second (FPS) was immediately achievable, and all the modern gaming features such as Auto Low Latency Mode (ALLM) and Variable Refresh Rate (VRR) worked out-of-the-box with my PS5 without fine-tuning needed within the TV settings (of course, you need to make sure these settings are toggled in your gaming console before-hand).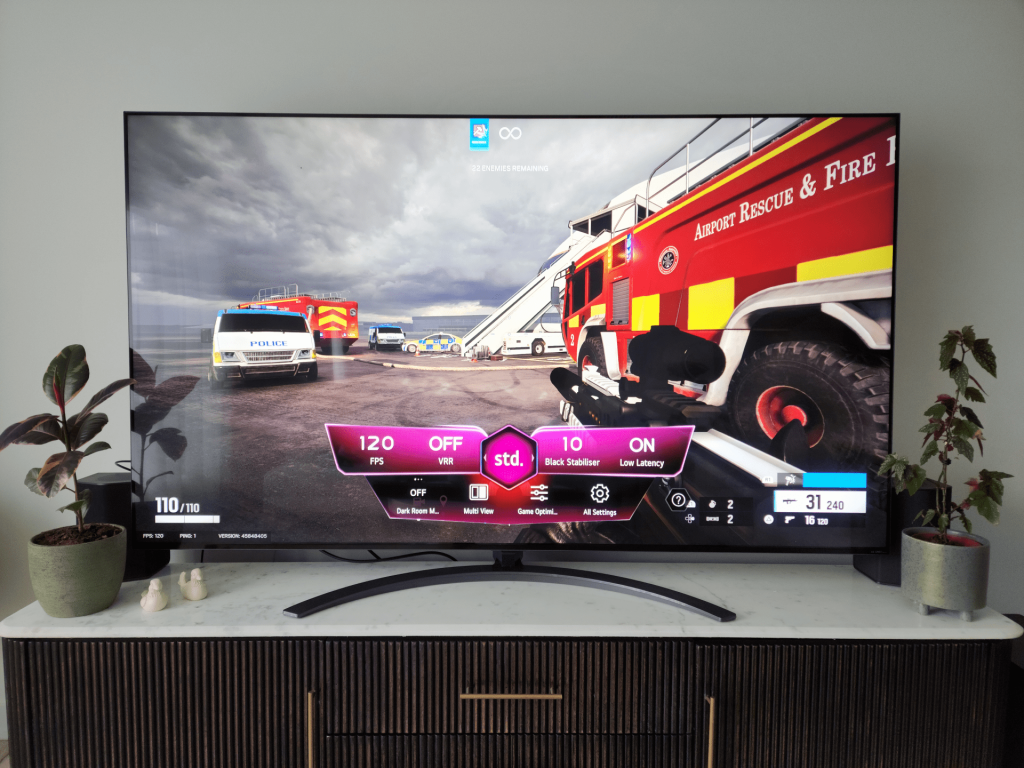 For PC gamers, Nvidia G-Sync and AMD FreeSync are both supported for fast response times, and further motion tuning can be experimented via Black Frame Insertion (LG calls it Motion Pro).
LG's Game Optimiser, the same gaming-centric UI used on the LG OLED C1 and C2, replaces the normal settings menu whenever the current input is a detected gaming device. You can adjust image settings on-the-fly with it, and its unobtrusive nature means you can fine-tune dark levels, monitor FPS and see if VRR is working as intended, all at-a-glance, and get back to enjoying your content easily.
Considering most of these display tweaks were historically limited to PC monitors until recent years, I have to continue to give props to LG for leading the charge on their consumer television sets, and refining it further every year.
Video/picture quality

LG QNED televisions have LCD-based panels that punch above their weight thanks to MiniLED, which is the brightest backlight technology available for LCD screens right now. TVs with MiniLED leverage tens of thousands of miniature LEDs and thousands of dimming zones compared to traditional LCD to provide a brighter display, saturated colours and better detail in dark and bright images.
The QNED91 provides this promised level of peak brightness and picture quality for both gaming and media, though I still find LG's OLED line retains the top spot when it comes to colour accuracy. Under the hood, the powerful Alpha 7 Gen5 AI image processor enables stunning picture quality for gaming and movies. HD (720p) and Full HD (1080p) content look fantastic thanks to a solid 4K upscaler, though older SD content on Australian free-to-air TV looks rough. Full-fat native 4K content, both streamed and played via disc or HDD, looks amazingly crisp. All High Dynamic Range (HDR) formats are supported here, too: Dolby Vision, HDR10 and HLG. HDR gaming looks damn clean on the QNED.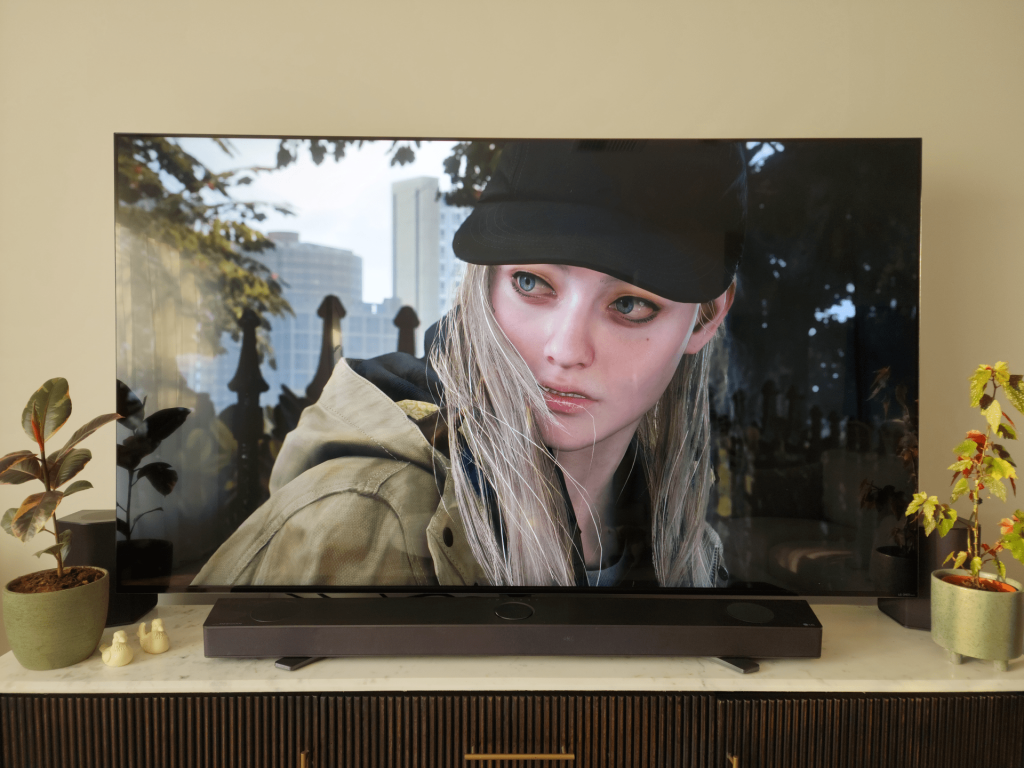 I didn't have to calibrate or adjust much of the 9 preset picture modes or 6 HDR-specific picture modes to meet my needs (though I always recommend turning off motion interpolation), and most of the content I watched displayed superb levels of contrast and impressive dark level detail than most LCD TVs, with only some content with white imagery displaying blooming and halo effects.
Additionally, the viewing angles and brightness were very impressive in my living room, especially when using the ISF-certified preset picture setting that fine-tunes the image for bright spaces. Brightness is one area older OLED models sometimes fall short, so if you prefer brightness in your content above all else, the QNED91 makes a case for choosing the QNED over OLED.
I played a number of 4K/60fps games during my review period, including the recently released Resident Evil Village: Gold Edition (our review), as well as Days Gone, Rainbow Six Siege and Marvel's Spider-Man Remastered to test out a variety of in-game performance and resolution-favouring modes. The results were as expected, with smooth performance, low latency and great picture quality.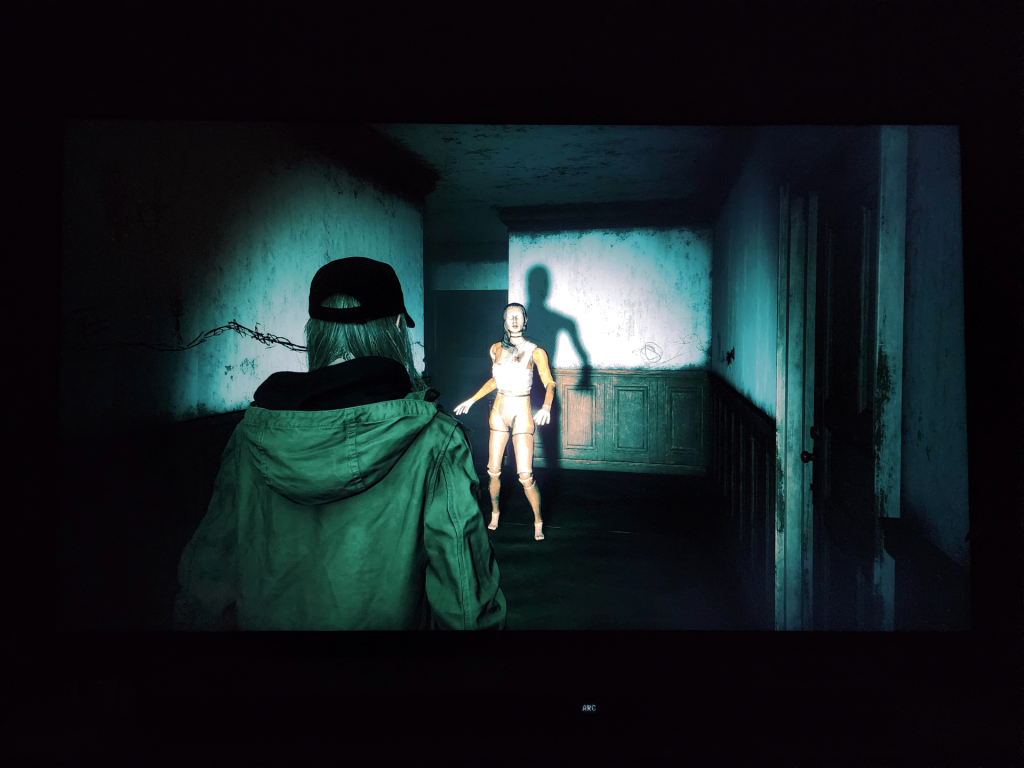 Resident Evil Village: Gold Edition features an ambitious ray-tracing mode targeting 60fps, and the QNED91's VRR ensured any frame-rate drops during gameplay were ironed out while ensuring the shadowy depths of the castle were as ominous as intended with great black detail. Rainbow Six Siege, meanwhile, is one of my favourite competitive multiplayer games; its 120fps performance mode ran buttery smooth on the QNED91, with ALLM automatically activating the lowest latency state to ensure response time to my inputs was lightning fast (though my own reaction times still need work).
Spider-Man Remastered''s 40fps fidelity mode with VRR is now my go-to for TV testing, and this mode ran as seamlessly (and looked as good) as expected – though not as colourful as on the C2 I tested it on previously.
Software/WebOS

I said it before, but I find LG's proprietary WebOS 6 software interface to be a minor step back.
These days with so many streaming apps, most people want a smart TV with an interface that has every option they need to watch what they want, and is easy to navigate. WebOS 6 fulfills the first requirement excellently, with every major streaming service supported in full, with regular auto-updates: Amazon Prime, Apple TV, Disney+, Netflix, Stan, Twitch, YouTube, you name it.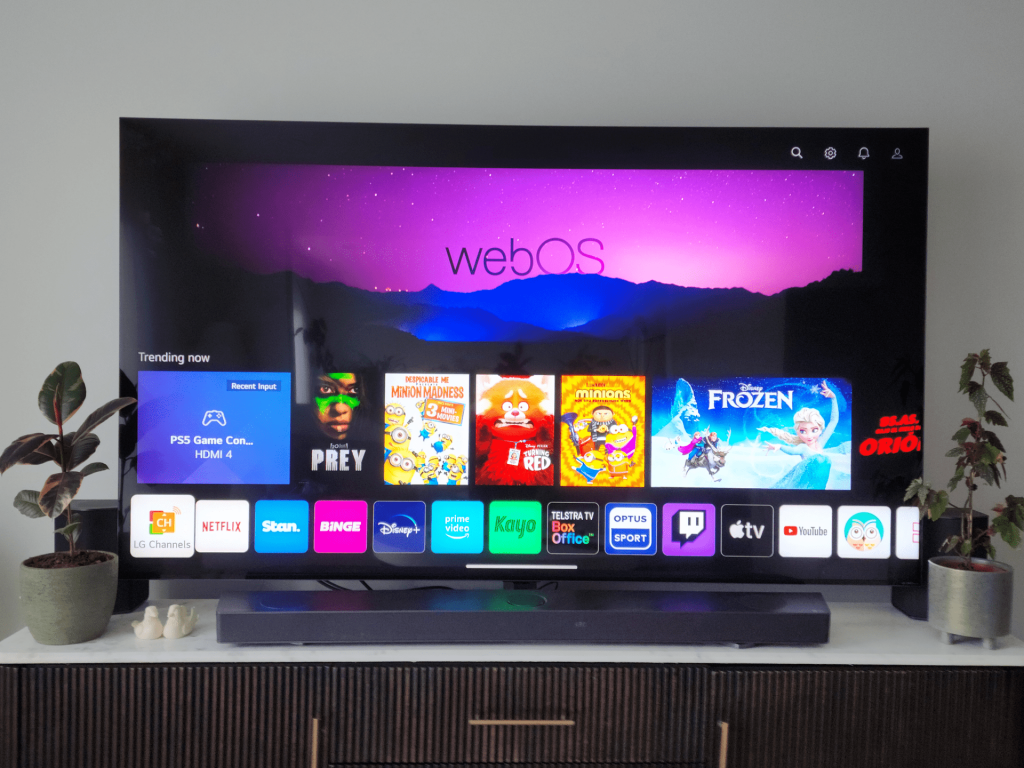 My issue is the intrusiveness of the current iteration, which is slower and takes over the entire screen compared to the older, 'ribbon' style version found in LG's 2020 TVs and older, which could be brought up while whatever content you were watching remained on-screen. The latest WebOS looks neat enough at-a-glance, but it's evolved into just another overly-busy streaming hub page in my book.
There are ads for what's trending now right at the top, often showing ads for content I wasn't interested in (though it probably adjusts based on collecting data on your viewing habits), and some scrolling involved if you want to find additional options. For casual viewers, it's enough, but for power users, it may be better to plug in a streaming device like Apple TV or NVIDIA Shield for your needs.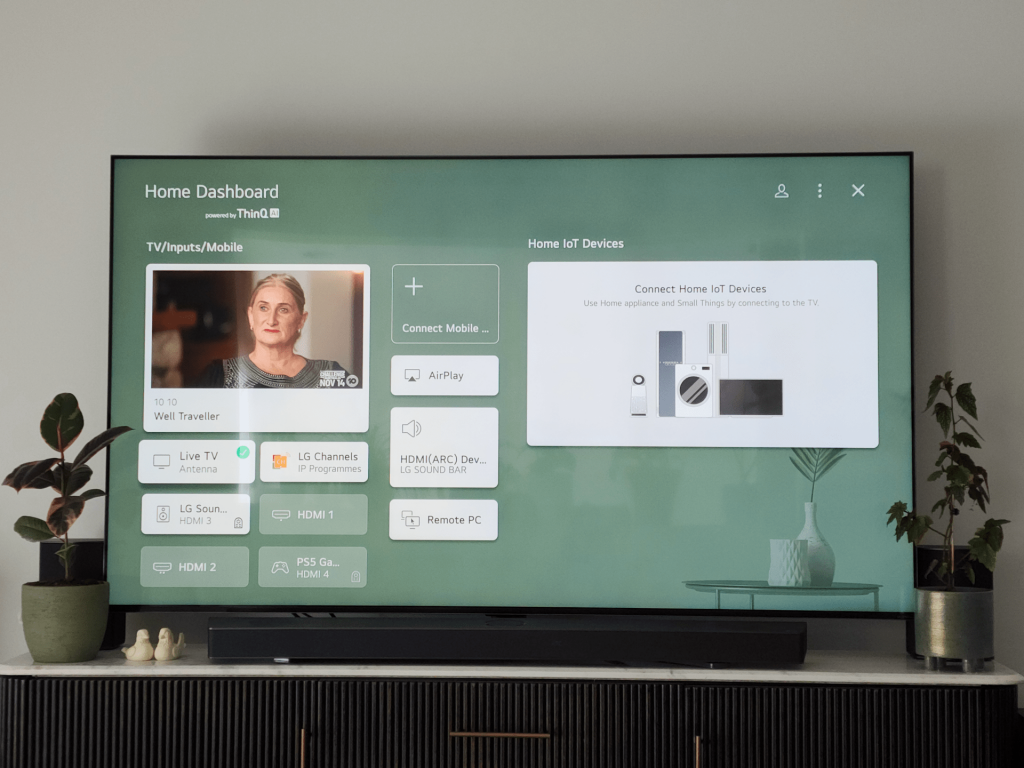 The QNED91's Home Dashboard is the nexus for TV input management, wireless connections (remote PC, AirPlay and mobile devices) and home IoT devices. It's the same across other LG TVs, and the menus are clean, uncluttered, and streamlined for fast access to your devices. No problems here!
Sound

The QNED91 packs some punchy sound quality thanks to its 40W output and AI-enhanced sound modes, with heavy bass and crystal clear voiced dialogue standing out for me when watching the jungle shoot-out scene in The Predator. For buyers who aren't too fussed with dedicated audio systems, the QNED's speakers provide an above average level of sound quality out-of-the-box.
I was lucky enough to have the LG S95QR sound bar paired with my review unit, and it has made a non-audio aficionado like me start paying more attention to what it could do for my in-home cinema setup. Its triple channel speakers, combined with its 6-channel wireless rear speaker kit and wireless subwoofer elevated voice clarity and soundstages dramatically compared to the TV speakers, with more nuanced surround sound and high-resolution audio (96kHz sampling rate and 24-bit depth).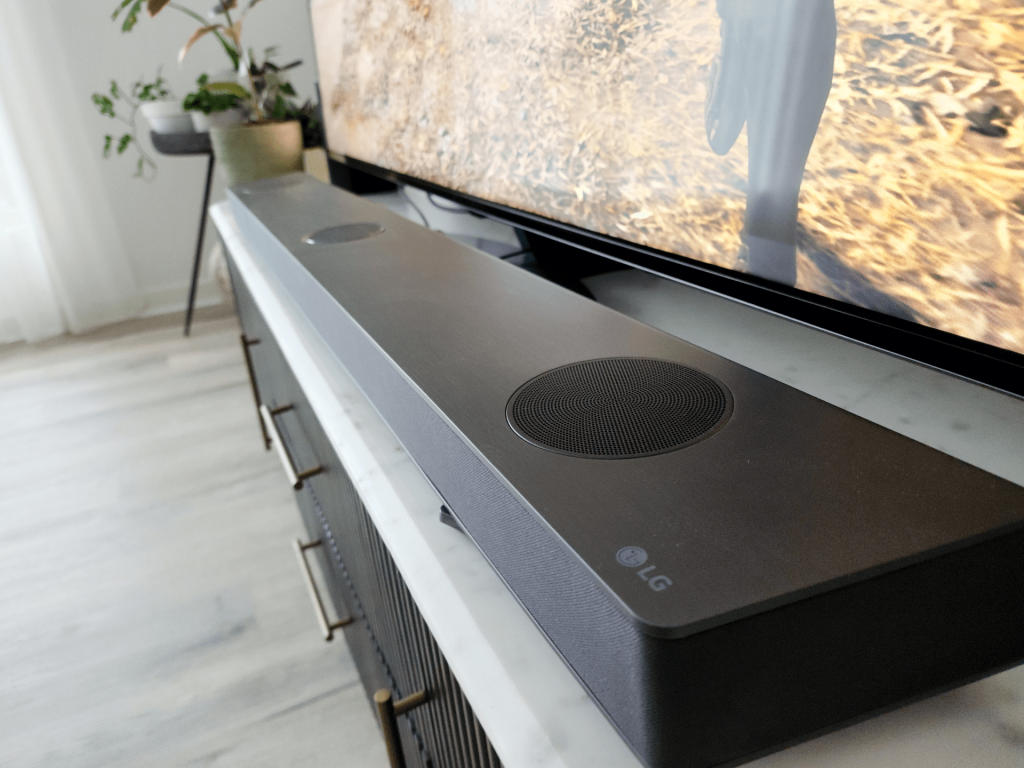 The S95QR is able to use LG TV's AI processor, effortlessly connect to the TV via HDMI eARC and be controlled using the LG remote. It's easily the best soundbar match-up for the QNED91 and other high-end LG TVs when it comes to enjoying a cinematic sound experience for gaming, film, and television.
The Final Verdict

LG's QNED91 is one of the best looking LCD TVs currently available thanks to its use of Mini LEDs for excellent contrast and peak brightness, and Quantum Dot colour reproduction.
It's a stellar television set for gaming and cinema content, offering superb picture quality, response times and generous input options, and the same full-fat premium gaming features (HDMI 2.1, ALLM, HFR, VRR, etc) as more expensive TVs. 4K/120fps gaming rocks on this set.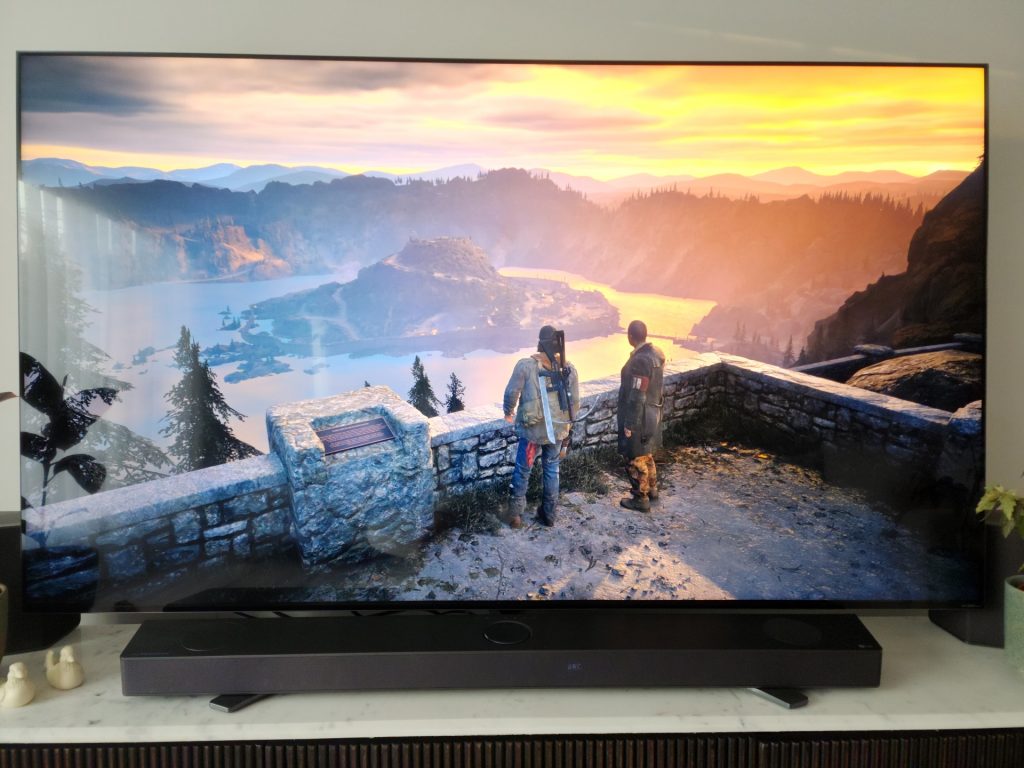 After this review, I still believe OLED's colours and black level detail to be superior, but QNED offers a great case to prospective new TV owners for being just as good in terms of peak brightness and contrast. QNED will best suit viewers who value brightness above all else, or are otherwise averse to OLED TVs due to potential burn-in (which is extremely rare given today's impressive panel tech).
The 2022 QNED line's current RRP pricing in Australia ($4,000 for the 75-inch model I reviewed) places it between the LG Nanocell and OLED lines, while the 65-inch is closer to the LG C2 OLED ($4,000) in price. At this point in time, I wouldn't say QNED is the better purchase option vs its premium OLED counterpart given the small price difference, but if you can nab a great deal, the QNED91 is undeniably a high-quality television set that will suit most living rooms, and highly recommended.