Action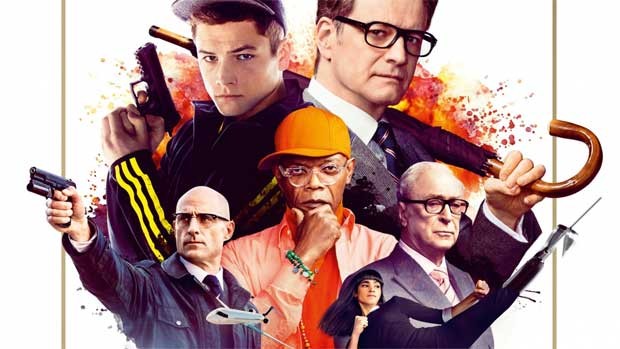 Published on June 18th, 2015 | by admin
Kingsman The Secret Service Digital Review (iTunes)
Summary: The Kingsman The Secret Service is the best spy film in a long-time that features action, humour and a stellar cast!
Hollywood has a problem… it's stuck in a rut and as a result, many of the films being released are enjoyable yet ultimately forgettable and 2015 was shaping up to be another mediocre year in film. However one film released this year, Kingsman: The Secret Service proved otherwise which was a highly enjoyable spy movie that was filled with charisma, entertaining characters, over the top violence but more importantly, it was quite memorable and for me, is easily the best film of 2015, maybe even the last couple of years. So it's now available on digital and we had the chance to review this film on iTunes which even includes a wealth of special features.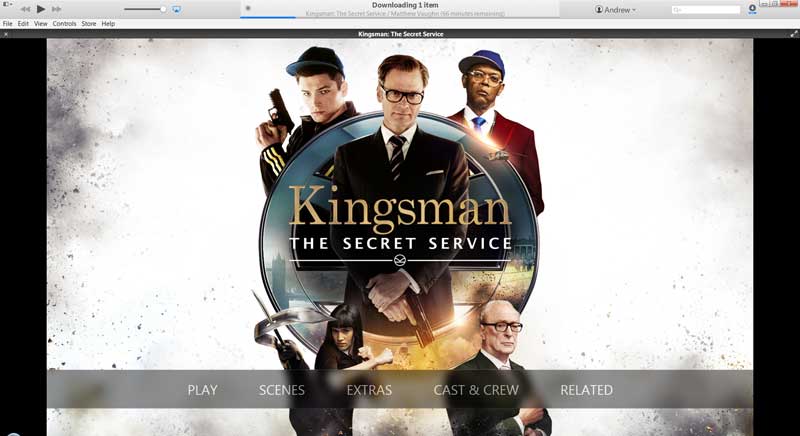 For the uninitiated, Kingsman: The Secret Service is based on the excellent comic book series by Mark Millar and Dave Gibbons and although there are differences between the two mediums, the film ticked all the right boxes and channelled those classic James Bond films with a touch a Quentin Tarantino thrown into the mix and even a slice of Austin Powers. The film is also directed by Matthew Vaughn (X-Men First Class) who really succeeds in turning the comic book into an extraordinary action film and even though much of the charm and humour has left the current James Bond franchise, it's firmly planted in Kingsman: The Secret Service.
The story revolves around Gary "Eggsy" Unwin (Taron Egerton) who has grown up on the wrong side of the tracks and lives in an English housing estate and has become this petty criminal. Unfortunately for Eggys, his father died 17-years ago and sacrificed his life to save his friend and colleague Harry Hart (Colin Firth) who plays this suave James Bond type character known as Galahad.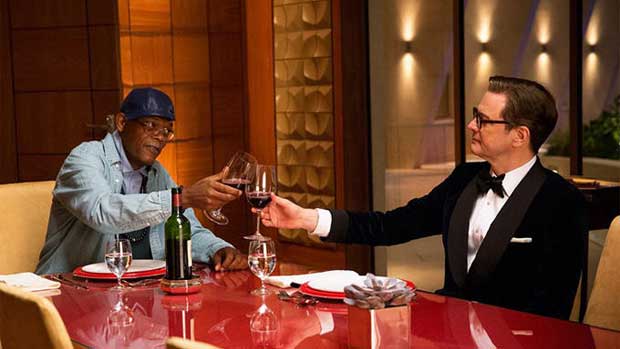 Even though Eggsy's mother declined any assistance from the secret service known as the Kingsman that her husband worked for, she was given a number to call should she ever need assistance. Needless to say, Eggsy a good kid who left the Royal Marines needs help when he crosses his mother's criminal partner in what commences a spectacular introduction for him into Kingsman as he becomes Galahad's new recruit due to a death in the agency.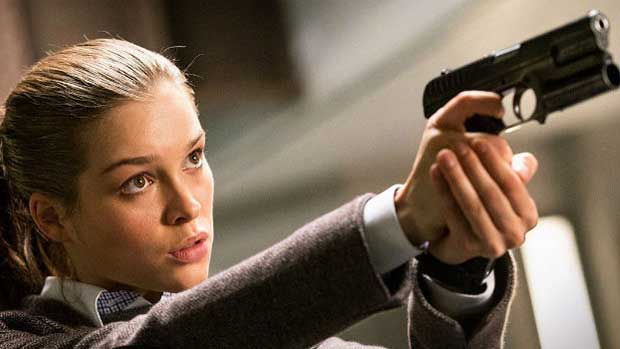 Meanwhile, the wickedly entertaining and nefarious Richmond Valentine (Samuel L. Jackson) is attempting to bring in a new world order by decimating the human population. This lisping and quirky villain believes that mankind is a disease and by reducing the population and making himself "ruler", he thinks that he is doing the planet a favour. So even though Valentine is evil, he's actually an eco-terrorist and definitely channels real-world characters like Bill Gates or the late Steve Jobs due to his technological influences around the world.
One of these influences is a free SIM card that offers people across the globe free internet and mobile access but there is a huge price. Unbeknown to the users of this free service, this causes people to violently turn on each other and one scene in particular revolves around a church massacre which is not only gruesome but almost feels like something out of Kill Bill. Given that, the violence definitely borders more on the over the top video game violence, especially with the slicing, shooting and even exploding heads in the movie. It's more comedic than realistic.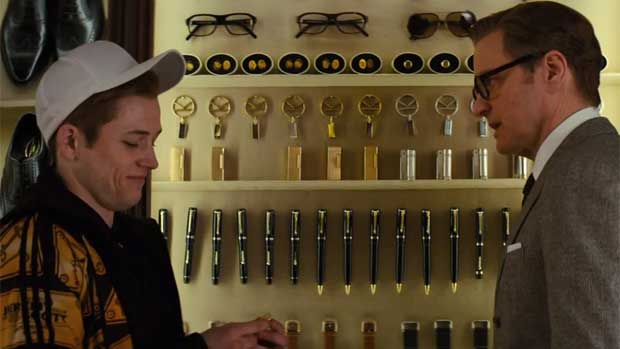 So as Eggsy completes his training within Kingsman, his mentor Galahad is hot on the heels of Valentine as he kidnaps people in power around the world in order to join his causes or be locked away. However unbeknown to the agency, Valentine has infiltrated more than they know which leads to a dangerous game of cat and mouse with some brilliant action scenes, witty dialogue and a story that works from start to finish.
To compliment this excellent story, director Matthew Vaughn really inspired the cast to give it their best and although Colin Firth, Taron Egerton and Samuel L. Jackson are the standout stars of this film who are a joy to watch, there is also a stellar supporting cast as well. This includes Mark Strong as Merlin that is like a hand's on version Q from James Bond that doesn't take fools lightly, Michael Caine as Arthur of the Kingsman who plays this cool and collective leader plus Sophie Cookson who plays another recruit in the agency called Roxy and is the friend of Eggsy.
There's been some criticism about the women in this film but I believe most are strong characters, even though a couple are James Bond clichés. Last but not least we have Sofia Boutella who plays Valentine's amputee henchwoman with bladed prosthetic legs and definitely has the best action scenes in the movie, albeit quite bloody and gruesome. Nonetheless all the characters have a purpose that work hand in hand with the plot to create one of the best spy films in a long time.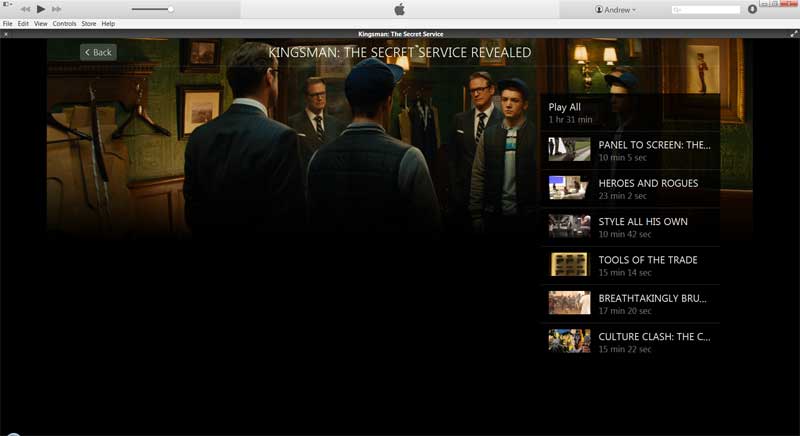 Special Features
KINGSMAN: THE SECRET SERVICE BLU-RAY™ AND DIGITAL HD SPECIAL FEATURES
Kingsman: The Secret Service Revealed
Panel to Screen: The Education Of A 21st Century Super-Spy
Culture Clash: The Comic Book Origins Of The Secret Service
Galleries: Behind the Scenes, Sets and Props
KINGSMAN: THE SECRET SERVICE DVD SPECIAL FEATURES
Kingsman: The Secret Service Revealed
Panel to Screen: The Education Of A 21st Century Super-Spy
Galleries: Behind the Scenes, Sets and Prop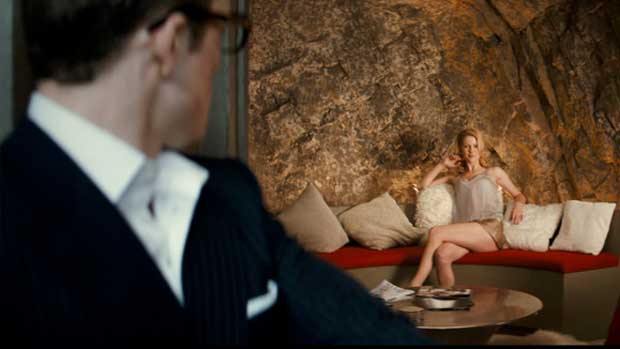 Final Thoughts?
Kingsman: The Secret Service is a well written action film that features an extraordinary cast who create this thoroughly entertaining film with over the top scenes, entertaining dialogue and characters that can you relate too. The film is laced with comedy and I'm still laughing about the scene with the Swedish Princess (Hanna Alström) who offers Eggsy one of the best incentives of his life to save the world from Valentine. Add in Mark Hamill as this bumbling professor and the Kingsman will leave you wanting more and let's hope that the sequel comes sooner rather than later. This is how movies should be made Hollywood but just be warned that some politically correctness has been thrown out the window not that this is such a bad thing either.
Recommended!
Own Kingsman: The Secret Service on Digital HD from June 17. Blu-ray and DVD available from 1 July