iOS Hardware & Accessories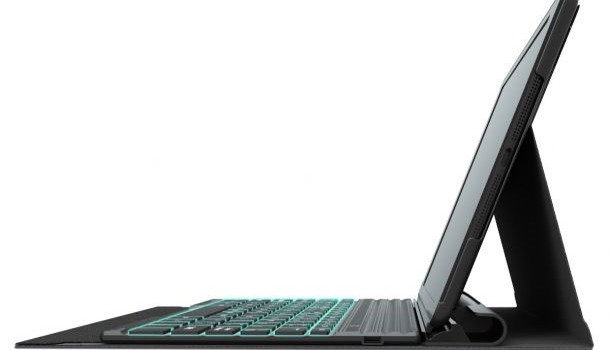 Published on May 17th, 2014 | by admin
Kensington KeyFolio Exact Plus Review
Summary: The Kensington KeyFolio Exact Plus is definitely one of the better Bluetooth keyboards around for the iPad Air
Kensington KeyFolio Exact Plus – Thin Folio with Backlit Keyboard for iPad 5
Developer: Kensington
Distributor: MobileZap
Product: Bluetooth Keyboard
Reviewer: James Wright
The iPad Air or "iPad 5" is truly a remarkable tablet and is everything you need to surf the net, watch films, use it for work and perform a variety of other functions. The screen is remarkable and more importantly, the tablet is extremely thin and lightweight. Although the iPad Air touchscreen is truly brilliant, typing on touch screens is just not the same as using a real keyboard.
However no one wants to cart around a Bluetooth Keyboard and a case for their iPad Air but Kensington have come up with the clever idea to incorporate a keyboard with a folio case that not only protects your precious tablet but gives you a fully functional keyboard that is actually backlit.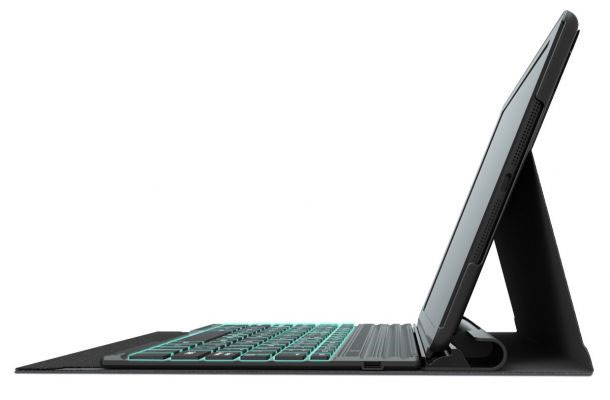 Features
Ultra-thin and compact design
Form-fitting basket holds iPad securely in place while maintaining thin form factor
Removable keyboard enables multiple viewing angles
Keyboard works well on lap for continuous productivity
Removable Bluetooth® keyboard with 6 rows of keys for high performance
Backlit keyboard with 7 selectable colors for productivity in dark environments
Bluetooth keyboard pairs with any Bluetooth enabled device
Soft folio interior offers a gentle surface for your wrist to rest
Available in 6 colours (mix and match your folio & stylus, see Kensington.com for Virtuoso™ stylus)
The KeyFolio Exact Plus also boasts a few other features that includes an integrated stylus holder, multiple viewing angles (20 to 70 degrees) for your iPad Air, magnetic closure and seven selectable colours for the backlit keyboard.
I also like the stylish design of the KeyFolio which does look quite businesslike but more importantly, this folio case offers some additional protection to your iPad Air should you have that doomsday drop. In terms of protection, Kensington have even added additional protection to the corners of the case which is generally where all the damage occurs.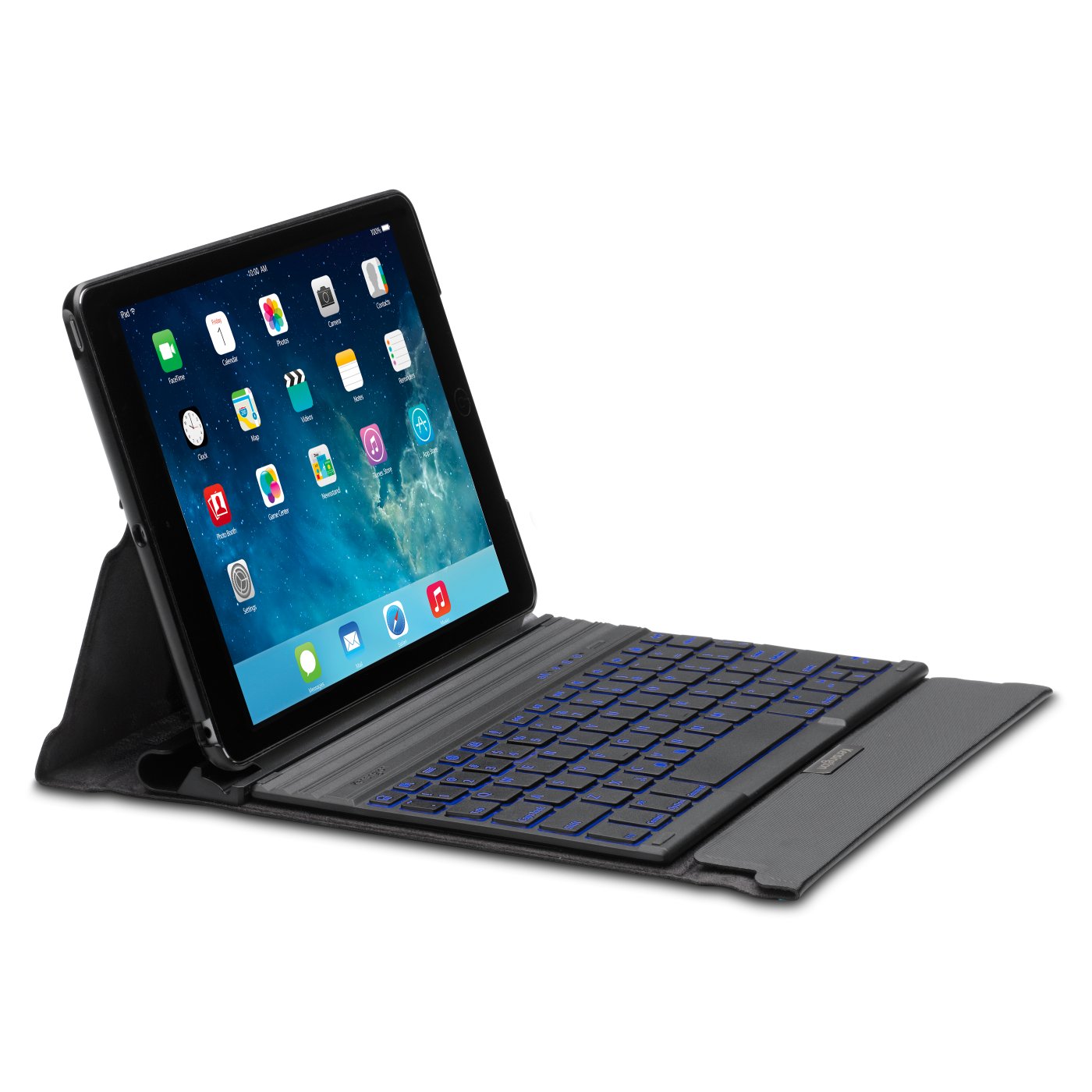 Installation of the iPad Air into the KeyFolio Exact Plus is a breeze and it simply securely snaps into the case and there is also a magnetic plate to lock the case when not in use. I also like how part of the case extends to provide a faux wrist rest while using it. Although it doesn't actually provide a wrist rest, it does feel nice while using the product on a desk. Also, once the iPad Air is installed into the case you have full access to all ports and cameras of your tablet, even in the different viewing angles.
It definitely creates this MacBook Air experience!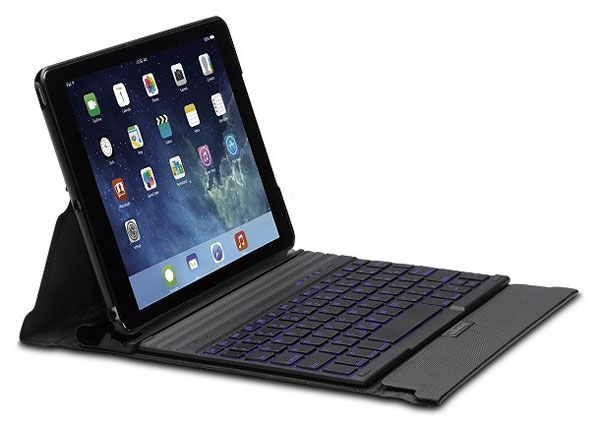 Of course the highlight of this product is the keyboard itself which is extremely good to use and does mirror a traditional desktop keyboard well. On the top right of the keyboard, there are some LED's to display Caps Lock, Bluetooth, Battery, Power and a button to turn off the keyboard. The top row of keys are specifically designed for the iPad Air that contains buttons such as Home, Search, Siri, Play/Pause and brightness for example. There are a total of 14 iPad Air "function" keys. Compared to an Apple keyboard, Kensington have done a great job at emulating the official Apple product as it feels extremely similar.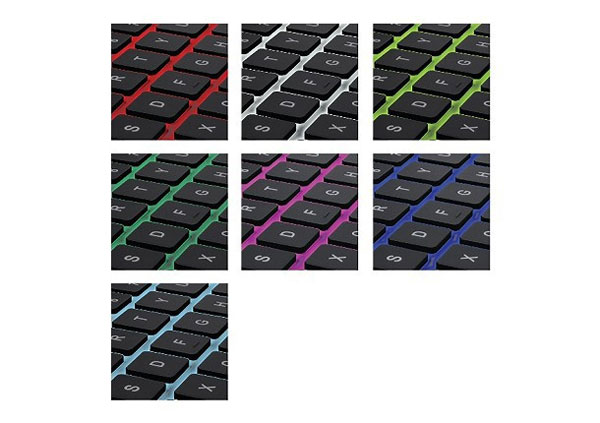 Then you have the backlighting of the KeyFolio Exact Plus which boasts seven different colours that are enabled via the FN button. The backlighting of the keyboard is great and is ideal for when you have poor lighting such as on an aeroplane while everyone is sleeping or even in bed for example. Charging of the case is done through the included micro USB cable and the 380mAh  battery boasts a ridiculous 960 hours of working time with a standby of 180 days. That's very impressive!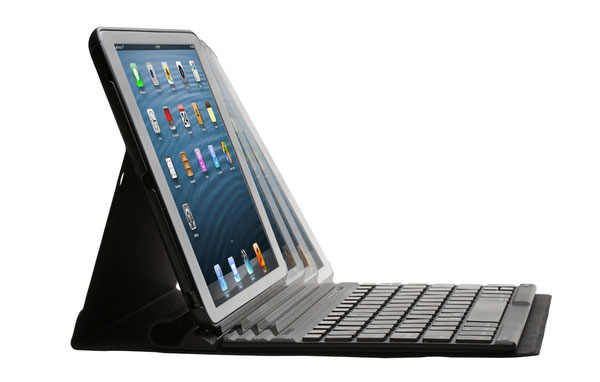 Final Thoughts?
The Kensington KeyFolio Exact Plus is definitely one of the better Bluetooth keyboards around for the iPad Air that provides some excellent viewing angles, a sturdy case that will protect your smart device and a fully functional keyboard that works extremely well. Add in a 2 year warranty and this product will probably outlast your iPad Air. It's also quite a thin case which is definitely a bonus and feels quite sturdy opposed to some of the cheaper versions available from other companies.
Recommended!
Specifications
Model #UPC:085896970958
Best For: Tablets
Color Group: Black
Compatibility: iOS
Connections: Micro USB
Connectivity: Wireless
Features: Multi-Position Stand
Keyboard Features: Backlit, Laptop Style, Removable
My Device: iPad Air
Optimised For: Style
Protection: Back Protection, Screen Protection
Screen Size: 9.7″
Wireless Type: Bluetooth
Bluetooth® V 3.0 keyboard specifications
Working time: 960 hours
Standby time: 180 days
Battery capacity: 380 mAh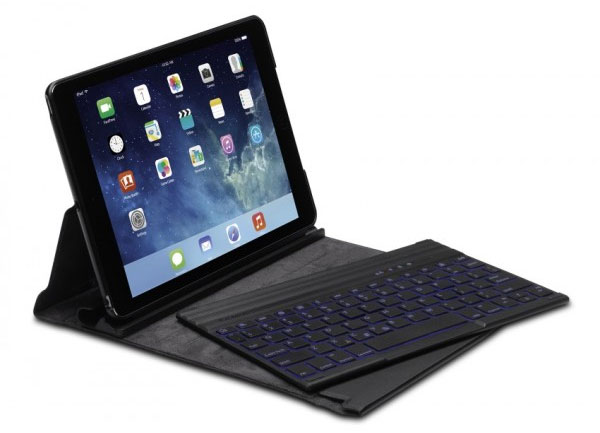 http://www.mobilezap.com.au/34485/electronics/ipad-air/cases.htm