Comedy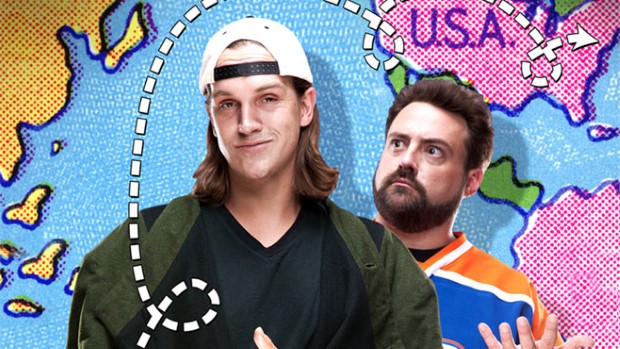 Published on December 9th, 2014 | by Sean Warhurst
Jay and Silent Bob Go Down Under DVD Review
Summary: Rambunctious, risqué and profane, who would have thought watching a couple of buddies doing an 'intervention podcast' live on stage would be so dang entertaining?
Actors – Kevin Smith/ Jay Mewes
Film Genre – Comedy
Label – Via Vision Entertainment/ Madman Entertainment
Audio – English (Dolby Digital 5.1)
Running Time – 214 Minutes
Region Coding – 4
TV Standard – PAL
Rating – MA15+
Year of Release – 2014
Primary Format – DVD
Reviewer – Sean Warhurst
Full disclosure before I jump into this review – I could listen to Kevin Smith read the phonebook, and would more than likely pay for the privilege. The man behind Clerks, Dogma and Chasing Amy ranks up there with my all time favourite Writer/ Directors and I think part of this is due to his amicable manner both in the often extensive behind the scenes featurettes and commentaries on his films as well as when performing his 'An evening with…' pseudo stand-up gigs where he regales the audience with a skewed look at his life as a cog within the Hollywood machine.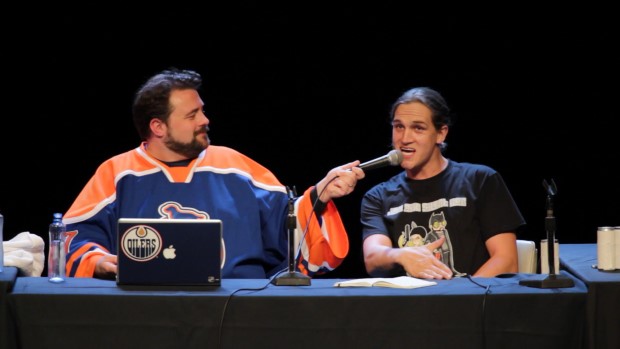 Smith has a connection with his audience that is almost unparalleled amongst his peers and it's the times when he's let off the leash to comically comment on his career when you really begin to understand just why he's so revered. It's not  just his  active social media presence and interaction with his fans, nor is it simply because he's made so many damn good films; at the end of the day, Kevin Smith is a storyteller and that's what he does best – Entertain an audience with nothing but his mind and a microphone.
During 2013 Smith decided to take one of his many podcasts on the road, the aptly titled 'Jay and Silent Bob Get Old', and Australia was one of the lucky stops for the rotund filmmaker and his foulmouthed sidekick Jason Mewes. Featuring three shows from their jaunt to our fine country – Melbourne, Sydney and Adelaide -,  Jay and Silent Bob Go Down Under offers fans who may have missed the shows the chance to watch the antics that occurred during the live podcast recordings as well as allowing those who were lucky enough to attend the chance to relive it all.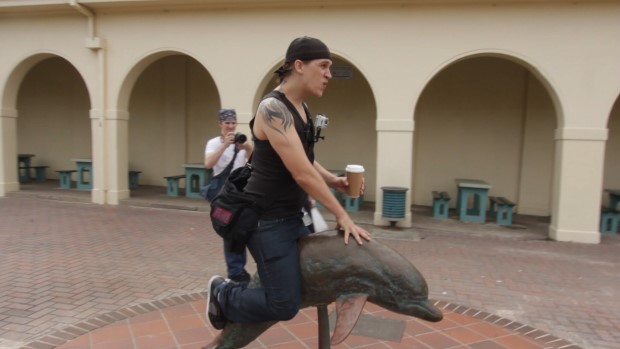 Firstly, I think I should make something clear: The shows are all approximately hour long recordings of the titular podcast. Aside from the occasional interspersed scenes of Jay exploring Australia and some animated vignettes to accompany the tale being told, all of the action takes place entirely on stage, much like your regular stand up DVD.
Another thing – Those who come to this DVD expecting another "Evening With…" type affair will be sorely disappointed, as the shows take on the structure of the podcast in question where the main focus is on Mewes rather than Smith.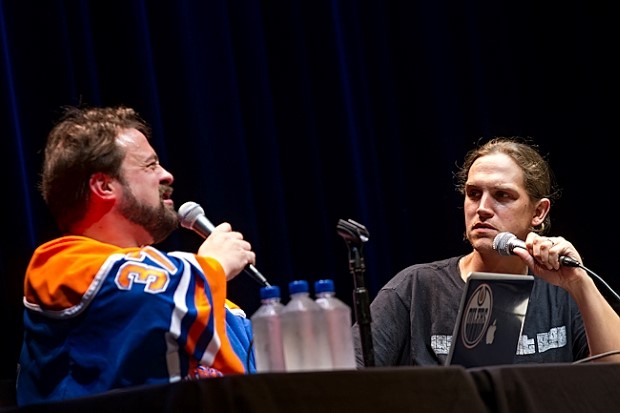 Smith acts more like a mediator here, directing Mewes' frenzied babbling in the right direction whenever he veers off into a tangent but otherwise allowing his exuberant co-host the floor for most of the proceedings. As someone who wasn't familiar with the content of the 'Jay and Silent Bob Get Old' podcast this was a little bit surprising, as it's usually Jay who plays second fiddle and, overall, I was expecting a live recording set up similar to that of 'Smodcast' where Kevin leads discussion.
This factors in somewhat for viewers debating whether to pick this release up, as your enjoyment of the shows contained within will basically hinge on whether or not you're interested in hearing an, albeit humorous, ex-junkie candidly discussing his sexual misadventures whilst occasionally having these sordid and depraved acts commented upon by a corpulent indie filmmaker. At times it felt almost like I was watching Anthony Kiedis' Scar Tissue: The Stage Show, such is the ornery Mewes' fascination with his libido.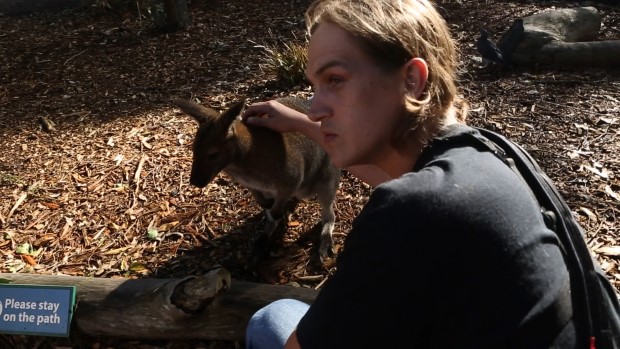 That being said, I would be lying if I said I didn't enjoy the shows included on this release. The simple fact that the show is filmed in Australia and, thus, contains a few amusing insode references to the country and the cities where Smith and Mewes are performing is undeniably cool and Jason Mewes can actually put together some pretty entertaining, if occasionally rambling, anecdotes.
Sound and image wise, Jay and Silent Bob Go Down Under is relatively solid for a live recording; the audio mastering ensures that the sound levels are kept under control and that Mewes and Smith are always front and centre and the image is free of any visual anomalies.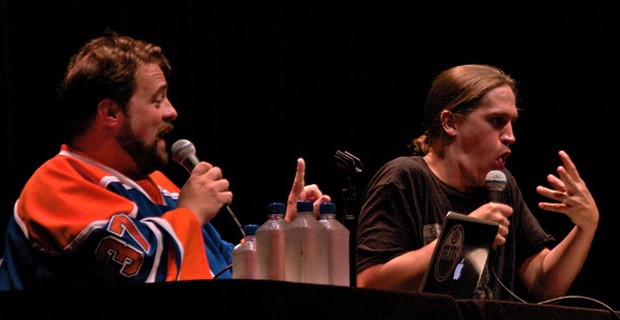 Special Features
Jay and Silent Bob Go Down Under is relatively light on supplemental features, but this is to be expected somewhat considering that you're getting three shows for the price of admission.
Basically a pair of deleted scenes, Kev's Journal follows Kevin Smith's thought process during his flight to Australia and Kev's Tweets is exactly what is says on the tin – Smith reads out some tweets and his pot addled responses to said tweets.
Brief but entertaining, these two extra features are worth a look but they don't really add anything to the experience, like, say, a tour diary would have.
List of Features:
Kev's Journal (7:27)
Kev's Tweets (4:45)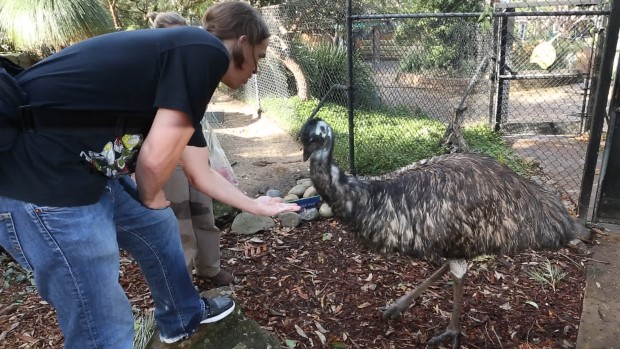 Final Thoughts
If a couple of old dudes doing a version of Survivor's 'Eye of the Tiger' composed entirely of an impression of a woman queefing doesn't sound like your cup of tea, then steer well clear of Jay and Silent Bob Go Down Under.
As long you as understand that this series of shows were originally conceived as a way to keep Mewes clean and sober and, therefore, focuses heavily upon him and his narcotic fuelled capers, then you'll find much to enjoy here if the foulmouthed works of Smith and his cohorts are your raison d'être.
Rambunctious, risqué and profane, who would have thought watching a couple of buddies doing an 'intervention podcast' live on stage could be so dang entertaining?