Comedy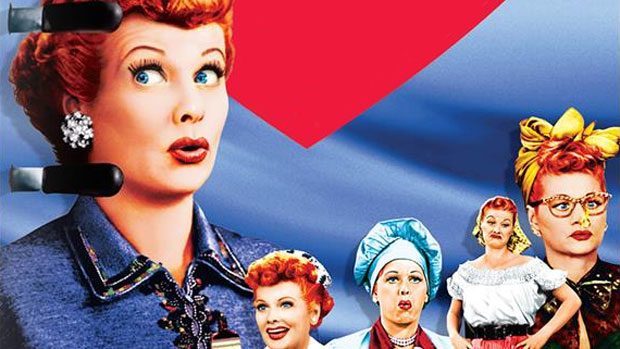 Published on May 1st, 2016 | by Rob Mammone
I Love Lucy The Complete Collection DVD review
Summary: The Golden Age of American Television is never better demonstrated than in this magnificent set of episodes that will have you rolling in the aisles.
This set comprises a massive 34 DVDs covering 6 seasons of I Love Lucy and a final volume of 13 episodes of the three years of The Lucy-Desi Comedy Hour.
The golden age of American television comedy came and went during the 1950s. With the arrival of the new post-war prosperity, American families celebrated by fleeing the inner cities for picket fenced suburbs, buying cars, buying fridge, buying vacuum cleaners and buying televisions all while waiting for the a-bomb to be dropped by those pesky Russkies. In between all that, they tuned in, in their tens of millions, to legendary comedy and variety fare such as the Milton Berle Show, The Honeymooners, the Perry Como Show, and of course, I Love Lucy.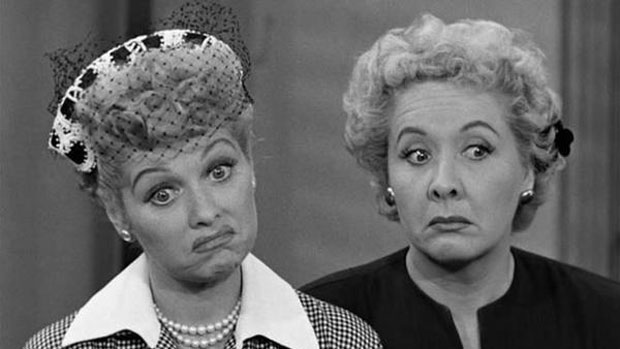 Formerly a model in New York, Lucille Ball went to Hollywood in search of fame and fortune. Working in second rate B movies, Ball gained a reputation for her hard work and comedy chops. There, she met Cuban bandleader, Desi Arnaz, and they very quickly married.
After the war, when MGM let go her contract, Ball drifted between radio and movies. Based on her undoubted comedic talent, the CBS network looked to have her headline a television comedy series. Insisting that her husband also work with her, Ball overcame CBSs reluctance to have a Latino male lead, and in mid-1951, I Love Lucy went into production.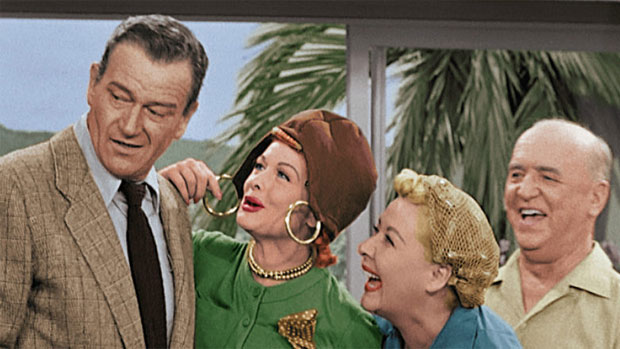 The pilot episode, lost then found in an archive in 1990, does little to highlight the strengths of the series that followed. Much of this can be down to the picture quality of the kinescope that is all that remains of the recording. Whereas the series was filmed on 35mm, the pilot is scratchy, blurry, and nowhere near as sharp as the later episodes. Also, it is clearly filmed on a set, and the walls definitely wobble in those early minutes in the couple's apartment.
Going to a full series, the show was fleshed out with the addition of landlords Fred Mertz (William Frawley) and Ethel Mertz (Vivian Vance). Frawley had enormous experience in movies and vaudeville, while Vance had similar experience on stage on Broadway. Their work in stage performance helps bring a great deal of energy to their performances on I Love Lucy – all the experience of appearing live on stage translates well to the 'as live' recordings of the show.
The setup of the series was deceptively simple, yet allowed a wide variety of stories. Lucy lacks talent, but dreams of fame. She's a woman very much of her time – while occasionally scatty, she is a devoted wife and mother. Her long-suffering singer/bandleader husband, Ricky, puts up with her flights of fancy. Together with Fred and Ethel, they formed the heart of an immensely popular show that dominated the television landscape for half of the 1950s.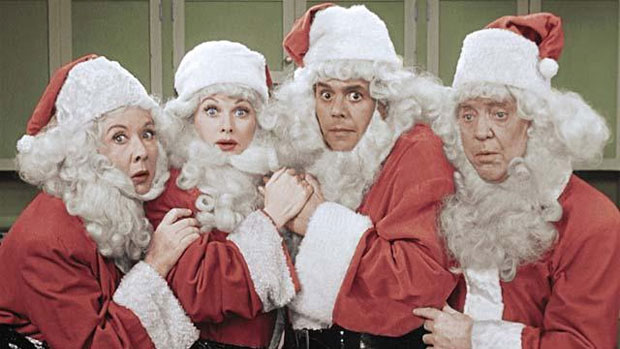 Some of the best episodes are regarded as the highlights of the golden age of American television. 'Job Switching' (the one with the conveyer belt of food you've all know doubt seen in highlight shows) is consistently celebrated for the comical timing of Ball and Vance. George Reeves (Superman) makes an appearance in 'Lucy and Superman'. Other well-known actors to appear include William Holden, Harpo Marx, Red Skelton and Fred MacMurray all graced the show during its run.
The extras on these discs are truly amazing. They range from deleted scenes, colour footage filmed on set by an audience member, the lost pilot itself which is a remarkable survival and cultural curio, episodes from Ball's radio show, photo galleries, production notes, script excerpts, lost scenes, an interview with chief writer Jess Oppenheimer, period commercials, I Love Lucy at the Emmy Awards in 1954 – all this and the episodes leave the buyer with 8100 minutes of classic entertainment!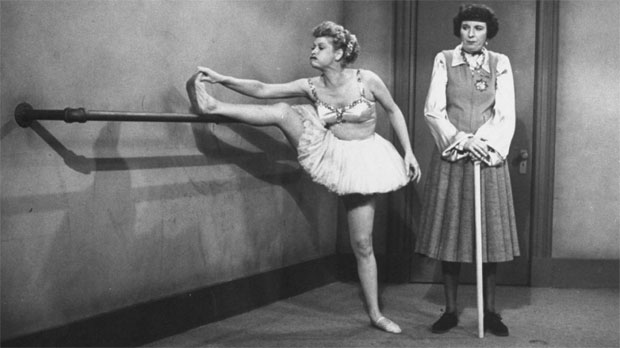 Many of the techniques that we have come to associate with sitcom's today – a live audience, three-camera recording setup, the use of flat lightning to speed up the recording process and the idea of episode reruns all find their genesis in I Love Lucy. Ground-breaking in so many ways, I Love Lucy remains a seminal touchstone in American television.
In today's television world of fragmented, attention lacking audiences, it's hard to believe that while I Love Lucy was only on television for 6 seasons (followed by a series of hour long specials from 1957-1960) over 180 episodes were filmed, and the show averaged in excess of 50 million viewers per episode. But quality will always out, and not only was I Love Lucy phenomenally popular on first broadcast, it has endured in syndication since it went off the air in May 1957.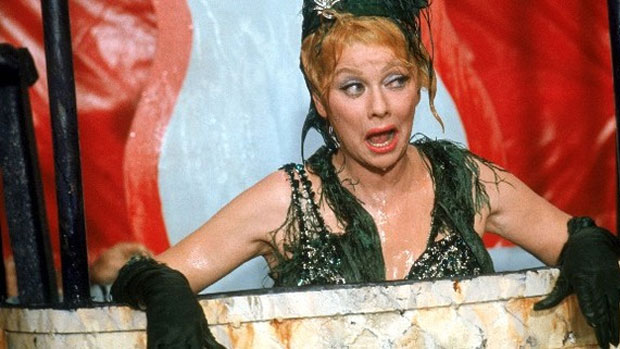 Very much a product of its time, the value of the series is as much in seeing how television was produced over 50 years ago as the comedy itself. The 35mm prints are in very good condition, and a testament to the restoration work completed on them. Ball brings immense energy to the role; she is clearly the star the rest of the cast revolves around. Special mention should go to Frawley and Vance – by all accounts, away from the cameras neither could stand each other, but in front, they are true troopers, and a testament that those old vaudeville and stage actors had something today's shiny and plastic performances sadly lack – commitment to the material and pure talent.
DVD Details
Actors – Lucille Ball, Desi Arnaz, Vivian Vance, William Frawley, Joseph A. Mayer, Michael Mayer
Film Genre – TV Comedy
Label – Shock
Audio – English (Dolby Digital 1.0)
Running Time – 5400
Aspect Ratio – 1.33:1
Region Coding – 4
TV Standard – PAL
Rating – G
Year of Release – 1951
Primary Format – Movies/TV – DVD