Comedy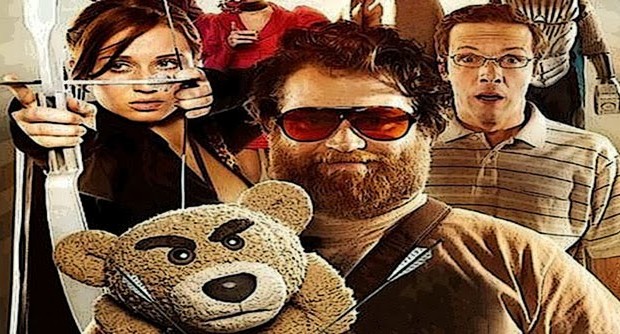 Published on January 2nd, 2014 | by Admin
Hungover Games – March 20, 2014
Universal Sony Pictures Home Entertainment is releasing Hungover Games – available to own on DVD from March 20, 2014.
The Hollywood spoof machine is back with this comical take on two of the largest film franchises of our time, The Hangover and The Hunger Games. Starring Tara Reid, Robert Wagner and Bruce Jenner in drag, this outrageous parody is available to own on DVD from March 20, 2014.
After Doug's bachelor party in a rundown motel outside of Las Vegas, our hung-over partiers, Bradley, Ed and Zach, wake up in a strange room in an even stranger world… without Doug.
After meeting the spoiled and immature Effing (Tara Reid) and the gruff, alcoholic Justmitch, the gang manage to put the pieces together and realise they are on a train headed for the deadly Hungover Games. It's a fight for survival in the arena as the guys go toe-to-toe against various pop culture districts including The Superhero District, The Middle Earth District, the Puppet District and the Johnny Depp District.
With the odds not in their favour, will Bradley, Ed and Zach find Doug and get him back in time for the wedding?