Action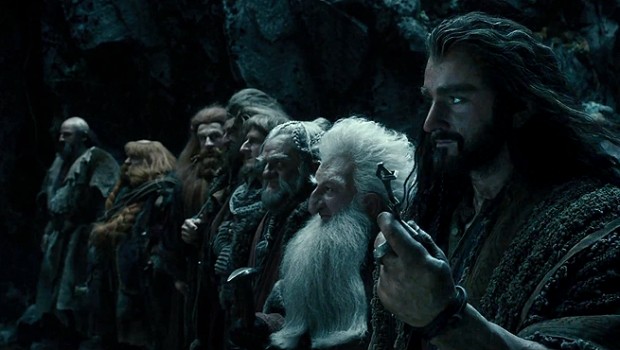 Published on August 5th, 2014 | by admin
THE HOBBIT: THE DESOLATION OF SMAUG EXTENDED EDITION
Extended Edition Features a 25-Minute Longer Cut and  More Than Nine Hours of New Special Features
The Quest through Middle-earth continues in The Hobbit: The Desolation of Smaug, from Academy Award®-winning filmmaker Peter Jackson[i], when the epic fantasy adventure is released as an Extended Edition on digital from October 21st and on Blu-ray 3D, Blu-ray and DVD on November 12th from Warner Bros. Home Entertainment (WBHE). A production of New Line Cinema and Metro-Goldwyn-Mayer Pictures, this extended cut of the second film in The Hobbit Trilogy includes 25 minutes of extra film footage that extends individual scenes, making this the must-see, definitive version for fans. The Extended Editions include more than nine hours of new bonus features that will enrich the experience of the Trilogy as fans gear up for the December theatrical release of the third and final film, The Hobbit: The Battle of the Five Armies.
The nine-plus hours of new special features boasts audio commentary with Peter Jackson, the film's director/producer/screenwriter, and Philippa Boyens, co-producer/screenwriter, as well as "The Appendices," a multi-part documentary focusing on various aspects of the film and the Trilogy. Complete special feature details are provided below.
SYNOPSIS
The Hobbit: The Desolation of Smaug continues the adventure of the title character Bilbo Baggins as he journeys with the Wizard Gandalf and thirteen Dwarves, led by Thorin Oakenshield, on an epic quest to reclaim the Lonely Mountain and the lost Dwarf Kingdom of Erebor.
Having survived the beginning of their unexpected journey, the Company travels East, encountering along the way skin-changer Beorn and a swarm of giant Spiders in the treacherous forest of Mirkwood. After escaping capture by the dangerous Wood-elves, the Dwarves journey to Lake-town, and finally to the Lonely Mountain itself, where they must face the greatest danger of all–a creature more terrifying than any other; one which will test not only the depth of their courage but the limits of their friendship and the wisdom of the journey itself–The Dragon Smaug. 
The Hobbit: The Desolation of Smaug will be available in the following skus:
SKU
RRP
Notes
ALL
N/A

Running Time: 192mins

Certification: TBC

DVD, Blu-ray and Blu-ray 3D release date: November 12th

Digital release date: October 21st

Will include Ultra Violet

DVD

$39.95
The Hobbit: The Desolation of Smaug Extended Edition consists of 5 DVDs.

Special Features Include:

Audio commentary from Peter Jackson and co-producer/screenwriter Philippa Boyens
New Zealand Home of Middle-Earth Part 2. Travel with Peter Jackson on a tour stunning New Zealand locations that filmmakers turned into Middle-Earth.
Into The Wilderland: The Chronicles of The Hobbit Part 2. A twelve-part chronological history of the filming of The Desolation of Smaug, documenting the work done onset chronologically through the three shooting blocks and in the world of its digital effects.
The Journey To Erebor. A multi part documentary focusing on the work that Weta Workshop and Weta Digital undertook to create the new characters and creatures of The Hobbit: The Desolation of Smaug.

Blu-ray
$44.95
The Blu-ray sku of The Hobbit: The Desolation of Smaug Extended Edition consists of 3 Blu-ray discs and 2 DVDs.

 

Special features as on DVD

Blu-ray 3D
$59.95
The Blu-ray 3D  sku of The Hobbit: The Desolation of Smaug Extended Edition consists of 2 Blu-ray 3D discs and 3 Blu-ray discs.

The Blu-ray 3D skus will include either Barrel Rider Figurine or a replica of the Key to Erebor

 

Special features as on DVD

Digital
$17.99
The Hobbit: The Desolation of Smaug will be available to download to own from all participating retailers from October 21st