3DS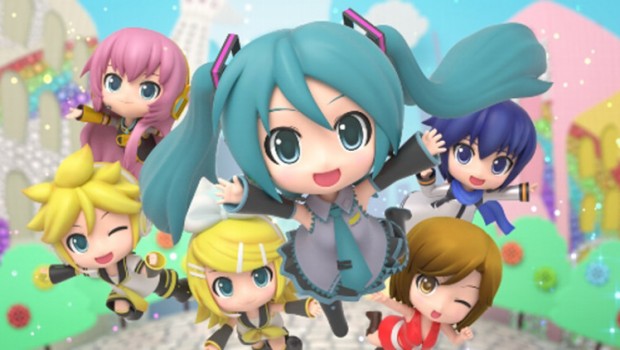 Published on September 11th, 2015 | by admin
Hatsune Miku: Project Mirai DX now available in Stores
Hatsune Miku: Project Mirai DX now available in Stores
Sydney, Australia – Sept. 11, 2015 – Hatsune Miku: Project Mirai DX, the music rhythm/lifestyle game developed by SEGA®, is now available for the Nintendo 3DS™ handheld entertainment system. The western debut of Hatsune Miku on the Nintendo 3DS system features her and her friends in a cute, chibi style, inspired by the popular Nendoroid figurine series. The gameplay itself blends traditional rhythm game elements with an apartment to decorate and interact with the characters in, fun mini games (including Puyo Puyo!), collectible items, and more. The game encourages users to spend time interacting with their characters by rewarding them with new animations, options, and flavour text.
Dance with Hatsune Miku, Kagamine Rin, Kagamine Len, Megurine Luka, KAITO, MEIKO and even GUMI to songs popular throughout the Miku fandom, including "Ageage Again," "Senbonzakura," and the game's theme song, "Nice to meet you, Mr. Earthling." Almost everything for those characters are customizable as well – their outfit, their living space, their allowance, their dance moves – and can be shared with other Miku enthusiasts over StreetPass and SpotPass.
KEY FEATURES:
It's the Journey, Not the Destination: Project Mirai DX is not just about being able to complete a song on the hardest difficulty, but achieving full mastery of a song to unlock everything within the game!
Get Your Groove On: In Hatsune Miku: Project Mirai DX, you won't find a shortage of available tracks! From fan favorites like "World is Mine" and "Hello, Planet", to songs like "shake it!" and "glow", which are making their video game debut for the first time, a variety of unique and catchy jingles await you.
Costumes Galore: With over 100 costumes for the cast of Project Mirai DX, you have the ability to dress each character however you see fit – mix and match for limitless possibilities!
Share Your World: When it comes to your love of Miku, you're not alone! Show off your creativity to others around you by creating your own personalized Profile Card featuring your partner, a customizable tagline, a short phrase, themed card designs, and holographic backdrops that shimmer when you move your 3DS!
Decorate and Customize: Pick your favorite character and customize their outfit and room they live in. Treat them with kindness and give them attention, and they'll grow to love and adore you.