3DS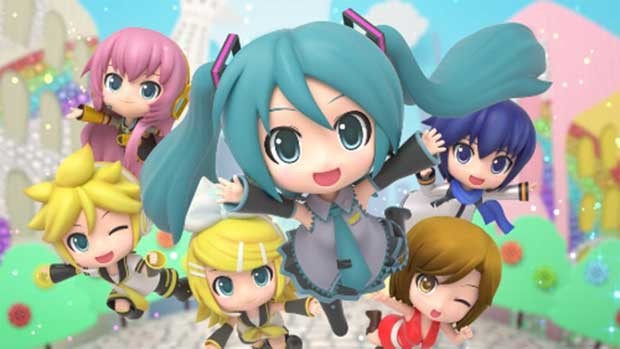 Published on September 21st, 2015 | by Tony Smith
Hatsune Miku Project Mirai DX 3DS Review
Summary: Hatsune Miku Project Mirai DX offers fun gameplay, fun music and fun times on the Nintendo 3DS!
Welcome to this very addictive and entertaining 3D rhythm game meets life-sim that really takes this genre to a whole new level thanks to the architecture of the 3DS hand-held system which features some very cool Japanese anime inspired characters and classic J-Pop music which will have you humming and bopping along in no time! Oh.. haven't heard of Hatsune Miku before? Well she is a virtual pop star and is a huge hit in Japan who even has her own music available so yeah, she's big and apart from Hatsune, it also stars Rin, Len, Luka, Meiko, Kaito and Gumi that make-up this eclectic musical band.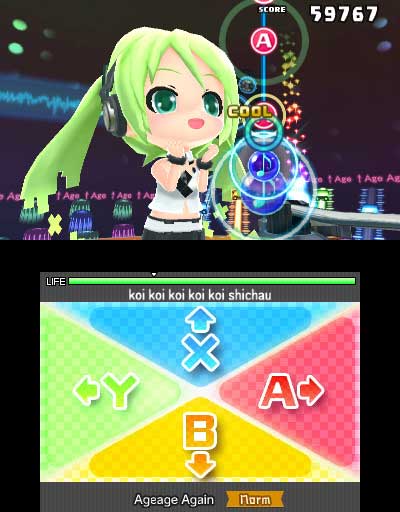 At its gaming core, Hatsune Miku Project Mirai DX on the 3DS is a rhythm game which requires players to successfully time their actions in order to score points for the song that they are listening to which also boasts 48 songs from a plethora of entertaining bands from Japan such as Livetune and HachiojiP who really draw the gamer in due to their addictive beats. In terms of difficulty, there are a variety of levels and the gameplay is split into either a touch mode or button mode.
I actually preferred the button mode which is more reminiscent of those classic rhythm games but both methods work well, especially if you're a stylus fan. So just like other games from this genre, symbols appear on the screen and you need to either tap or push in tune with the music to get better points and even power-ups.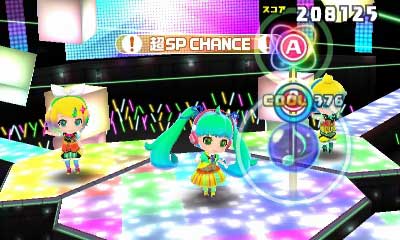 To give the player a challenge, all four buttons are used which can be tricky to pull off the rainbow move which requires you to interact with the circle pad to draw circles. Interestingly enough, the rainbow move is much easier to perform with the stylus! Needless to say, as the game progresses and depending on what difficulty level you are playing, it can be quite a challenge to master some of the songs but if you do, the game does unlock additional bonuses, including variant songs.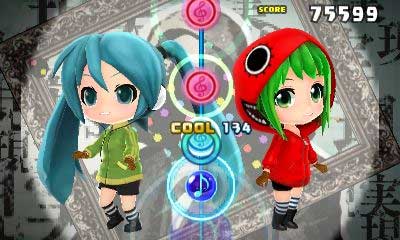 Apart from pushing all the notes at the right time via the touch screen or the buttons, there is even a place to interact with the characters in the game. This part of the title is almost like a virtual pet game but for humans which allows gamers to give gifts to whoever you chose to become your "partner" in the game. There's also an in-game currency called Mirai Points which allows you to give your characters some virtual bonuses like holidays, furniture, clothes and other material goods that make them happy. I really love how this title is so different to other rhythm titles.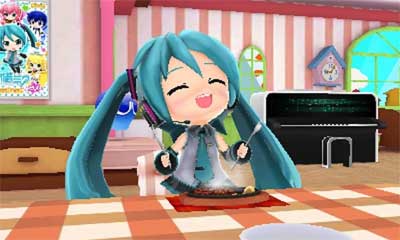 The game also features some cool music videos with the gameplay which does make it difficult to watch, unless you are an observer but the game does well in informing the player on how well they have played. If you want to watch the music video, you can replay this once you have finished the song. There is even a dance studio which allows you to create your own dance moves for the songs which is another nice distraction. Then you have StreetPass where you can swap cards with other players in order to unlock new backgrounds, poses and even the ability to create your own music.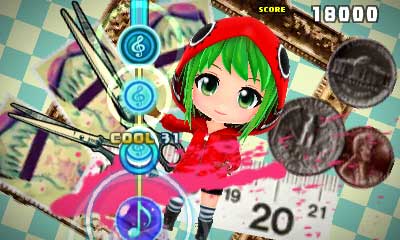 Graphics/Audio
Graphically, Hatsune Miku Project Mirai DX is oozing with Japanese cuteness with their over emphasised heads and eyes with characters that look like they have just walked off an anime set. The game is also bustling with colours and the backgrounds are filled with all sorts of shapes, colours and special effects to help with the musical beats. The 3D aspect of the title works well, although can get a little touchy if you are moving your console around too much. Of course, the highlight of this game is the music itself that is quite catchy, especially to these Western ears and even long-after I've finished playing the game, I was humming some of the tunes.
Final Thoughts?
Hatsune Miku Project Mirai DX is probably one of the best 3DS titles of the year that proves a game doesn't have to be Zelda on this awesome portable console. It features fun music, fun gameplay and fun times!
Game Details
Primary Format – Games – Nintendo 3DS
Game Genre – Music
Rating – G