PS5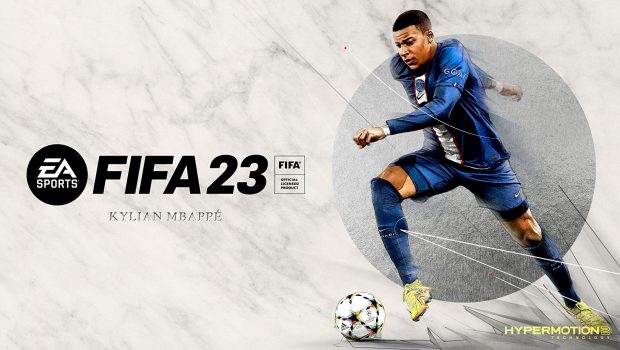 Published on October 6th, 2022 | by Paul Stuart
FIFA 23: PS5 Review
Summary: The last dance of FIFA is a terrific football waltz. HyperMotion 2 is mainly a winner, as is Ted Lasso and women's additions.
4.6
A Solid Finish to FIFA
With FIFA 23 the swan song for EA's relationship with the license, it's sad it at the 11th hour that EA went all in on dramatically advancing overall gameplay. While FIFA 22 definitely next-gen, FIFA 23 is now a proper game of football, complete with A-level physics, proper AI and Machine Learning infusion, and deliberate attention to defensive tendencies.
HyperMotion 2 is the real deal, a huge upgrade over FIFA 22 in every way. Game pace is even more realistic (meaning slower and smarter), passes carry believable trajectories (into open spaces instead of direct to players), and acceleration is now strategically executed (versus spamming past defenders). The most noticeable addition is the shift in emphasis from right to left stick movements, where subtle directional and/or foot switches can beat defenders sans wild stick flicking. Logically, the better the skill, the better the moves.
Similarly, player jockeying feels somewhat physical, with noticeable consequences from in air collisions, hip bumps, and general bodying up. Gone are the phantom gaps between players allowing easy blow-by's. More physical defenders rightly possess greater physical presence and tackle thump.
Playing defence is now a lot more difficult, and not always for the best. Player switching isn't as easy as it should be, and non-controlled players often fail to close passing lanes. This combination forces human players to regularly drop back to mark for AI and/or compensate for easy ground/air through ball possibilities. Even with these foibles, it's nice to see this doesn't result in offsides aplenty, so common in prior FIFA offerings.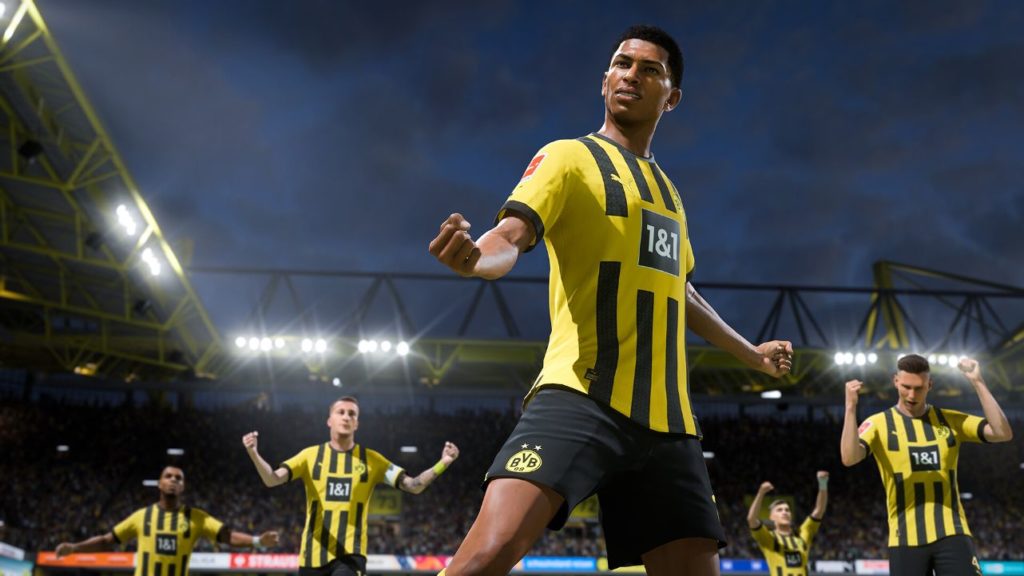 Speaking of defence, basic jockeying is of little consequence, meaning tackle or bust to truly shut someone down and regain possession. Slide tackles are no longer overpowered, but – on the flipside – provide limited resistance when trying to intercept balls and/or close angles.
Gotta' give credit where it's due, however, in a now very deliberate CPU attacking strategy. There's some obvious Machine Learning going on in how CPU AI reacts to human player preferences on both sides of the ball, with noticeable in-game strategy shifts in counter attack, going wide, long versus short ball, etc. On the flipside, player strategies are now more easily accessible and adjustable to counter.
Even with twice the animations over the original HyperMotion, goalies are still pretty cookie cutter. Saves are mainly of the desperation type, albeit with a smidgen more rebounds and fumbling of balls. I would love to see goalies more involved in mid-air battles, corner kicks, and display aggressive tendencies mirroring real life counterparts.
FIFA 23 introduces a new dynamic on said corners and free kicks, with an ability to target certain parts of the ball for custom trajectory and spin (based on player skill). Try as I might, I couldn't get this one right. A little more on-screen visuals on foot placement effect is arguably sorely needed. Also, FIFA 23 now places the power meter over the kicking player versus ball on these kicks, which means looking partially off-action…which is never a good thing.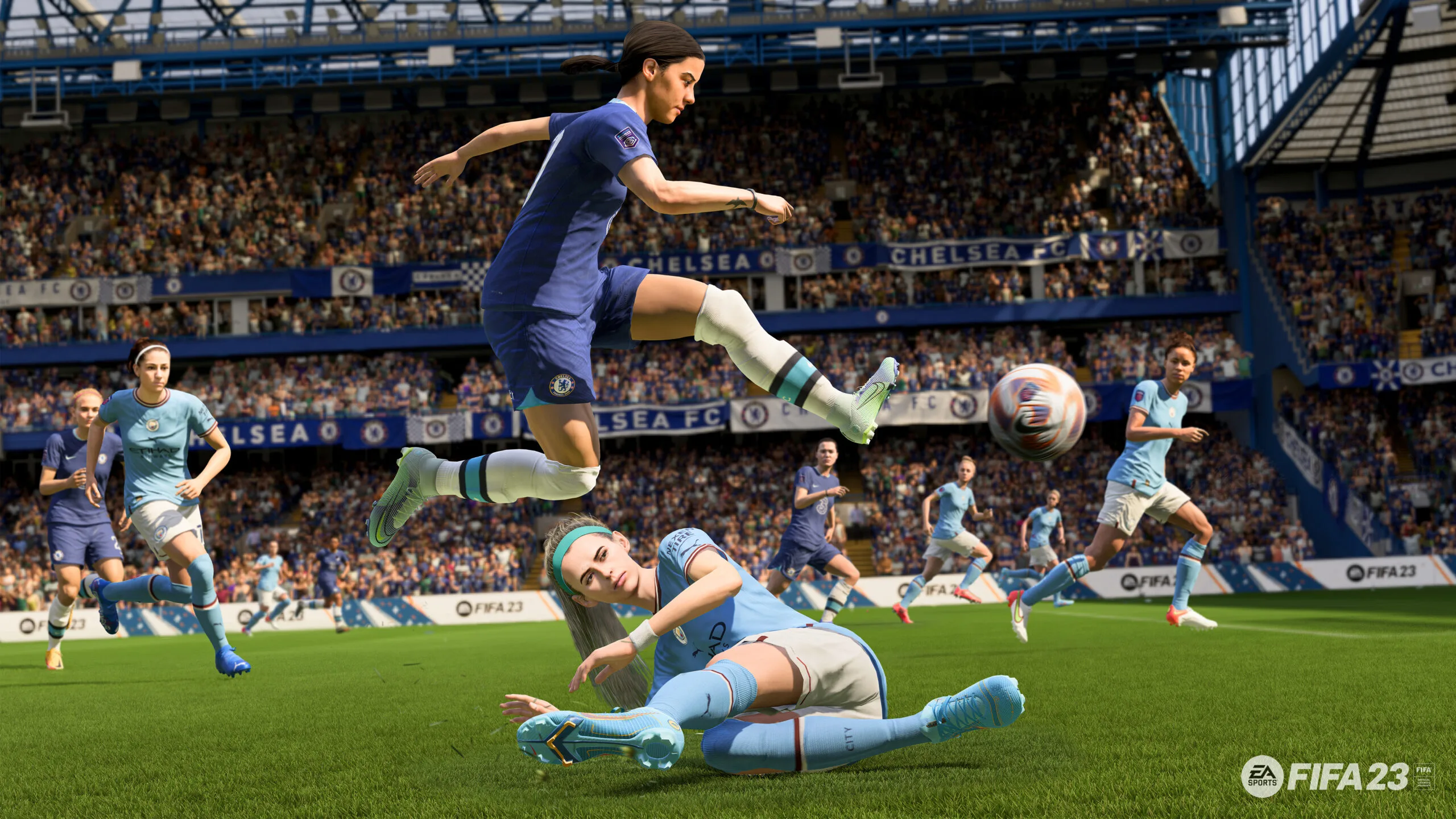 A big boon to FIFA 23 is the introduction of the women's game, albeit not a lot of teams/options to choose from. I give EA massive credit for the clearly oodles of effort to motion capture female movements in HyperMotion 2, also to accurately represent the women's style of play. This mode literally looks and feel like women's football, with very obvious differences between average and top squads. The latter will literally run you off the pitch. (Damn you, Canada.)
Equal kudos on the intuitive training mode literally built into the game. Every one of FIFA 23's game modes offers an option to seamlessly integrate training goals into them, where completing certain tasks a number of times advances to the next tier. There's also more regimented training via either a male or female trainer. Finally, the usual skill games are there as a third training aid.
FIFA 23 plays a much better game of football than FIFA 22…and stands as arguably the best of the series in years in this regard. It still, however, refuses to truly let go of the reins ala' Pro Evolution Soccer (now eFootball) to empower true randomness and excitement during a match. Even with better pacing and spacing, FIFA 23 feels pre-determined.
Presentation-wise, this may be the best-looking sport title ever created. Player visuals, stadium models, menus, and crowds are gorgeous. Replays are so beautiful, as are the camera angles which present them. Commentary is truly exceptional: announcers will literally pause comments, apologize for change of course, then shift to a critical live moment. They also emphasize (in career/season modes) where a relevant transfer/league occurrence takes place that day. Third, clever and non-overkill use of the in-controller PS5 speaker for balls on net and what results.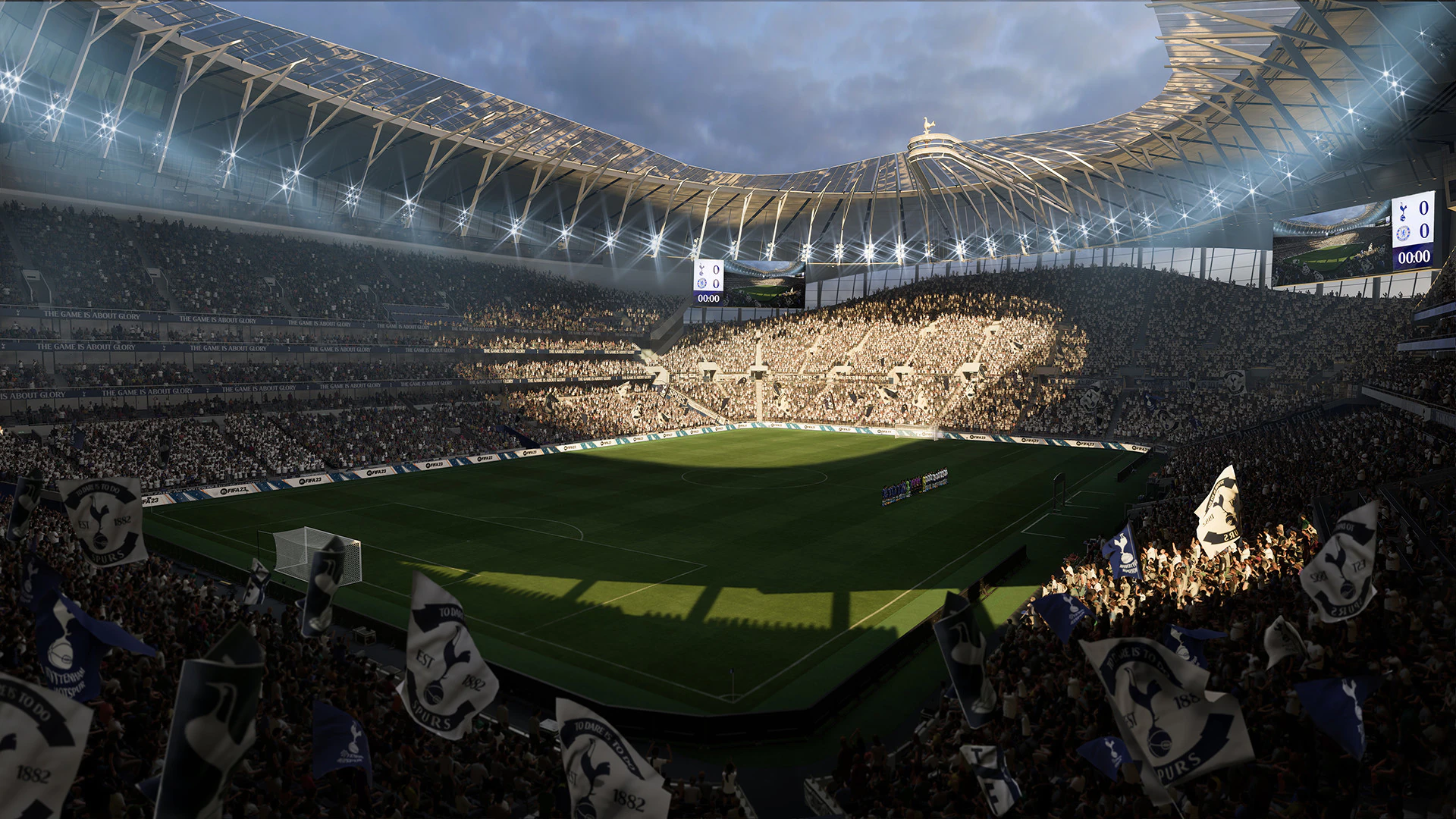 For those who are fans – myself one of them – Ted Lasso, baby! The entire AFC Richmond squad, the gaffer and the Dog Track are playable in all modes to include seasons, manager and quick play. Warning: don't expect Man U quality here, as the Greyhounds' composite skill indicative of a squad recently relegated. Players models and commentary are spot-on, making this such a fun and surprising addition to FIFA 23. My only regret is no sign of Coach Beard or Nate, nor any direct commentary references/chants (i.e. Roy Kent/Jamie Tartt songs) to the antics/personalities of Coach Lasso or the Greyhounds team. I will confess my first goal in FIFA 23 was by Sam Obisanya, reliving the epic battle against Crystal Palace.
Other new additions are the introduction of player archetypes in street (Volta) and Career modes, allowing for more diversity in play style. There's still arguably way too much going on in Career mode, with a glaring need for a middle ground between automated and full manual control.
Last, Ultimate Team is still microtransaction or bust, but now with playable moments (instead of just games) and better explanation of team chemistry. As usual, being a collecting mode, new cards – notably legends – to assemble.
Final Thoughts
The simple question: for owners of FIFA 22 on next-gen consoles, is it worth purchasing FIFA 23? The answer is a definitive 'yes.' While not a perfect upgrade, it's a noticeable one that takes many big steps in the right direction. Plus, if you're even a mild fan of women's football and/or Ted Lasso, this decision is a whole lot easier, in tandem.