PS5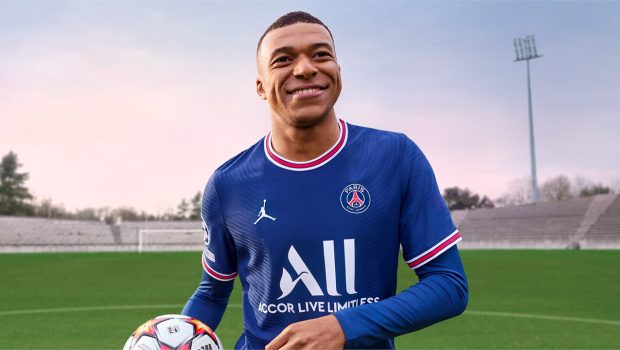 Published on October 19th, 2021 | by Paul Stuart
FIFA 22 PS5 Review
Summary: The best FIFA in ages, HyperMotion adds a long overdue sim feel to the series. Microtransactions still loom large, however, in key gameplay modes.
4.2
The (More) Beautiful Game
EA Sports finally did the seemingly unthinkable: they removed the 'ball on strings' gameplay stalwart of the FIFA series, also inserted some actual AI on the defensive backend. In doing so, HyperMotion is born, a long overdue change to FIFA 22 that makes it arguably the best FIFA game in ages.
The timing of this change is a win-win for FIFA, as Konami made the boneheaded decision to gut a previously very strong (albeit lacking in licenses and minor polish) Pro Evolution Soccer franchise for 2021-22. What remains is the garbage e-Football free-to-play, one that Konami strangely believes people will drop money to upgrade in capability. Thus, FIFA 22 stands alone as the only truly useful football game in town, and thankfully one much improved over FIFA 21 for the PS5.
Comparing PS5 FIFA 21 to 22  is like night and day. While 21 very much resembled current gen console offerings, 22 looks and feels like a next-gen product. Moreover – and most importantly – the game's complete gameplay overhaul is a dramatic change apt to shock some FIFA veterans.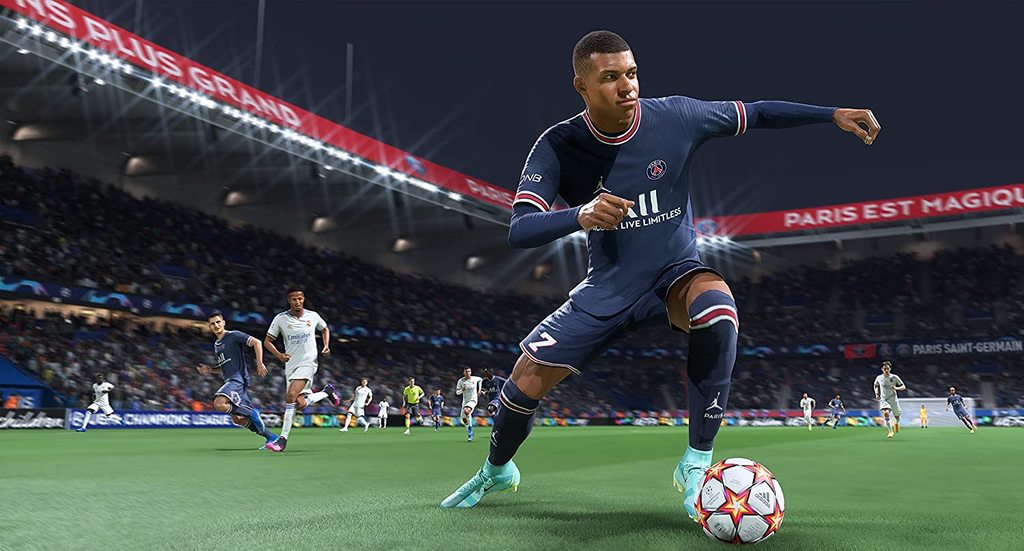 FIFA 22 plays so differently, it truly is a completely new experience. To begin, game pace (while adjustable in sliders) is significantly reduced to resemble an actual soccer contest. Runs therefore become more meaningful, as do critical close out/double team/step up decisions where a bad choice has actual consequences via counter transitions. As FIFA 22 simultaneously significantly boosted by terrific computer AI help defense, a mishap doesn't thankfully universally default to odd man rushes the other way.
Speaking of AI defense, defenders are finally and smartly auto-positioned both in the midfield and when dropping back, thus reducing (though not eliminating) excessive over-the-top balls or wide open strikers in the box. FIFA 22 requires deliberate strategy to transition across the midfield, with turbo spamming and/or excess shimmies rarely successful. Instead, expect oodles more of ball control nuance to get past anyone but the lowest rated defenders. Another high note is the clever the R3 -> Right Analog Stick for easy defender switch.
Mirroring the aforementioned Pro Evolution Soccer, passes no longer go line-to-line between players, instead to spots on the pitch with final location factoring in player positions, physics (off leg/foot angles), and strength of kick. The nonsensical tic-tac-toe passing of years prior is therefore gone (hooray!) in FIFA 22. Lob passes likewise require true precision to find their targets, although – at launch – these  arguably too difficult to consistently execute. Many – even simple – lobs send receivers out of bounds, also don't always clear defenders (thus regularly intercepted). Related, all pass types still feel a big magnetized to player vicinity, thus kicking into open spaces is not there…yet.
Shooting now feels a bit more like…shooting. Balls naturally fly off feet versus FIFA 21's omnipresent need to get angles, ball control and power perfect. AI Goalkeepers – the bane of existence for every FIFA game since series inception – are much better at picking up said angles, and rarely over commit. Still, keep' decision making needs some work, with a recent patch designed to address just that.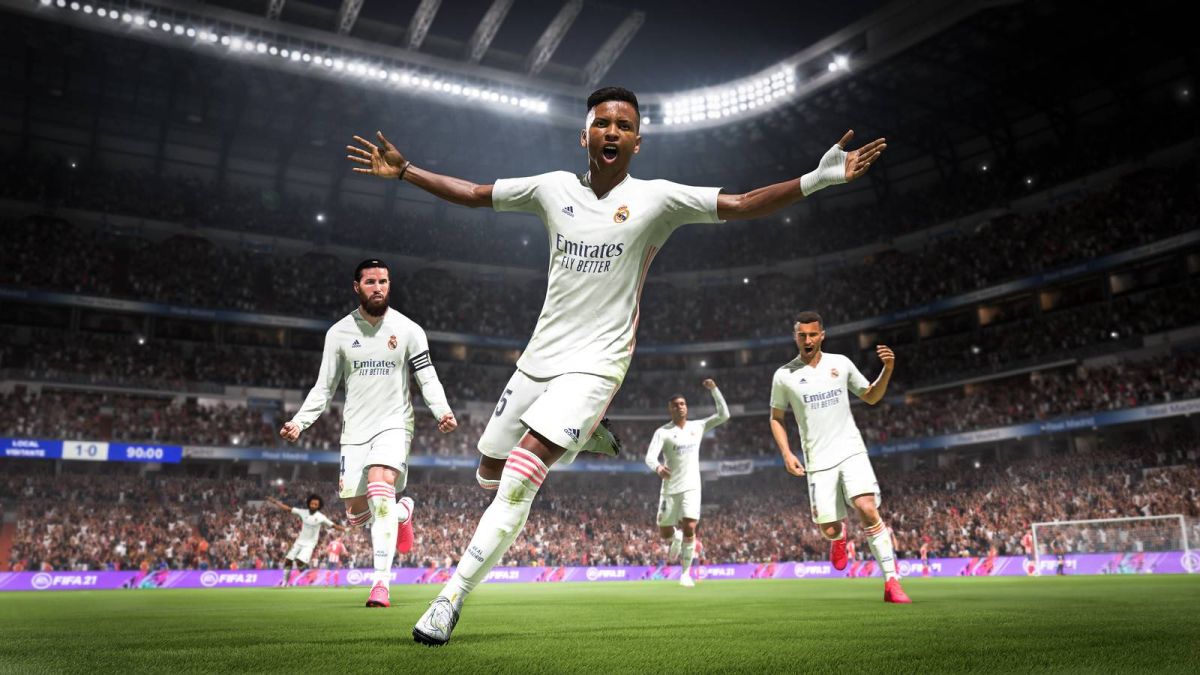 There's no clearer example in how different FIFA 22 is from 21 than in Pro Clubs drop-in. The usual suspects of microtransaction striker heroes (i.e. significantly leveled up goal scorers via payola extreme) could only do so much against well positioned defenders adept at marking, also controlling passing and shooting lanes. The same can be said against über upgraded Ultimate Team competitors, bursting with ridiculously high ball control and passing skills near-impossible to keep up with. On the flips-side and despite the HyperMotion corrections, these same players found exploits in offsides calls (with endlessly streaking players not getting flagged against an offsides trap strategy), also loopholes in fouls (where the timing of certain tackles amazingly ignored by refs).
Thus, and yes: FIFA 22 remains a microtransaction heavy game at its core. To truly enjoy Pro Clubs, Volta (the colorful street soccer mode) and Ultimate Team requires some pay-to-play otherwise grind into oblivion. It's the same critique levied against sport titles NBA 2K22 and Madden 22…and no doubt NHL 22 (yet to be reviewed at IG).
This is not to insist these modes aren't fun if literally invested in (via dollars and time). Volta looks and sounds amazing(!) in FIFA 22, although is now near-exclusively geared for online play (as no leveling up possible offline). Ultimate Team is also chock full of new goodies to unlock in players, balls, stadiums and kits. Player customization in Pro Clubs is at its peak within the series.
Meaning, I'm confused. Through HyperMotion, FIFA 22 is a deliberate shift to attract more sim players to the fold. Oddly, however, all of FIFA 22's visuals appear geared toward arcade style and/or younger players. From the opening tutorial of kicking balls through the streets of Paris and hobnobbing with Beckham, Henry, and Mbappe…to the zaniness and over-the-top Volta…FIFA 22 is loud and proud. Then you jump into the game for overly methodical advances across midfield. Hmm.
Not everything new in FIFA 22 is so Jekyl and Hyde-like. For instance, Career Mode gets but subtle boosts in player emphases also management/club customization approaches (for the latter option). Warning: FIFA remains finicky on match performance rankings (in how they assess them). As post-match accomplishments, managerial decisions and skill points attached to rankings, expect occasional frustrations in falling short for no apparent reason.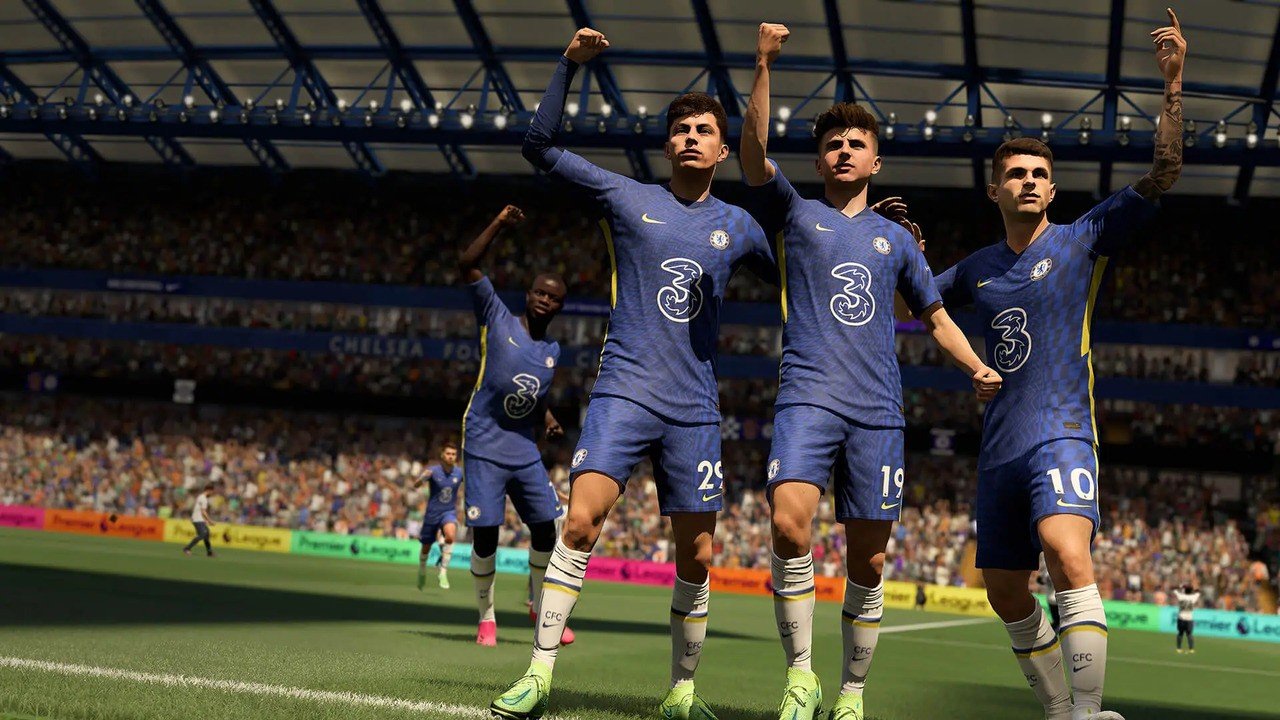 Online Volta sports oodles of new goodies to purchase and wear, plus player skill boosts tethered to specific accomplishments in game. All in all, these are intended to spice up gameplay experiences by being more dynamic and varied.
Presentation wise, not many differences to speak of in  the already picture pretty Frostbite engine of FIFA 21. Players and stadiums remain solid, with new custom chants included. Subtle Augmented Reality and improved commentary streamline already a strong performance.
Servers – a constant thorn in the side of FIFA – are not as of yet (assuming player numbers increase dramatically in the months ahead). Matchmaking is slow'ish, but works. I was oddly dropped from a Pro Clubs contest, but – when connected to opponents – zero lag in this and/or Ultimate Team mode.
Squads remain very up-to-date, supported by live commentary that references nuances of proposed transfers, performance, and related. FIFA's always been the king of rosters, and 22 is no different. Still, confusion remains  why one of the Euro Leagues' top sides in Israel – and a legit FIFA club – remains out of the game for over decade. Ditto the very popular Israeli leagues. One day FIFA – but not Pro Evolution Soccer – decided to drop them…and never look back. But I digress.
Final Thoughts
As the sum of its parts, FIFA 22 is the best FIFA in years…and plays a strong game of football on the PS5. The decision to go more sim-heavy is long overdue, with finally a befitting pace and defensive posture to the beautiful game. Online contests – even with exploits via microtransaction supercharged players – are much more balanced. There's so much to do both online and offline, it's an easy recommendation for both casual and committed football fanatics.