PS3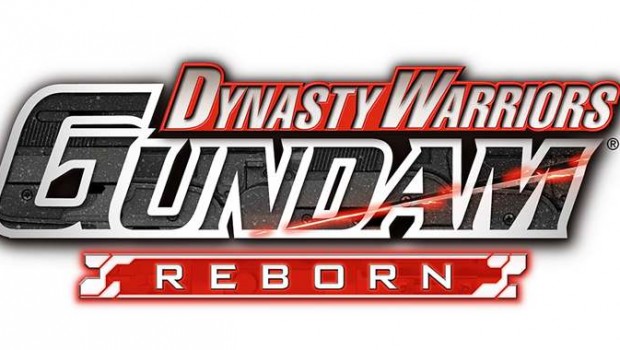 Published on June 29th, 2014 | by admin
Dynasty Warriors Gundam Reborn PS3 Review
Summary: Sure, Dynasty Warriors Gundam Reborn may not offer anything new but it does offer a relatively fun space game with larger than life battles
Dynasty Warriors Gundam Reborn
Developer: Tecmo Koei
Distributor: Mindscape
Genre: Fighter / Action
Rating: PG
Reviewer: Jason Piec
Tecmo Koei unleash another Dynasty Warriors title on the PlayStation 3 with Dynasty Warriors Gundam Reborn that replaces mythical Chinese heroes with powerful Mobile Units (think Transformers) as you take on an almost never ending supply of enemies. The game is also set in the Gundam Universal Century timeline that is definitely for fans of this genre and uses some great references. The game also boasts an amazing roster of characters from the Gundam universe which includes SEED and Unicorn mobile suits. With over 120 Mobile Suits available, there's definitely quite a bit to explore and thankfully there are some noticeable differences between suits.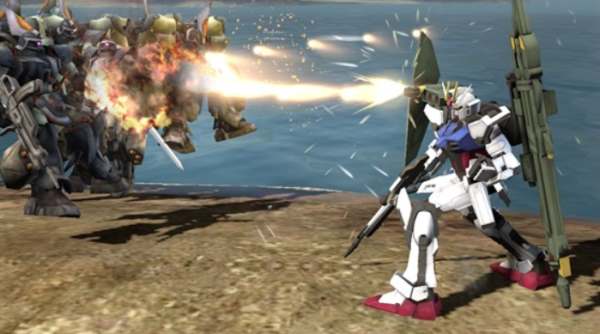 For the uninitiated, Gundam was launched in 1979 as a TV series that focuses on giant robots with specialised capabilities. It's kind of like Transformers but without the transforming into vehicles and is still a highly popular franchise in the 21st century. It's great that Tecmo Koei have revisited this franchise again and although the gameplay is reminiscent of Dynasty Warriors, it's really fun controlling these powerful mobile suits as you engage a variety of enemies and massive boss battles.  With that said, if you loathed Dynasty Warriors then you'll probably have issues with Gundam Reborn because it follows a similar premise. As mentioned, the stories and missions in the game are all taken from the Gundam universe which are progressed nicely through cutscenes and dialogue.
Although the game supports a sturdy single-player game, Dynasty Warriors Gundam Reborn also boasts some entertaining local and online play. I really like how Tecmo Koei have incorporated local play into this title which basically splits your TV into two and if you have a 42″ plus TV, you'll both be in Gundam heaven. Given that, you can take the game online which does offer more immersive gameplay. The controls of the game are well mapped on the PS3 controller and thankfully with so much happening around you and so fast, the game doesn't try to be clever with complex controls.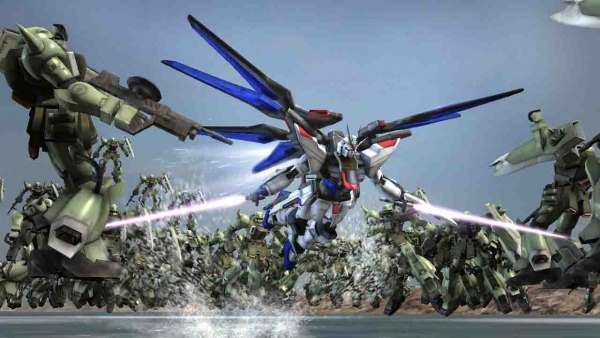 Attacks are basically split into ranged and melee with slight twists for the different Mobile Suits plus light and heavy combos. Apart from fighting on the ground, you do have boosts to fly in the air that does add a twist to the traditional Dynasty Warriors gameplay. Add in power-ups and tweaks to your weapons and the developers ensure that there is enough incentive for fans of this series to continue, however as with most Dynasty Warriors games, the title does some from repetition. Needless to say it's a good effort!
Graphics/Audio
Graphically, Dynasty Warriors Gundam Reborn looks good on the PlayStation 3 with the developers tweaking their existing engine to create a very lifelike Gundam universe. The gaming environments are quite varied and diverse with some good level design. The game also has this real animated feel to it that actually matches the various incarnations of movies and TV series.
The stars of the game however are the various Mobile Suits which do mimic their animated counterparts. All the suits move with this human like grace and the battles are definitely quite over the top and at times spectacular. My only gripe with the graphics is that the developers have over simplified the Mobile Suits to make it look more cartoon-like opposed to realistic. The musical score also works well with the gameplay which helps with the epic battles that you face. The sound effects also boom through your surround sound speakers which is how a Gundam game should sound.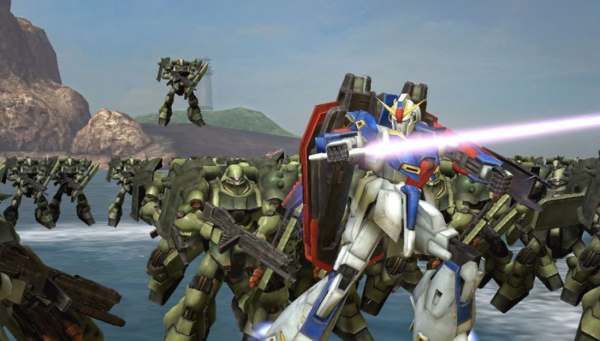 Final Thoughts?
In conclusion, Dynasty Warriors Gundam Reborn is an interesting split from the Dynasty Warriors series that is definitely aimed at fans, especially with the Ultimate Mode that allows players to engage in a variety of different missions with your favourite Mobile Suits. The gameplay although repetitive was actually fun, especially controlling the various Mobile Suits and fighting those mega boss battles. Sure, Dynasty Warriors Gundam Reborn may not offer the gaming industry anything new but it does offer a relatively fun space game with larger than life battles.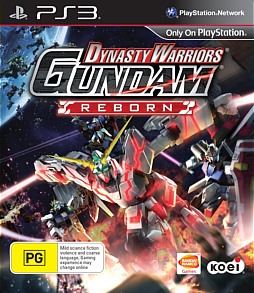 Key Features
Biggest Game Yet: Play through two different game modes and the largest number of missions ever in the DYNASTY WARRIORS®: GUNDAM series.
Spans the entire Gundam series including Mobile Suit Gundam SEED in Official Mode.
Cross over missions in Ultimate Mode.
The Anime in Motion: Play through famous scenes and scenarios ripped from the Mobile Suit Gundam universe: Mobile Suit Gundam (Movie); Mobile Suit Zeta Gundam (Movie); Mobile Suit Gundam: Char's Counter Attack; Mobile Suit Gundam Unicorn; Mobile Suit Gundam SEED; Mobile Suit Gundam SEED Destiny
Over 120 Playable Mobile suits: By far the most ever in the history of the franchise, including Mobile Suits from Mobile Suit Gundam SEED.
Pilot the Massive and Powerful Mobile Armor