Comedy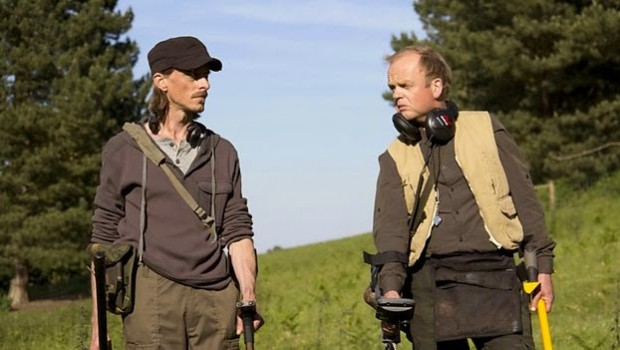 Published on April 3rd, 2016 | by Rob Mammone
Detectorists Series 2 DVD Review
Summary: With standout performances by Crook and Jones, and a wonderfully charming script leavened with a hint of melancholy, Detectorists series two builds on the unexpected success of series one and takes its characters in new directions.
Comedy comes in all shapes and sizes. From the empty, violent anarchism of The Young Ones, to the kitchen sink dramadey of Steptoe and Son, to the know nothingness of Seinfeld, or the preppy, relentlessly middle class Friends, there's a comedy styling for just about anyone.
The first series of Detectorists landed with a quiet thump when it aired in 2014 on BBC4. In an unrelenting world of go go go, it's gentle, whimsical humour and finely wrought observations of human foibles was a welcome relief. In that first series, it treated its characters, and audience, with a degree of respect unusual in comedy that in its dominant sitcom mode, is rightly regarded as disposable. Melancholy and decent, the first series of The Detectorists is rightly regarded as a classic.
So, in assembling the band again for the dreaded second album, has creator, director and writer Mackenzie Crook bottled lighting once again? The answer is a definite yes. Picking up from the end of series one, we find our characters up to their old lurks and pursuits in the beautiful English countryside, ruminating about life while in the endless pursuit of lost Saxon gold.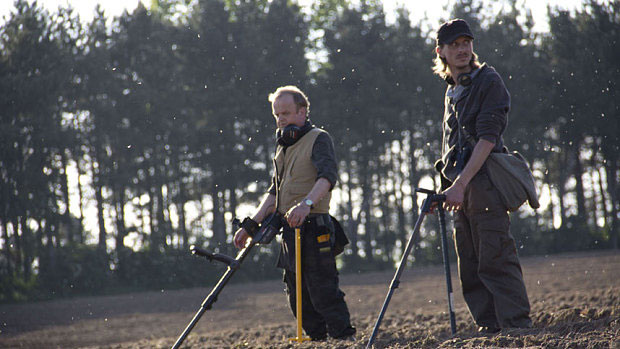 Series two opens with a short flashback to Anglo Saxon times, showing a priest hurriedly burying a gold handled pointer stick to hide it from invaders. Time lapse takes us up to the present day, where Andy (Crook) has finally gained his degree in archaeology, but hasn't found a job too match. His partner, Becky (Rachael Stirling), has given birth to Stan, and chafes at Andy's lack of ambition. Meanwhile, Lance (Toby Jones), Andy's friend and fellow detectorist (metal detectors, in our parlance) is coming to terms with meeting his 20 something year old daughter for the first time. Around them revolve a cavalcade of familiar characters from series one, who enliven proceedings with their distinctive English quirks.
And Detectorists is distinctly English. It's humour is gentle, whimsical even, and while it does mine humour in the eccentricities of its characters, it's never cold or cynical. It treats its characters, and thus the audience, with respect and consideration. You find yourself laughing with, not at, the people in the series.
The setting also plays up the Englishness. Filmed in south Suffolk, with rolling pastures and gentle, tree covered hills, it is an area rich in history and possible finds of hidden treasure and relics. Crook works the landscape like a master, the sunlit filled imagery evoked speaking of a bucolic paradise untouched by the corruption found in an urban environment.
The underlying structure of series two is the search by a German, Peter (Daniel Donskoy), for plane that his grandfather flew during a WW2 bombing raid. Peter soon strikes up a friendship with Sophie (Aimee-Ffion Edwards) who spent series one in a 'will they, won't they' relationship with Andy. While much of that awkwardness has dissipated, sufficient remains to create a frisson of jealously between the two as Sophie's relationship with Peter draws ever closer.
Within the structure of series two we have further vignettes of Andy and Lance on the hunt for gold; the often funny activities of members of the Danebury Metal Detecting Club (one of which involves the secret hunt for the chains of office of the local mayor, lost while on an assignation with a woman not his wife) and the ongoing conflict with a rival group of detectorists, known amusingly as the Dirt Sharks.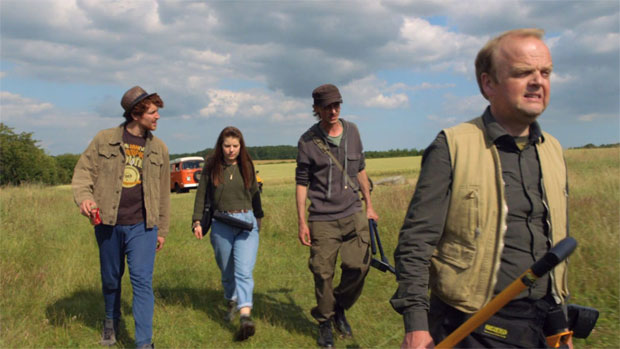 While the search for Saxon gold is certainly a motivating feature of Andy and Lance's fruitless search, it is the perfect macguffin which allows us to eavesdrop on their frequently absurd and hilarious discussions about the minutiae of life. While a lot of comedy's rely on their characters not developing at all, with the story resetting at the end of each episode, we do see development not only in the characters of Andy and Lance, as life forces change on them, but in the lives of their family and friends. For instance, we see a hint of old hurt in Sheila (Sophie Thompson) the seemingly scatty wife of Terry (a bluff Gerard Horan) head of the DMDC, who talks about the pain of being a parent.
In the end, the heart of Detectorists relies on Crook's wry observations of ordinary men and women going about their extraordinary lives in search of a meaning for it all. While the search for gold is not exactly apt, it does provide an interesting analogy, all with a comedy bent.
And if while watching the last scene of the last episode you don't have the broadest smile spread across your face, I pity your cold, dead heart.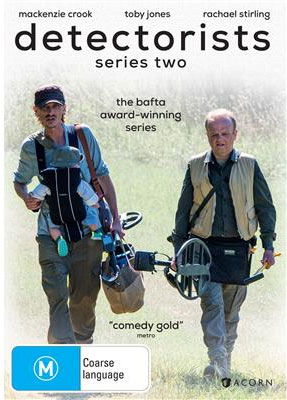 DVD Details
Actors – Mackenzie Crook, Toby Jones, Rachael Stirling, Aimee-Ffion Edwards, Pearce Quigley, Divian Ladwa
Film Genre – TV Comedy
Label – Shock
Audio – English (Dolby Digital 2.0)
Running Time – 210
Aspect Ratio – 1.78:1
Region Coding – 4
TV Standard – PAL
Rating – M
Year of Release – 2015
Primary Format – Movies/TV – DVD