PS3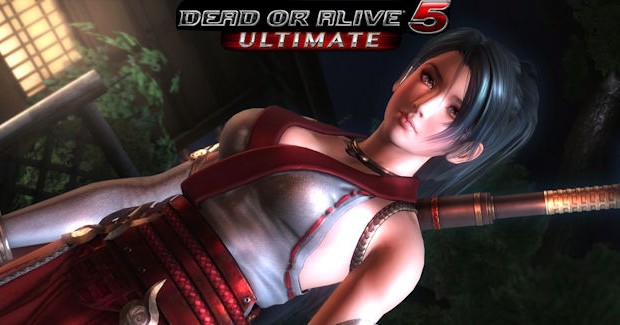 Published on September 22nd, 2013 | by admin
Dead or Alive 5 Ultimate PS3 Review
Summary: Dead or Alive 5 Ultimate offers players a wealth of unlockable content, especially when it comes to costumes with over 230 available that is truly insane. Once again, Dead or Alive ticks all the right boxes and givers gamers that love fighters a very enjoyable game!
Those buxom beauties from Dead or Alive slam their way back onto the console world with DEAD OR ALIVE 5 ULTIMATE that adds characters from both Virtua Fighter and Ninja Gaiden to the roster plus new environments and tweaks, including better online play. In essence, Ultimate is an upgraded version of Dead or Alive 5 and for me is one of the better fighters available. Before I get onto the review, I must commend Mindscape (the Australian distributors) for including an awesome Dead or Alive 5 Ultimate Momiji Mouse Pad that came with my review copy. As Team Ninja know that this game is about the fighting and breasts, this mouse mimics a certain part of the female anatomy, which ironically is used as a wrist rest. It also came with the Dead or Alive Soundtrack and both these items are included in the exclusive Japanese edition. Very cool! Indeed!
Dead or Alive 5 Ultimate features a variety of gaming modes and unfortunately the story mode is identical to the previous game which sees Helena, new head of DOATEC which was once a rather nefarious organisation move into a more positive role for the world. I think she was chosen for her assets… yeah, of that's right! As a result, Helena hosts another Dead or Alive tournament as fighters from around the world compete in it to become the ultimate fighter. Gamers then play through various stages with some impressive cutscenes to help tell the story of not just their characters but also the main story. It's not the best story in a fighter but the cutscenes are more than enough reward to play through it again even though it is oozing with cheesy voice acting and cringe worthy scenes, it's quite fun. The best aspect of the story mode is that it's a great tool for newcomers as it teaches players the pros and cons of each characters, including navigating the control system.
Features
• Intense DOA Fighting: In Dead or Alive 5 Ultimate novice and expert fighters alike can improve on their skills with modes from Dead or Alive 5 Plus including "Move Details Plus" and a tutorial mode, letting them refine their fighting style with razor-fine precision.
• Realistic and Sensual Graphics: Characters come alive with a visual style combining stunning realism with a warm, naturalistic feel—from raw power to sleek sensuality.
• Dream Lineup: The biggest roster in DOA history! For the first time, the Dragon Shrine Maiden Momiji from the Ninja Gaiden series joins the existing cast of DOA fighters, as well as additional characters yet to be announced.
• Ultimate Tag: Improved Tag gameplay for even more over-the-top action in multi-character fights.
• Dynamic New Interactive 3D Stages: More than a backdrop, spectacular locations from around the world include stages from the Ninja Gaiden series as well as classics to provide changing and interactive arenas.
• Signature DOA Finishing Moves: Power blows and the new power launcher cause even more mayhem, such as interactively triggering the Danger Zone of a stage, including crashing cars, collapsing glaciers, and an exploding oil rig—distract your opponent or drive them into danger.
• Online Battles: Supporting online experience allows players to compete head-to-head in a variety of playing fields and battle modes.
The other gaming modes include Arcade which is a traditional arcade style of fighting where players fight through a set number of opponents. Survival Mode requires the player to compete against a set number of opponents with just one life bar. Both these modes also support a tag team mechanic of two. Another great gameplay mode is the Team Battle Mode which allows for some insanely entertaining 7 on 7 battles. As each team loses a player, the player with the last character standing is the winner. Lastly, there is also a training mode which is great to learn the gaming mechanics of the game plus each of the various manoeuvres for the Dead or Alive line-up of characters. This feature actually came from the PS Vita version of the game and is good to see it made the move to the PlayStation 3 Ultimate version.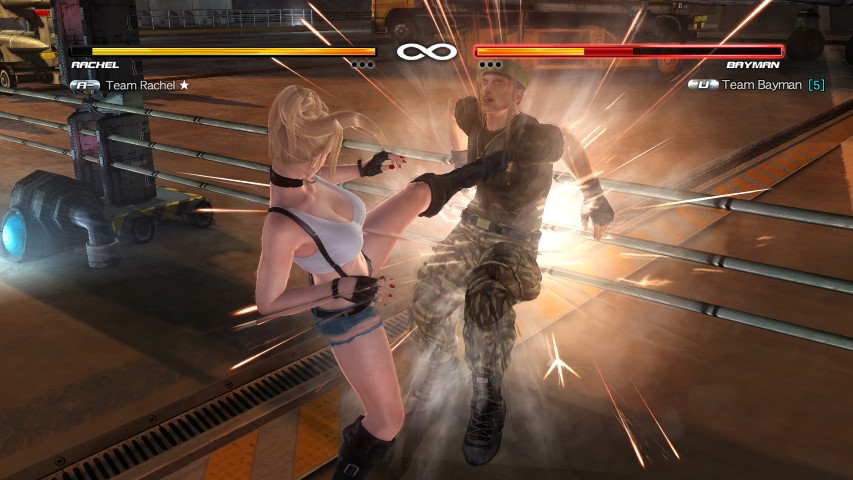 Compared to games such as Virtua Fighter or Street Fighter, Dead or Alive has ALWAYS had the better characters in my opinion and this is not just because of the sexy female characters gracing the title. It may help a little. I'm still a little biased towards Tekken but this current instalment of Dead or Alive features all 24 characters from the original number "5" line-up such as Kasuma and Ayane, including Akira, Pai and Sarah from Virtua Fighter. However, in Ultimate, Team Ninja have added new characters that include Leon, Jacky, Ein, Momiji and Rachel from Ninja Gaiden and a mysterious secret character that will be available as DLC. These new characters do add the replay value of the game, due to their new move lists and really add something unique to Dead or Alive 5 with their fighting styles.
The best aspect of the Dead or Alive game mechanics are the streamlined controls which gives the player access to punch, kick, guard and throw. However by using the guard manoeuvre, it can be used as a counterattack which does give you some interesting fighting strategies, especially moving with the directional controls. Characters can also unleash a devastating attack once their power bar is full which can cause a considerable amount of damage on your opponents. Nonetheless, the controls have been perfectly mapped on the PS3 DualShock Controller, so whether you're a veteran or a newcomer, the controls should not provide any issues to the end player.
The online mode of Dead or Alive 5 ultimate has received a revamp and now allows a player and their friend to team-up online and partake in tag battles around the world. For those that enjoy rankings, tag matches can be played as ranked battles and this new instalment of the game gives players additional rankings to compete for. My favourite aspect of the online component is the new Prize Fighter system which is split into Bronze, Silver, Gold and Platinum Fighter ranks and is given to the player by winning consecutive ranked matches. Grade points are also awarded to the player which can be used to unlock additional costumes for your favourite characters. Another nifty feature are character points which displays a players skill level with each character and allows you to see if they have chosen the best character with their own skill levels. It even allows you to see their world ranking. For those players that do not want to be in the lime light, you can play traditional online matches which is still fun.
Graphics/Audio
Graphically, Dead or Alive 5 Ultimate is a sexy looking game on the PlayStation 3 with some gorgeous character models that is definitely oozing with eye candy. It may not be politically correct but it does provide an element of titillation, especially with the exaggerated bouncing breasts. It's good that the jiggle physics can still be tweaked and allows players to adjust how much "bounce" the breasts will have in battles. The environments where you fight are also quite detailed and give the player a variety of arenas to fight in from jungles to cities. It's good that the environments are multi-layered as well which means you can smash your opponents into other areas and even objects for that matter. The developers of the game have even added five new stages to the game that looks spectacular. Add realistic texture details that look great with the various costumes plus the realistic hair movement and animation of the various fighters and Dead or Alive 5 Ultimate comes together very well. The music suits the title, although a little cheesy as is the voice acting that sounds very forced and contrived but somehow with the graphics and more importantly the gameplay, it all comes together perfectly.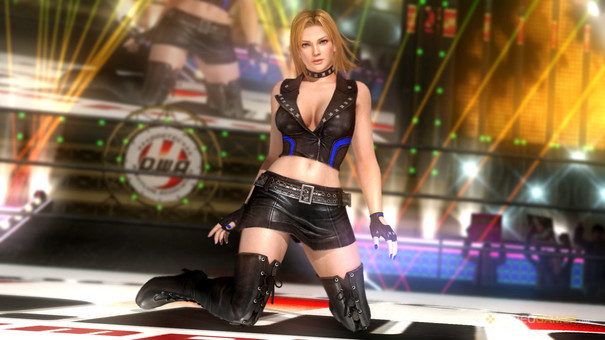 Final Thoughts?
If you have played Dead or Alive 5 before than I'm not really sure this game deserves another purchase unless you're a hardcore fan but if you have missed the last game and you're after a very good fighting game than look no further. One thing that this game does better than its predecessor is the online mode which definitely gives players a whole wealth of options to take their fighting prowess online. Apart from the engaging gameplay, Dead or Alive 5 Ultimate offers players a wealth of unlockable content, especially when it comes to costumes with over 230 available that is truly insane. Once again, Dead or Alive ticks all the right boxes and givers gamers that love fighters a very enjoyable game!