Comedy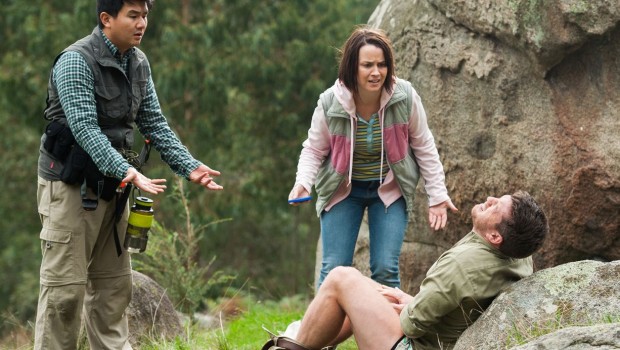 Published on December 17th, 2014 | by James Wright
It's a Date Series 2 Review
Summary: It's a Date Series 2 is pure comedy gold!
It's A Date Series 2
Film Genre – TV Comedy
Label – ABC
Audio – English (Dolby Digital 2.0)
Aspect Ratio – 1.78:1
Region Coding – 4
TV Standard – PAL
Rating – MA15+
Year of Release – 2014
Primary Format – Movies/TV – DVD
Reviewer – James Wright
Welcome back to Peter Helliar's thoroughly entertaining comedy series, It's a Date that contains a stellar Australian cast as these comedians and actors are thrown into some very unusual, embarrassing and hilarious dating scenarios that will have you laughing in hysterics and cringing in your seat.
In terms of celebrities for It's a Date Series, season 2 boasts the following amazing stars that include Lachy Hulme, Rhys Darby, Tasma Walton, Rove McManus, Shaun Micallef, Deborah Mailman, Kat Stewart, Phil Lloyd, Craig McLachlan, Vince Colosimo, Sam Simmons, Jimeoin, Susie Porter, Joel Creasey, Magda Szubanski, Lisa McCune, Justine Clarke, Lawrence Mooney, Dan Wylie, Ronnie Chieng, Celia Pacquola, Jess Harris and Emily Taheny. Phew… that's a pretty impressive cast list but more importantly, everyone feels like they are having the time of their life which is quite infectious to the viewer.
Also, Peter Helliar and his on screen wife Lisa McCune serve as bookends for this series with links to some of the other characters that are played out quite well. Without spoiling the series too much, they catch Lisa's best-friend having sex with Peter's dad in the lounge room after a very amusing date at a restaurant which included a marriage proposal, food vouchers and performing a "runner". I really enjoyed these classic moments in this Australian comedy series.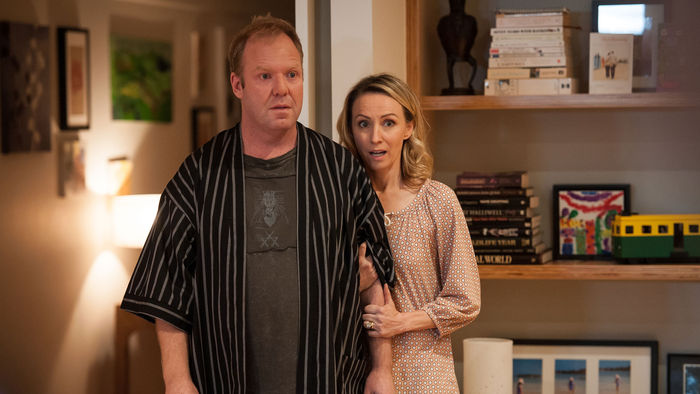 Although I'm a newcomer to It's a Date in that I've never watched the original series, the scenarios in each episode are relatively standalone which means anyone can easily jump into the series. Given how much I've laughed in season 2, I've quickly purchased Season 1 from my local JB Hi-Fi store because this series is true comedy gold.
Like the previous season, each of the episodes in It's A Date series 2 has a theme such as, is it okay to date a friend's ex or what are the repercussions when you date on impulse to taking a date to a wedding which created some hilarious moments in that episode. Each episode also focuses on two dates and I also enjoyed how Peter Helliar and co have used both comedians and non comedians to play the role of these characters which creates some thoroughly amusing and memorable moments.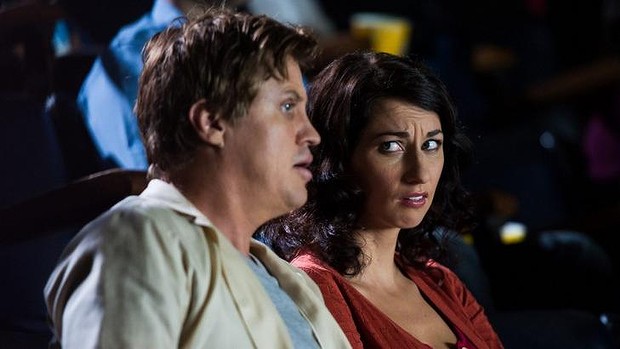 Apart from the comedy littered throughout these episodes, the facial expressions on some of these actors is pure priceless such as the episode entitled "Is It OK To Date A Friend's Ex?" that has Veronica Milsom questioning her date Kane (Dan Wyllie) and how she became involved in this situation, especially when they see a 70's gay porn film with Kane seemingly becoming aroused throughout the movie that he so eloquently states is a "piss fate" or as Veronica notes, a denim sausage.
Another great moment is seeing Ronny Chieng as Winston and his girlfriend Manda (Emily Taheny) get very ackward during a camping trip due to the stripper-like Ranger whom Manda hires and when he gets bitten by a snake near his groin, Winston reluctantly agrees to "suck" the venom out. With that said, the writing is exceptional in this series and supporting Peter Helliar's creation are writers such as Lawrence Mooney, Kate Langbroek and Phil Lloyd that really take this premise to a totally new level and to make things worse, some actually hit very close to home.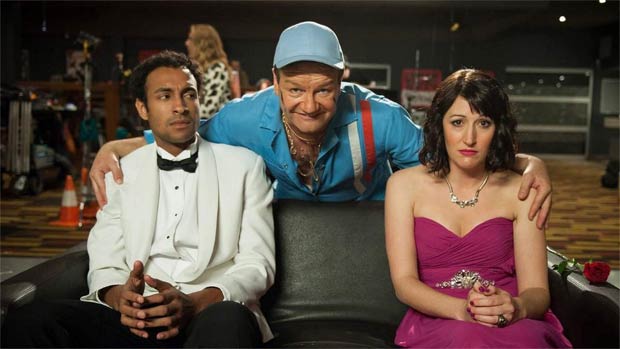 Episode Listing
– Do Set Up Dates Work?
– Is It OK To Date A Friend's Ex?
– What's the Worst Thing that Can Happen?
– How Much Research Should You Do Before Dating?
– Should You Date Outside Your Comfort Zone?
– Should You Date on Impulse?
– Should You Re-connect With An Old Flame?
– Should You Take a Date to a Wedding?
Final Thoughts?
It's A Date Series 2 is beautifully presented on DVD with exceptional video and audio quality. The writing is pure Australian comedy gold that when linked to this all-star cast of actors and comedians creates one of the best comedian TV series over the last couple of years. Also as this is a 2-disc set, most viewers could easily watch the entire season in 1 or 2 sittings because the comedy is that good!
Highly Recommended!