Hardware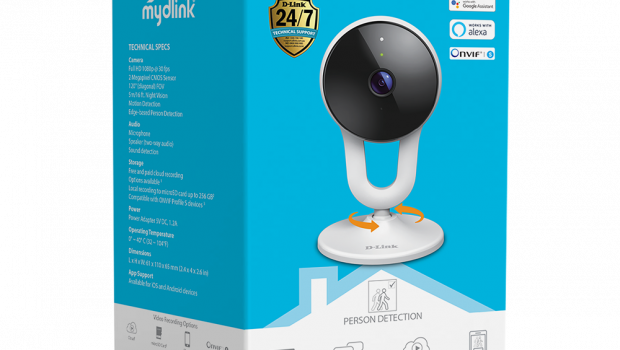 Published on March 31st, 2021 | by Scott De Lacy
D-Link DCS-8300LHV2 HD Wi-Fi Camera Review
D-Link has added this little gem to the line up of their security camera suite of products.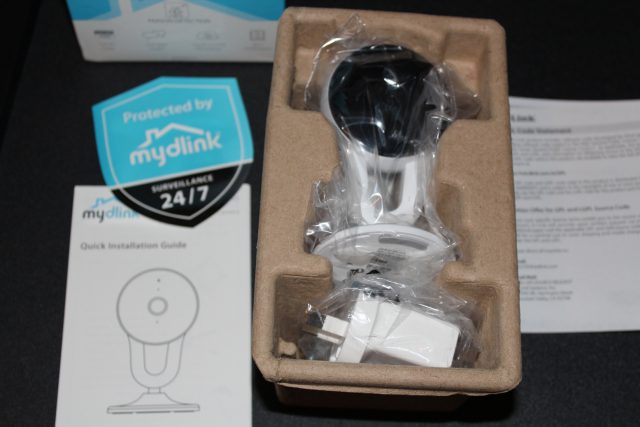 DCS-8300LHV2
Cinematic Full HD 1080p resolution @ 30 frames per second with 120-degree field-of-view

IR night vision up to 5m lets you see what's happening even in total darkness

AI-based person detection intelligently identifies human motion

Enhanced sound and motion detection add new lines of defence to your home surveillance

Two-way audio with built-in microphone and speaker

Supports cloud / microSD (max. 256 GB) / phone and ONVIF Profile S recording

Supports WPA3 – the latest Wi-Fi Security for more protection

Built-in Bluetooth Low Energy technology for faster setup

Adjustable 360-degree base for optimal angle adjustment

Wall/Ceiling mountable (hardware included)

Future-proofed with next-generation IPv6 support

Works with the Google Assistant and Alexa
If you are new to the D-Link security camera product range, you should first check out the previous reviews on some of the other models, where we took a look at some of the advanced features of these devices and the MyDlink phone application.
In this review, we will evaluate and break down the aspects of this camera and its unique features across the following:
Camera, base and mounting design
Video & audio quality and performance
Ease of setup with MyDlink App
ONVIF setup and support
Design
The DCS-8300LHV2 is the slimmest camera we have had the opportunity to review. As such it is also much lighter and is far more suitable for mounting onto surfaces where there are weight limitations.
This camera is strictly a Wi-Fi only device, as there is no Ethernet port, which is part of the reason it is able to be much lighter, but that is not the whole story.
The mounting design forms a "Y" underneath the round camera base, but is actually a single piece of moulded plastic. This has allowed D-Link and the engineers to design a base and "Y" stand to be lightweight and structurally stronger than other models such as the DCS-8302LH.
Moreover, the 12cm height from base to top of the camera is ideal for tight spaces and corners where clearance is difficult for full-bodied security cameras.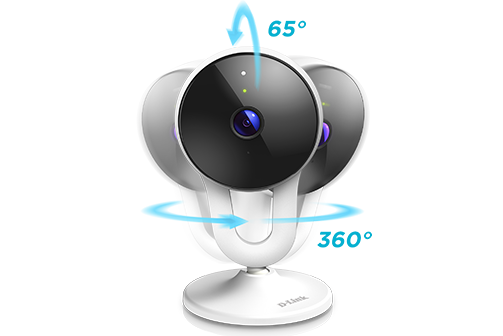 The camera can be tilted back to about 30 degrees (estimated) to the base plate. At first this seemed limiting, however it actually avoids the possibility clearance issues between the back of the camera and mounting surface. There would also be no practical mounting situation that would suit that configuration anyway.
The camera is mounted into the base plate by a ball joint that allows for lateral twisting of the camera and multi directional movement – like a joystick. It does not pop out or become lose with movement, so the camera will stay where it is put. In fact it is quite solidly built and designed and only with exceptional and intentional force could it possibly be broken.
With the removal of the mounting plate, a wonderful discovery was made; the ball joint is secured to top base plate with a metal bracket with removable screws. This would indicate that it may be possible, although not by intention by D-Link, to be magnetically mounted using the existing base plate.
The mounting plate also contains the same rubber feet that we saw in the previous models, which means that when mounted, vibrations are dampened as well as protecting the mounting surface from scratches and scuffing.
Overall, the design of this camera is fantastic, the mounting and overall design has resulted in a much stronger, light-weight camera that can truly be mounted almost anywhere.
Quality and performance
This camera includes a true 2MP 1080p 30fps CMOS sensor, which means that it is capable of recording full HD video. The lens is also protected by the additional covering which is a specially designed layer that prevents access to the 'dome' of the lens.
What often effects most cameras is dirt, grit and oils, grease and humidity that can foul up the lens. With this protective layer, the lens itself is protected and cleaning is a lot easier. Placement can often determine how often a lens must also be cleaned, such as kitchens and cold damp places.
We did the 'hot breath' test over the lens to cause condensation and build up. After a few seconds the protective surface of the lens cleared itself, starting from the centre then out towards the edge. This means that the lens will be somewhat 'self correcting' and of course, after this it still looks good!
Wi-Fi will determine the overall performance you can expect, as a struggling signal or slow Wi-Fi connections will typically cause poor or lossy streaming from the camera. Unless recording to an SD card inserted into the camera, the video footage must be streamed to the client device, whether that is the phone via MyDlink app, or a security system that supports the ONVIF functionality. If the Wi-Fi signal is not performing, then the video or audio stream will drop packets, resulting in the feed to be choppy.
We tested this camera with 2.4Ghz Wi-Fi with WPA2, the same as the previous tests of the other models and on this occasion there was a significant amount of video and audio stuttering even when viewing at 720p. This did not impact the quality of the image itself, but rather just make a few frames appear less smooth and a few sounds to cut out. This is not a definitive test or indicative of any issue, however the access point and camera and phone were within 2m from each other, as per the testing with the other models, so this may be indicative that the Wi-Fi performance of this DCS-8300LHV2 may not be on par with the other models.
However it should be of note that the Wi-Fi capabilities is on par with the other models we reviewed, consisting of an 802.11b/g/n Wi-Fi controller. Strictly speaking, for the best performance, wireless N 5Ghz should be used, especially when streaming 1080p or when Audio is required. We would have liked to see the inclusion of 802.11ac/ax standards as this would be a significant performance increase.
We were quite happy with the video quality overall and the wide viewing angle. The camera responds fast to changing lighting conditions and doesn't suffer from the effects of chasing lighting changes as other lessor cameras will.
Surprisingly, the microphone quality and pickup range seems too good for such a small package. Sure, you wont be recording your next album with this microphone, but it will happily pick up the entire room and auto level where needed.
The speaker sounds good too, obviously like an intercom or mobile phone speakerphone, but in our opinion sounded better than the DCS-8302LH, which we would attribute to the base design limiting vibrations.
Ease of setup
As we have already taken a deep dive into the MyDlink app's features in a previous review, we will focus on the setup of this camera using the MyDlink app.
The first setup out of the box is at most a 5 minute exercise, assuming that you have already installed the MyDlink app on your phone of course.
Simply powering on the camera, waiting just a minute for the camera to boot up and the LED light to turn green, then opening the MyDlink application and tapping on 'add device', scan the QR code on the base of the camera and waiting a short moment for your phone and camera to communicate and then it is done.
One additional step that will be required for any new camera out of the box, which was the case for us, is to update the firmware. A few seconds after adding the camera, the MyDlink app will prompt you to update the firmware. This only took about a minute and the camera will restart and become available to further configure.
The camera is ready to use at this point and will automatically detect and report motion to your device. Changing these settings is really easy and made simple to understand through the MyDlink app.
Unfortunately at the time of writing the specific setup guide for this new model was not found on the D-Link support page, however the guides for most of the other cameras would be be a suitable reference. D-Link have also provided a comprehensive video tutorials for the MyDlink application which cover all of the additional setup options available, such as pairing the camera to Google Assistant and Alexia home automation.
D-Link make the setup and configuration of their cameras one of the most simple and easiest to use security camera product available today.
ONVIF setup and support
A lot of consumers are looking for cheaper alternatives to supply cameras for their security systems, and ONVIF compatible devices typically do offer a great alternative to spending thousands of dollars on the propriety security cameras for those systems.
In the previous reviews, we were critical of the ONVIF support, as testing with VLC and free ONVIF viewing software, we were unable to get a usable video stream from those devices.
Testing the DCS-8300LLHV2 with the QNAP surveillance system, we were able to connect to the device and generate a preview image which appeared correctly. QNAP allows configuring cameras by manufacturer and model and supports many D-Link cameras. Unfortunately because the device is relatively new, the explicit support was not there for this model, which meant we had to rely upon using the default 'ONVIF Profile S' support.
For reference, we used this setup guide:
We were able to successfully configure the camera as shown in the video, this was fast and simple to do. Unfortunately we were unable to successfully connect or record any video stream using 'ONVIF Profile S' as the connection profile. Instead at best we just got a static preview image only.
We do know that such setups have and do work for these devices and multiple others, for example D-Link have provided a how-to video for Synology NAS setups:
ONVIF compatibility is not just a single sided, one way street. The camera needs to output a compatible ONVIF stream and the client software needs to know the correct profile/parameters in order to view it successfully. This is not always a simple matter, and despite a number of internet forums dedicated to this topic, there have been as many successes as there have been failures.
Final thoughts
This camera is well designed with a smaller more sturdy package. Wi-Fi performance could be improved and we would have expected a camera without an Ethernet port to contain a newer 80211.ac/ax Wi-Fi controller.
This camera could be used outdoors in an under-cover environment, or in any internal environment not otherwise subject to extreme weather conditions.
As an ONVIF compatible device for your existing security system, the compatibility will need to be thoroughly researched.
This camera is a great addition to the line up and suitable where a more compact, lightweight Wi-Fi only solution is required.
Summary: DCS-8300LHV2 is a solid and well built compact camera, suitable for small clearance Wi-Fi installations.