iOS Hardware & Accessories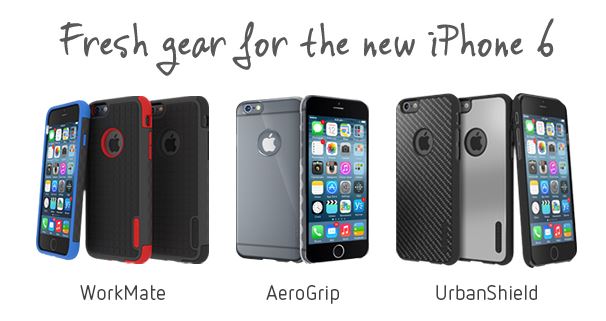 Published on September 10th, 2014 | by admin
CYGNETT releases a range of accessories for Apple's newest iPhone
PRESS RELEASE: Melbourne, AU, London, UK, Los Angeles, USA – 9 September 2014 – Cygnett is pleased to release a fresh range to protect, connect and enhance Apple's new iPhone 6 and iPhone Air.
Founder and Managing Director of Cygnett, Tim Swann has confirmed, "We're excited to announce the release of a streamlined range of our bestselling cases and accessories to fit the new iPhone 6, available immediately. In addition, we're adding to the growing range of brightly coloured products with the WorkMate grey, red and blue cases that you can mix or match with our ChargeUp power banks and Source cables."
Cygnett's iPhone 6 range hero is the WORKMATE (Retail price $29.95 AUD | $29.99 USD | £14.95 GBP | €16.95 EUR) a compact, tri-material protective case. The WorkMate series has been Cygnett's most popular series to date, and this year Cygnett have refined the design to embrace a more streamlined look and a sporty high-grip finish, whilst maintaining the 'Slim Protection' character of previous WorkMate cases.
Also announced today, the new URBANSHIELD case for iPhone 6, in three finishes; Silver and Black authentic aluminium (Retail price $29.95 AUD | $29.99 USD | £19.95 GBP | €19.95 EUR) and genuine carbon fibre (Retail price $34.95 AUD | $34.99 USD | £24.95 GBP | €24.95 EUR). Distinctively, yet subtly designed as a precision-machined slim statement case. In addition, Cygnett are also revealing three new AEROGRIP (Retail price $19.95 AUD | $19.99 USD | £9.95 GBP | €12.95 EUR) slim fit cases, available in matte black and crystal clear, to protect your iPhone from scratches, while flaunting its sleek lines.
The iPhone 6 range also includes URBAN WALLET (Retail price $34.95 AUD | $34.99 USD | £24.95 GBP | €34.95 EUR) a contemporary yet classic flip case with a snap-on chassis, diagonal pockets and internal pockets for storing cash and cards.
The iPhone 6 range is completed by the OPTICSHIELD 9H Tempered Glass Screen Protector (Retail price $24.95 AUD | $14.99 USD | £14.95 GBP | €19.95 EUR) with absolute scratch protection and high light transmission, and the OPTICCLEAR Screen Protector (Retail price $9.95 AUD | $9.99 USD | £9.95 GBP | €9.95 EUR), a four-layered design with an advanced hardened coating.
The iPhone 6 release is fully compatible with, and enhanced by the ChargeUp series of portable power banks, FlashPower car and wall chargers, Source and Flow charge and sync Lightning™ and audio cables; DriveView, DashView car holders.
The range is available online coinciding with the iPhone 6 launch.