3DS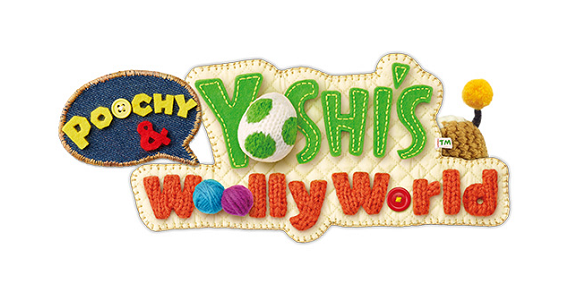 Published on December 22nd, 2016 | by Admin
CUTE, COLOURFUL, AND CUDDLY ADVENTURES AWAIT IN POOCHY & YOSHI'S WOOLLY WORLD, COMING TO NINTENDO 3DS FAMILY SYSTEMS ON 4TH FEBRUARY 2017
22nd December, 2016 – Join Poochy and Yoshi in a side-scrolling platform game and explore a wonderful and lovingly-crafted world of wool, when Poochy & Yoshi's Woolly World reaches Nintendo 3DS family systems on 4th February 2017. Use the new Yarn Poochy amiibo during Poochy Dash courses to reveal exclusive Time Attack missions and unlock adorable special Poochy patterns for completing them*. The latest Animal Crossing Collection and Splatoon Collection amiibo can also be used to unravel expertly 'knitted' designs, giving Yoshi a whole new look. And remember to tune in every day as Poochy and Yoshi participate in delightful shenanigans, with 30 heart-warming stop-motion animations.
The ever-devious Kamek is up to his usual tricks and has kidnapped lots of the adorable Yoshis that inhabit Craft Island. The surviving Yoshis hold an important emergency Yoshi meeting and collectively decide to rescue their friends and chase the trickster responsible for stitching them up. And so another grand Yoshi adventure begins!
Yoshi will have to jump, Ground Pound, gobble, and flutter in this side-scrolling platform game, across six captivating worlds, each knitted to life with its own uniquely-woven theme. Thankfully for Yoshi, he can now summon support from his woolly companion Poochy. By scanning a Yarn Poochy amiibo at any point during the game*, Poochy will accompany Yoshi and give him a helping paw**. Scan a Yarn Poochy amiibo during Poochy Dash courses to unlock a collection of exclusive fast-paced and exciting Time Attack missions, that'll have Poochy racing to beat the clock. Each Time Attack mission completed will also unlock a unique Poochy pattern. The Yarn Poochy amiibo will be available in a bundle with the game and a Pink Yarn Yoshi amiibo, or separately.
Any less experienced players keen for a little help can easily switch to Mellow Mode at any point during the game to gain the assistance of Poochy Pups. These sweet little Pups will sniff out secrets and attack enemies, and can even double up as Yarn Balls, allowing Yoshi to throw them at enemies and otherwise unreachable items.
New to Poochy & Yoshi's Woolly World is the ability to use the latest amiibo from the Animal Crossing and Splatoon series and more. Scan one of these compatible amiibo to unlock a personalised Yoshi, knitted to look like its counterpart. Now Yoshi can explore Craft Island while looking like characters from the world of Animal Crossing and Splatoon such as Tom Nook, Isabelle, Callie and Marie.
Players keen to see more Poochy and Yoshi hijinks can watch 30 delightful stop-motion animations, created by the Japanese animation studio Dwarf, included with the game. Enter Yoshi Theatre and watch as the Yoshis and Poochy get up to all kinds of light-hearted shenanigans. Keep your eyes peeled, as you'll be asked a question at the end of each video. A new video is unlocked each day, so be sure to tune-in and see what antics Poochy and Yoshi have lined up.
Cute, colourful, and cuddly adventures await in Poochy & Yoshi's Woolly World, available separately or as a bundle with the new Yarn Poochy amiibo and a Pink Yarn Yoshi amiibo, coming to Nintendo 3DS family systems on 4th February 2017.