iOS Hardware & Accessories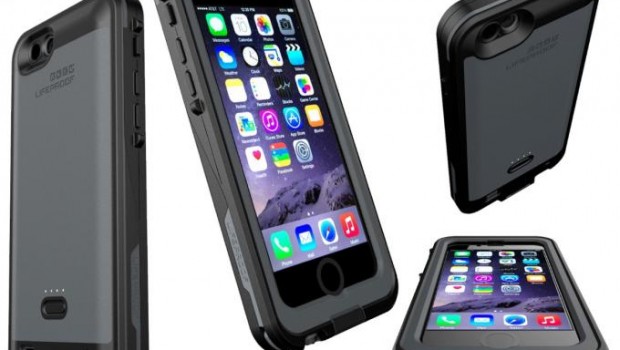 Published on June 15th, 2015 | by admin
Charge ahead: LifeProof FRĒ Power available now
The No. 1-selling waterproof case brand now doubles iPhone 6 battery life
Sydney, Australia – 15 June 2015 – Top of the mountain, five percent battery remaining, no outlet in sight. Decision time: go back or keep going? Adventurers can now go further in almost any condition with FRĒ Power from LifeProof, doubling the battery life of the iPhone 6.
FRĒ Power incorporates advanced battery technology into LifeProof's thin, sleek, four-proof protective case. Guarding against damage from water, drops, dust and snow, FRĒ Power also doubles the battery life of the iPhone 6 to help adventurers charge ahead to climb the final peak, ride out the last wave, and push through the 42 kilometre marathon mark.
"LifeProof has launched one of the toughest battery pack cases, combining the durability of our trademark four proof technology, with the longevity of a full extra battery charge, doubling your battery's life," said LifeProof Managing Director for Asia Pacific, Steve Nisbet. "With this latest innovation we have extended the reach of an iPhone 6 anywhere, anytime. With the FRĒ Power in your pocket, you're ready to last longer, go further and push harder on your next adventure."
FRĒ Power's lithium ion battery boasts 2,600 mAh of power that engages with the press of a button. Smart charging technology gets the iPhone 6 to a 100 percent charge, then automatically stops – saving extra power for later when it's needed most. Plus, status LED lights show how much battery life is remaining on the case in 25 percent increments.
FRĒ Power is waterproof up to 2 metres for one hour, drop proof up to 2 metres and is totally enclosed from dirt and snow when the case and all ports are sealed. A built-in screen protector helps keep the brilliant iPhone 6 display safe from scratches, yet allows for uninhibited touchscreen access. It meets military standards for drop and shock and offers industry-leading IP68 protection against solid and liquid ingress.
Enhance the mobile technology experience even more by pairing FRĒ Power with LifeProof's latest universal accessory line, LIFEACTÍV. A low-profile, locking QuickMount adaptor securely adheres to FRĒ Power and, using a mechanical/magnetic system, connects to a variety of accessories for on-the-go use. A Bike + Bar Mount, Belt Clip, Multipurpose Mount and Suction Mount are all available now at lifeproof.com.
FRĒ Power key features:
2,600-mAh battery for 2x Battery Life
Built-in scratch protector for total touchscreen defence
Works with the iPhone 6's fingerprint scanner
Auto-Stop Charge halts the charging process once your phone reaches 100%
Rapid Recharge technology quickly refuels FRĒ Power's internal battery
Complete access to all buttons and controls — charge and sync through the micro USB port
Anti-reflective optical-glass camera lens
Maximum sound output and clarityFRĒ Power for iPhone 6 is available now for Australia RRP$179.95 and New Zealand RRP$189.95 on lifeproof.com and will soon be available in select retailers.
For additional information, visit lifeproof.com.