3DS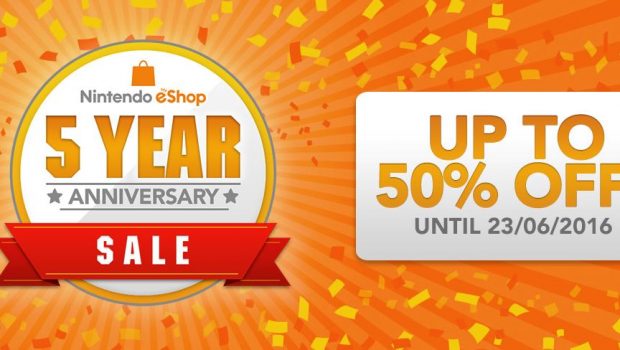 Published on June 8th, 2016 | by Admin
CELEBRATE THE FIFTH ANNIVERSARY OF NINTENDO eSHOP WITH UP TO 50% OFF SOME OF ITS BIGGEST HITS FROM THIS FRIDAY
Discounts available on select Nintendo 3DS and Wii U download software and Virtual Console titles until June 23
7th June, 2016 – Nintendo eShop first launched on Nintendo 3DS on June 7, 2011, and to celebrate its fifth anniversary, some of the most popular download-exclusive titles for both Nintendo 3DS and Wii U will be available at up to 50% off from June 10 to June 23 in Australia and New Zealand.
Those who wish to enjoy great adventures while on the go will be able to get 50% off classic Link adventures like The Legend of Zelda: Link's Awakening DX, The Legend of Zelda: Oracle of Ages, and The Legend of Zelda: Oracle of Seasons. Pokémon fans meanwhile can get 50% off Pokédex 3D Pro and Virtual Console title Pokémon Trading Card Game. Indie game enthusiasts should also keep an eye on Image & Form's SteamWorld Dig and Hörberg Productions' Gunman Clive, which will both have discounts of 50% off.
For anyone who wants to discover – or rediscover – some classic Wii titles, both Metroid Prime Trilogy and Super Mario Galaxy 2 are available at half price on Wii U. Those looking for a futuristic racing experience can put their pedal to the metal and enjoy 25% off Shin'en Multimedia's FAST Racing NEO and 50% off F-Zero.  Players seeking a truly retro experience can enjoy NES™ Remix and NES™ Remix 2, both on sale at a half price discount, as is SNES Classic Earthbound, which made its debut in Australia and New Zealand via the Wii U console's Virtual Console service.
For the full list of discounted titles, please visit the official Nintendo website.