Action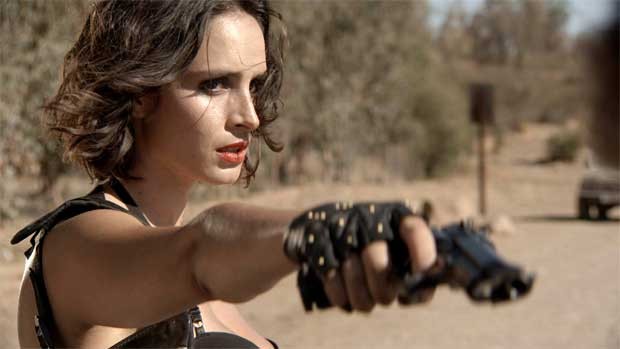 Published on September 14th, 2015 | by James Wright
Bring me the Head of the Machine Gun Woman DVD Review
Summary: Bring me the Head of the Machine Gun Woman is a jam packed Spanish action film of revenge and sexiness!
If this film was made in the 70's, it would be the perfect exploitive film because it successfully ticks all the boxes of this genre, not to mention a very sexy protagonist thanks to actress Fernanda Urrejola. It should also be noted that this film is entirely in Spanish but thankfully as its an action orientated film, it's quite easy to sit through the entire film. The film is also reminiscent of stories from the world of Quentin Tarantino and Robert Rodriguez due to the over the top action, characters and violence.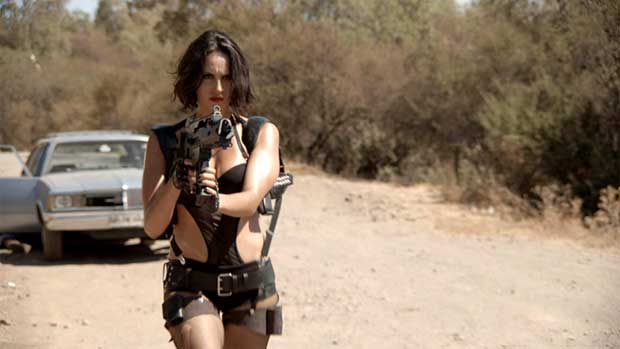 The story of Bring me the Head of the Machine Gun Woman revolves around a DJ who is caught up in a war between a dangerous criminal by name of Che Logana who is attempting to kill the "Machine Gun Woman". So when he is caught in this war, he does everything he can to survive the bloodshed. It also doesn't help that his ex-girlfriend is the "Machine Gun Woman" and the DJ is given the task of killing his former girlfriend.
Needless to say, things don't go according to plan and at the end of the day, the body count goes skyrocket as people are killed left, right and centre. Imagine a video game turned into a movie and that's what Bring me the Head of the Machine Gun Woman is all about. It's also well acted and the stars of the film are Fernanda Urrejola who plays this awesome female action star and Matias Oveldo who plays this quiet DJ.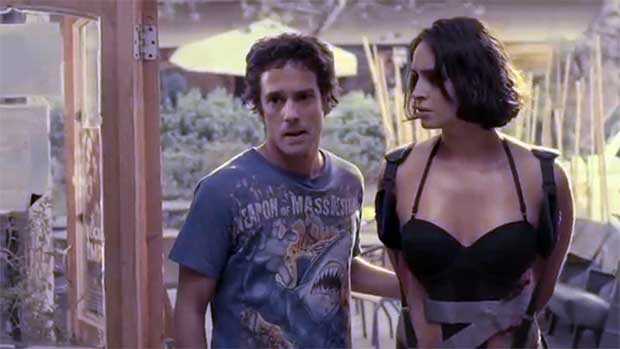 Final Thoughts?
In conclusion, Bring me the head of the Machine Gun Woman is a fun action flick that successfully pays homage to those exploitative films of the 70s with its clichéd villains, over the top action and a story that I'm sure both Tarrantino and Rodriguez would appreciate.
Recommended!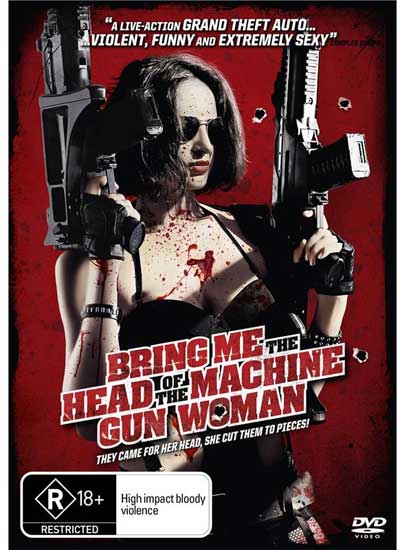 DVD Details
Director – Ernesto Díaz Espinoza
Actors – Fernanda Urrejola/Matías Oviedo/Jorge Alis/Sofía García/Alex Rivera/Felipe Avello
Film Genre – Action
Label – Shock
Audio – Spanish (Dolby Digital 2.0)
Subtitles – English
Running Time – 73
Aspect Ratio – 1.78:1
Region Coding – 4
TV Standard – PAL
Rating – R18+
Year of Release – 2012
Primary Format – Movies/TV – DVD