Comedy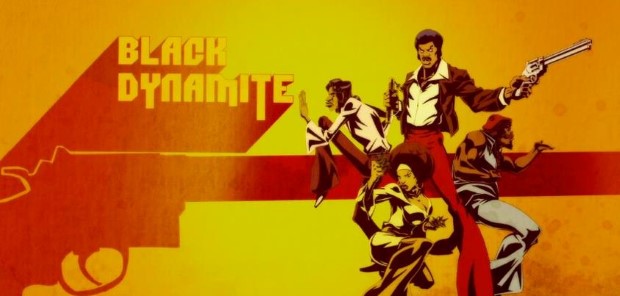 Published on August 4th, 2014 | by Sean Warhurst
Black Dynamite Season One DVD Review
Summary: If you're a fan of Blaxploitation, astute satire or just simply enjoy a majority of the offerings that come from [Adult Swim], then Black Dynamite is for you.
Black Dynamite Season One
Distributor: Madman
Format: DVD
Running Time: 225 Minutes
Rating: MA 15+
Genre: Comedy
Reviewer: Sean Warhurst
Based upon the comedic 2009 Blaxplotation homage of the same name, Black Dynamite is a wildly hilarious, razor sharp continuation of that film's satirical story of a Kung Fu fighting Seventies renaissance man.
With most of the original film's cast coming back and lending their voices to their respective characters and a refined and aesthetically appealing art style reminiscent of that of The Boondocks, Black Dynamite ticks all of the boxes that fans of the film would be expecting it to whilst still managing to add a new dimension to the exploits of the titular character and his loyal crew by thrusting them into hilariously irreverent situations, usually featuring a prominent celebrity in a guest role – Richard Pryor, Michael Jackson, Mr. T, O.J Simpson, Elvis Presley and more all make a surreal appearance throughout the madcap storylines of the episodes.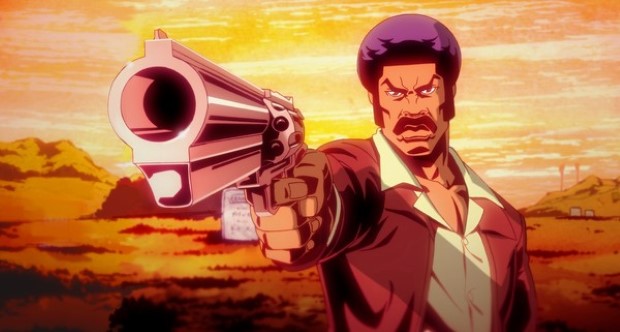 If you're unfamiliar with the origins of the character, there's not really all that much you need to know about Black Dynamite: Take Shaft, add a dash of The Mack, mix it up with a little bit of Black Belt Jones and you've got the smooth talking, moustachioed ladies man with a Kung Fu grip.
Proprietor of the local Whorephanage – A place for both Whores and Orphans, naturally – Black Dynamite fights against the tyranny and oppression of The Man in a series that offers a subversive take on the po-faced blaxploitation formula by deftly mixing action, comedy and skewering a myriad of celebrity targets.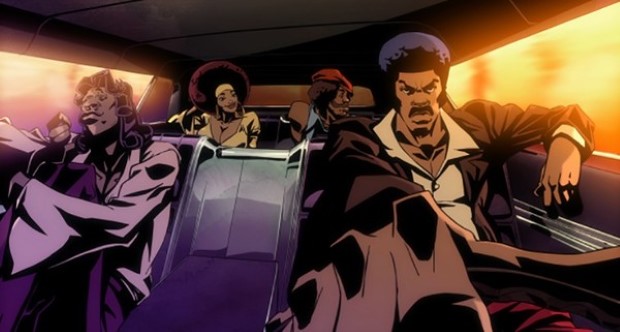 Basically if you're a fan of the film that inspired the series, Undercover Brother or any of the Seventies kung fu films featuring Jim Kelly than Black Dynamite will appeal to your comedic sensibilities, with many subtle nods to the anachronisms of the genre.
However, if you're unfamiliar with the source material, don't let that deter you from giving the series a chance; the writing is hysterically sharp, the series only loosely follows the continuity set up by the preceding film and many of the jokes don't require an in-depth knowledge of the tropes of the genre to be appreciated, making this series an ideal entry point for curious newcomers.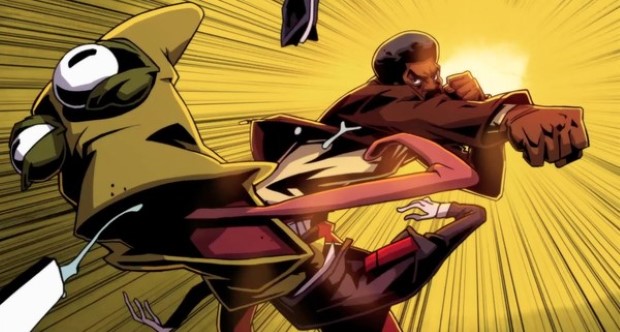 With episode storylines featuring such situations as Black Dynamite taking a "Get Him to the Greek" style job of escorting Richard Pryor to the Sunset Strip whilst fighting off murderous I.R.S agents, a young Michael Jackson taking an unhealthy interest in Black Dynamite's cohort Cream Corn, a vengeful spawn of a twisted Sesame Street-style puppet frog seeking to use Black Dynamite's father's affections against him and a mission to the moon manned by Black Dynamite and O.J "The Juice" Simpson, who share an acrimonious past, ending in a battle against Amazon Moon women, a psychotic sickle wielding Monkey Cosmonaut and an appearance by Black Santa Claus, Black Dynamite is consistently entertaining and successfully takes the satirical nature of the original movie to even more ridiculous extremes once released from the constraints of live action film.
Madman's transfer is impeccable, with crisp, bright colours and a robust and dynamic audio track. The animation suffers from no aliasing, banding or compression and is resplendent in detail, perfectly capturing the Seventies Aesthetic of the show and boasting an accomplished and unique animation style. With no visible anomalies and an almost Blu-ray quality transfer, this fine release from Madman cannot be faulted in any way.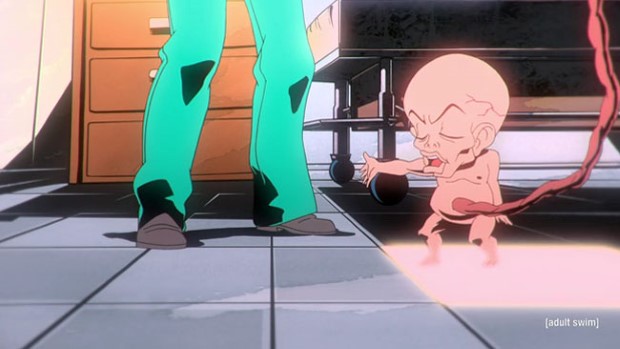 Episode Listing:
–       Just Beat It, or Jackson Five Across Yo' Eyes
–       Bullhorn Nights, or Murder She Throats
–       Taxes and Death, or Get Him to the Sunset Strip!
–       A Crisis at Christmas, or The Dark Side of the Dark Side of the Moon
–       Panic on the Player's Ball Express, or That's Influenza, Sucka!
–       The Sh*t that Killed the King, or Weekend at Presley's
–       Apocalypse This!, or For the Pity of Fools AKA Flashbacks are Forever
–       Honky Kong, or White Apes can't Hump
–       The Race War, or Big Black Cannon Balls Run!
–       Seed of Kurtis, or Father is Just Another Name for Motherf*cker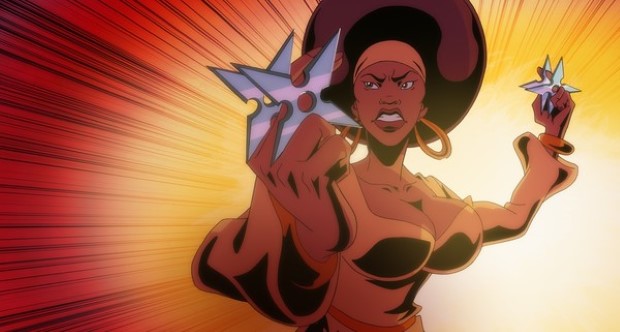 Special Features
Black Dynamite comes with a decent selection of supplemental features, of which the most interesting to fans would be the original pilot episode – Running just over ten minutes, it not only showcases how cohesive the project was from its very conception, with the same calibre of rapier smart satire and accomplished artistic style (Which actually even looks lightly better here) but it also provides the backstory that leads into the events of the season finale, making it mandatory viewing for fans.
Also included is a making of featuring interviews with Michael Jai White, Carl Jones and Byron Minns that offer some insight into the process of continuing the Black Dynamite story by transitioning from the big screen to an animated series, and a series of cast and crew commentaries on selected episodes; unfortunately neither of these features gives as much of a look behind the curtain as fans would like but they do make for an amusing look at the dynamic between the actors and writers behind the show, although some viewers may find the Picture – in – Picture style of the commentaries annoying as it obscures a portion of the screen.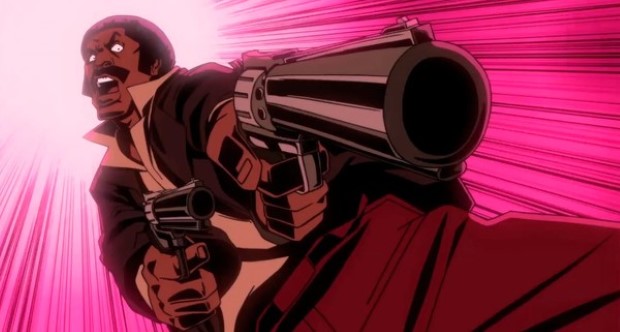 List of Features:
–       Original Pilot (11:21)
–       The  Making of Black Dynamite (10:37)
–       Audio Commentaries on Select Episodes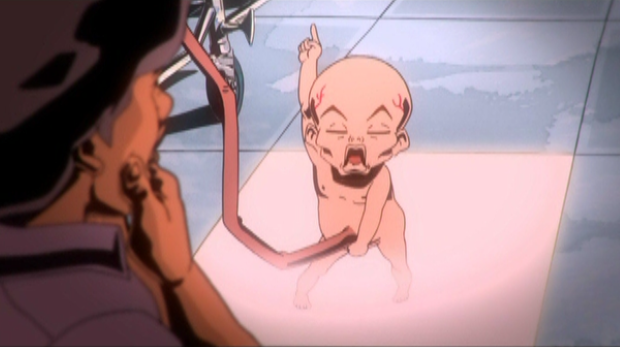 Final Thoughts
If you're a fan of Blaxploitation, astute satire or just simply enjoy a majority of the offerings that come from [Adult Swim], then Black Dynamite is for you. Some of the episodes don't work as well as others but, for the most part, you'll be too busy guffawing at the rapid-fire jokes to hold the rare occasion where one fails to land against the show.
Wildly entertaining, hilariously irreverent and featuring top notch – And often amusingly foul mouthed – vocal work from Michael Jai White, Tommy Davidson and more from the original film, Black Dynamite is a fitting continuation of the story of the hard loving, ass kicking counter-revolutionary who's constantly sticking it to the man amidst personal struggles against cannibalistic Barbecue sauce connoisseurs, heartless mechanical Pimps hell-bent on revenge and the meddling of a villainous Richard Nixon… So, basically it's batshit crazy, and all the better for it.
Recommended.