Comics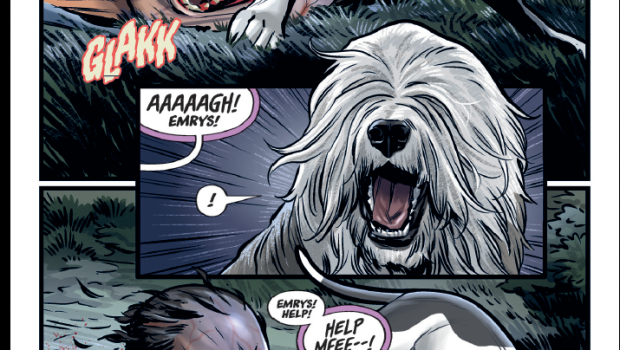 Published on April 8th, 2021 | by Tim Chuma
Beasts of Burden: Occupied Territory #1 (2021) Review
Summary: An interesting fantasy/mystery story involving dogs but maybe not for younger readers with the violence.
A bunch of talking dogs are discussing an attack that happened off screen when they talk to their sort of leader Emrys who mentions he worked undercover during World War II and proceeds to tell the story.
These dogs actually talk and can be understood by certain humans who are in tune with them by some arcane arts. They actually take the time to discuss this part or it would be confusing. Part of the power is that the dogs can also speak with the dead and do magic.
I was interested in this one as I like dogs including drawing them and have read the Stray Dogs and Battlepug series in the past.
Having the dogs being able to talk makes it a lot more dialog driven than you would usually expect for a story with animals so things can be more complex. Normally that would also mean more slow exposition but they manage to keep things moving along in the story.
I did like the artwork of the dogs and the human characters and the period setting comes off well. There are some more fantasy elements hinted at but not really shown in this part of the story.
I would recommend this story if you like dogs and mystery stories. Maybe not one for younger readers due to some of the violence.
Comic details:
Writers: Evan Dorkin, Sarah Dyer
Artist: Benjamin Dewey
Colourist: Benjamin Dewey
Letterer: Nate Piekos
Cover Artist: Benjamin Dewey
Release date: April 7, 2021
Publisher: Dark Horse Comics
Genres: Action/Adventure, Horror
Series: Beasts of Burden
Pages: 24